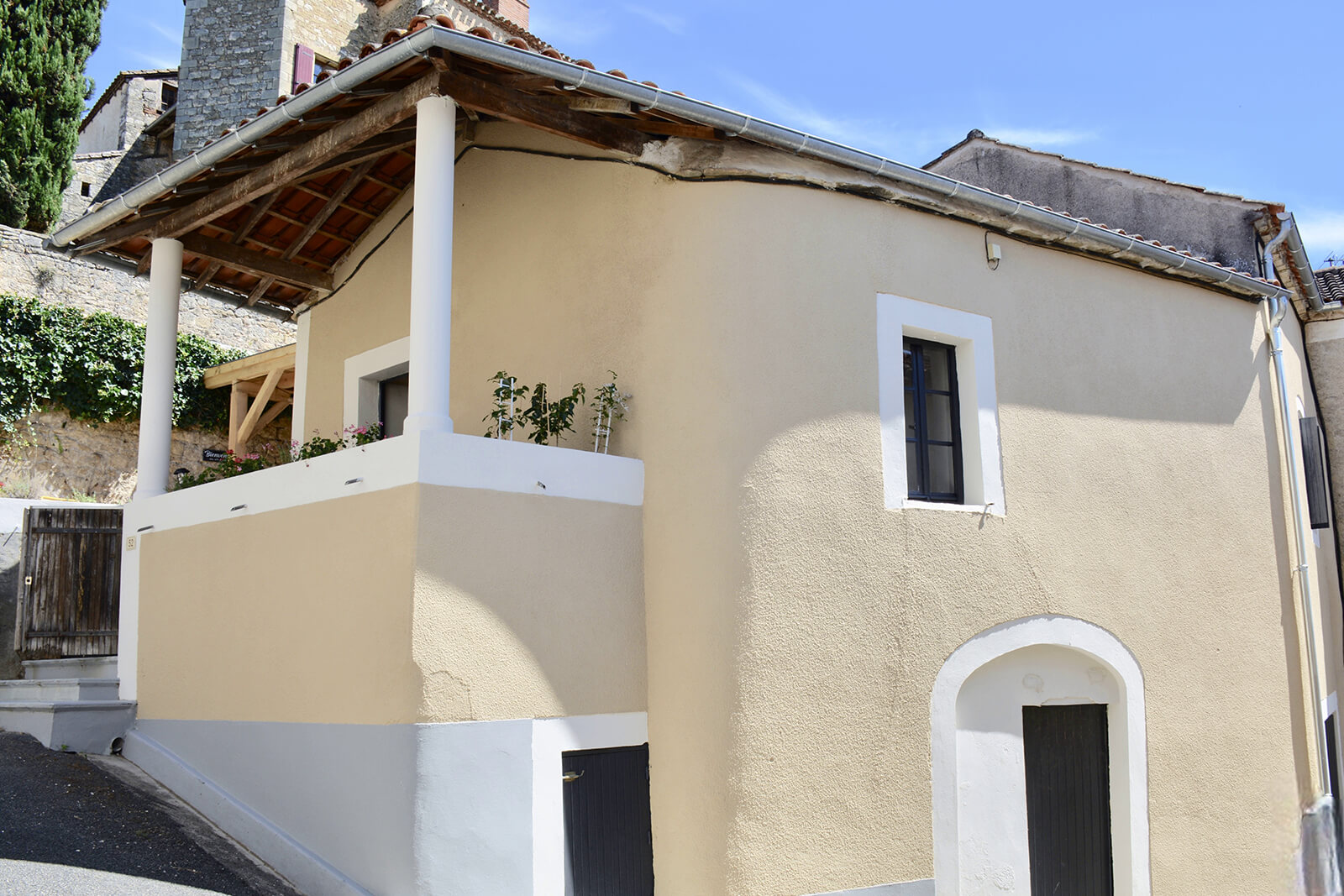 Discover holiday home LOTT Duravel
This detached holiday home is located in its eponymous touristic village of Duravel. A very cosy village with narrow alleys to roam through. In walking distance of your cottage you can find a French bakery, a butcher, supermarket and restaurants.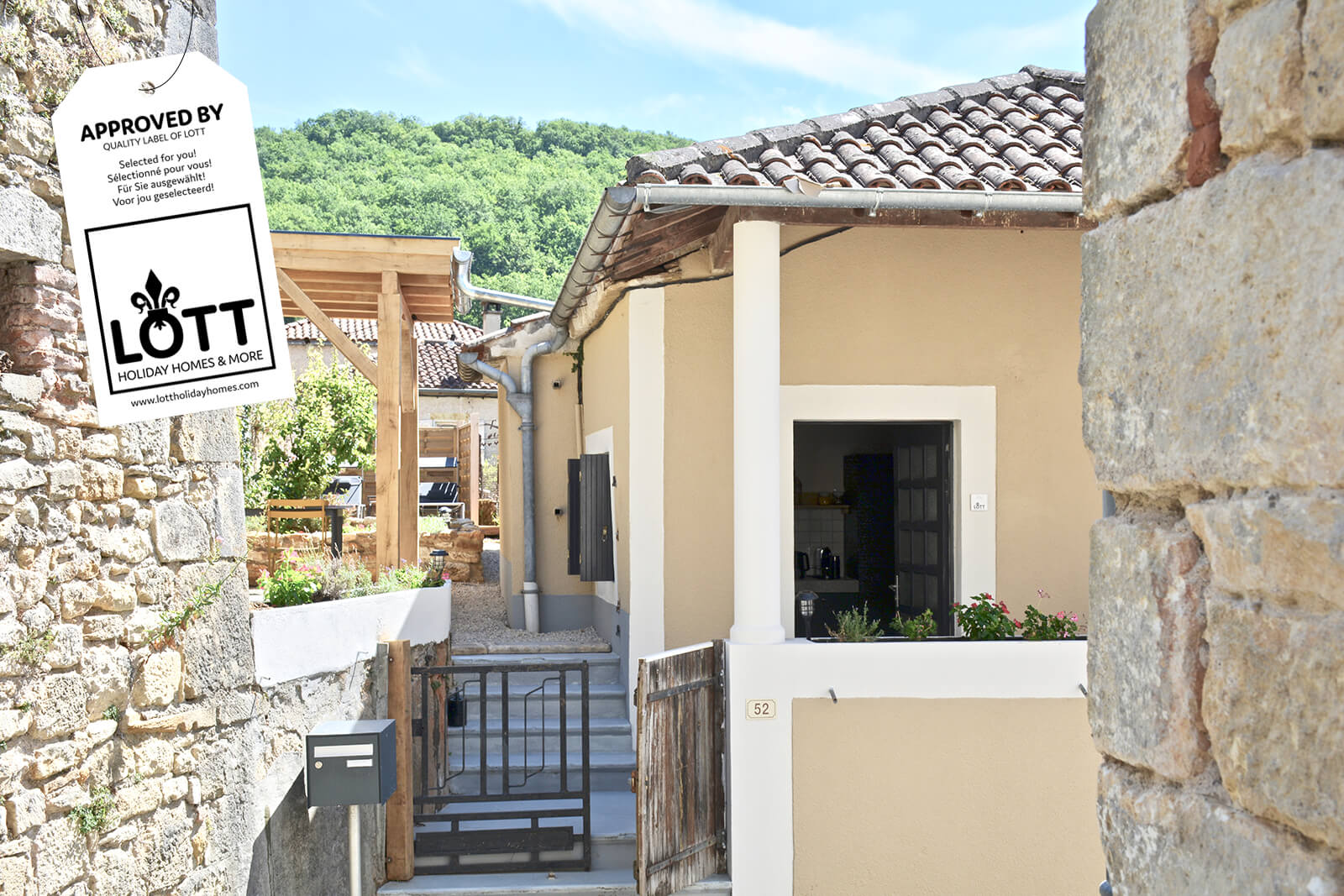 This cottage really embodies village living, the perfect starting point to explore the region on foot, by bicycle or by car. The Cahors area is famous for its wine and wineries which you can visit. At night there's plenty of opportunity to grab a bite to eat.
Via the covered porch you can walk straight into the garden of this cottage. There's plenty of room to relax either in the shade or sun. Can you see yourself relaxing with a local wine and some cheese after a day of exploring? Enjoy your holiday the way you want to!
This special place is situated centrally in the Lot, at the border of the Lot-et-Garonne. Cities such as Rocamadour, Sarlat and Villeneuve-sur-Lot are closeby. Even closer to the cottage is the river Lot (only 3km) which you can just walk to or take your bike! At the Lot river you can canoe or visit one of its adjacent caves.
Location holiday home LOTT Duravel
Address: 52 Rue du Fournil, 46700 Duravel, France
Country: France
Region: Occitanië
Department: Lot
Municipality, village: Duravel
By car, Driving holiday: 603 km from Paris
Train/bus: Cahors
By plane, Plane holiday: Airport Bergerac, Airport Toulouse

location_on Locatie & route: Google maps
Holiday home LOTT Duravel
Layout 2-4 person holiday home LOTT Duravel
The Holiday home LOTT Duravel is suitable for 2-4 persons and consists of two floors with a total surface area of 70m2.
First floor: large bedroom
Second floor: living room with open-plan kitchen, second bedroom, bathroom with walk-in shower and sink, toilet
Outdoor area: private garden of 50m2, covered porch with outdoor kitchen and furniture, outdoor fireplace, another porch at the front of the house, and a terrace in the back.
picture_as_pdfDownload map + features list
list_alt Features and facilities overview of all holiday homes
Photo gallery Holiday home LOTT Duravel
See here the photos of holiday home LOTT Duravel. These give you a good impression of this comfortable holiday cottage located in the Lot department in the Occitanie region at the border of the Lot-en-Garonne in France.
Cosy living room with picturesque views
This detached holiday home has a comfortable and cosy living room. Walk through the open-plan kitchen to the seating area of this LOTTage.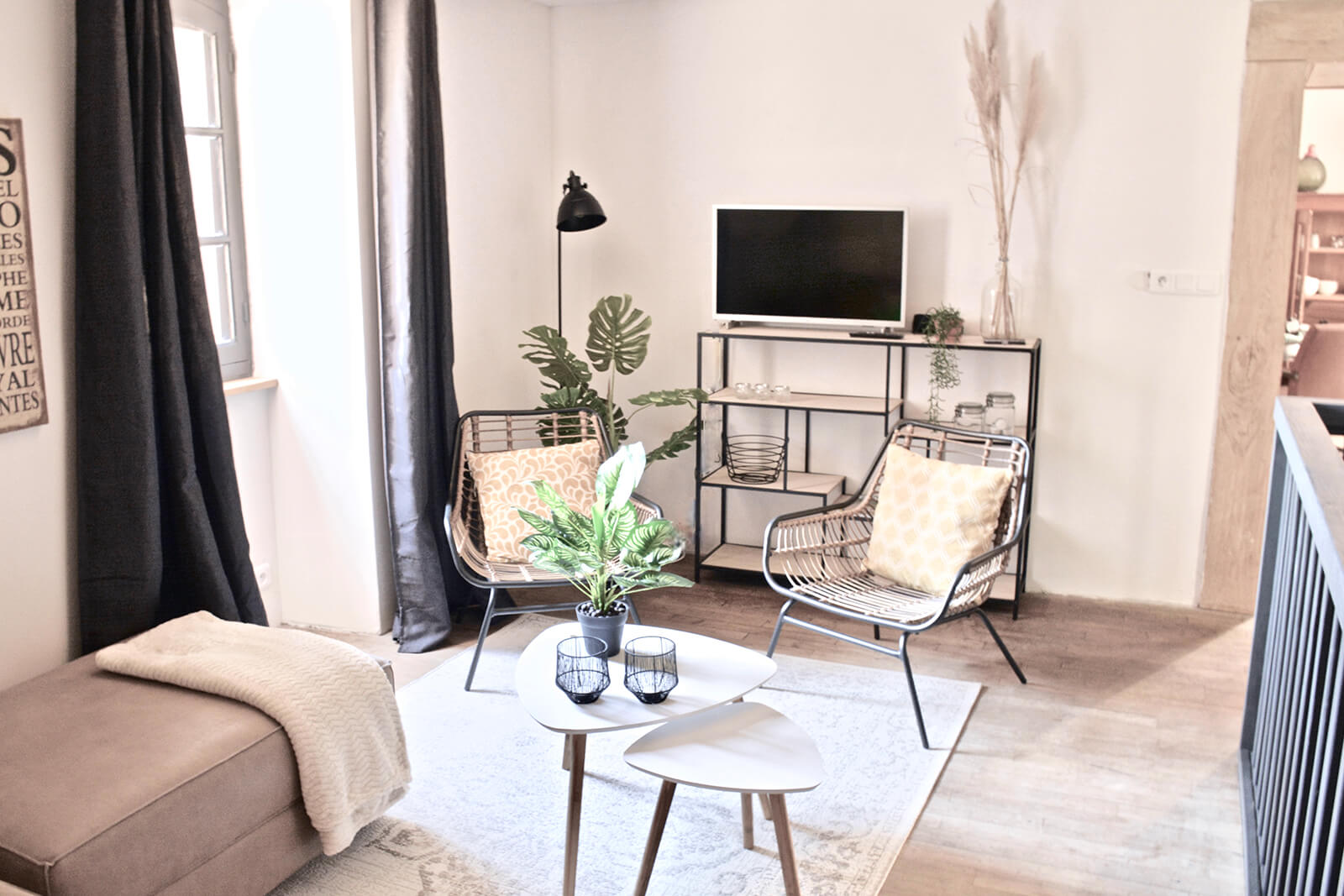 There's a good leather sofa with ottoman, easily transformable into a chaise longue. There's side tables and pillows to complete the atmosphere.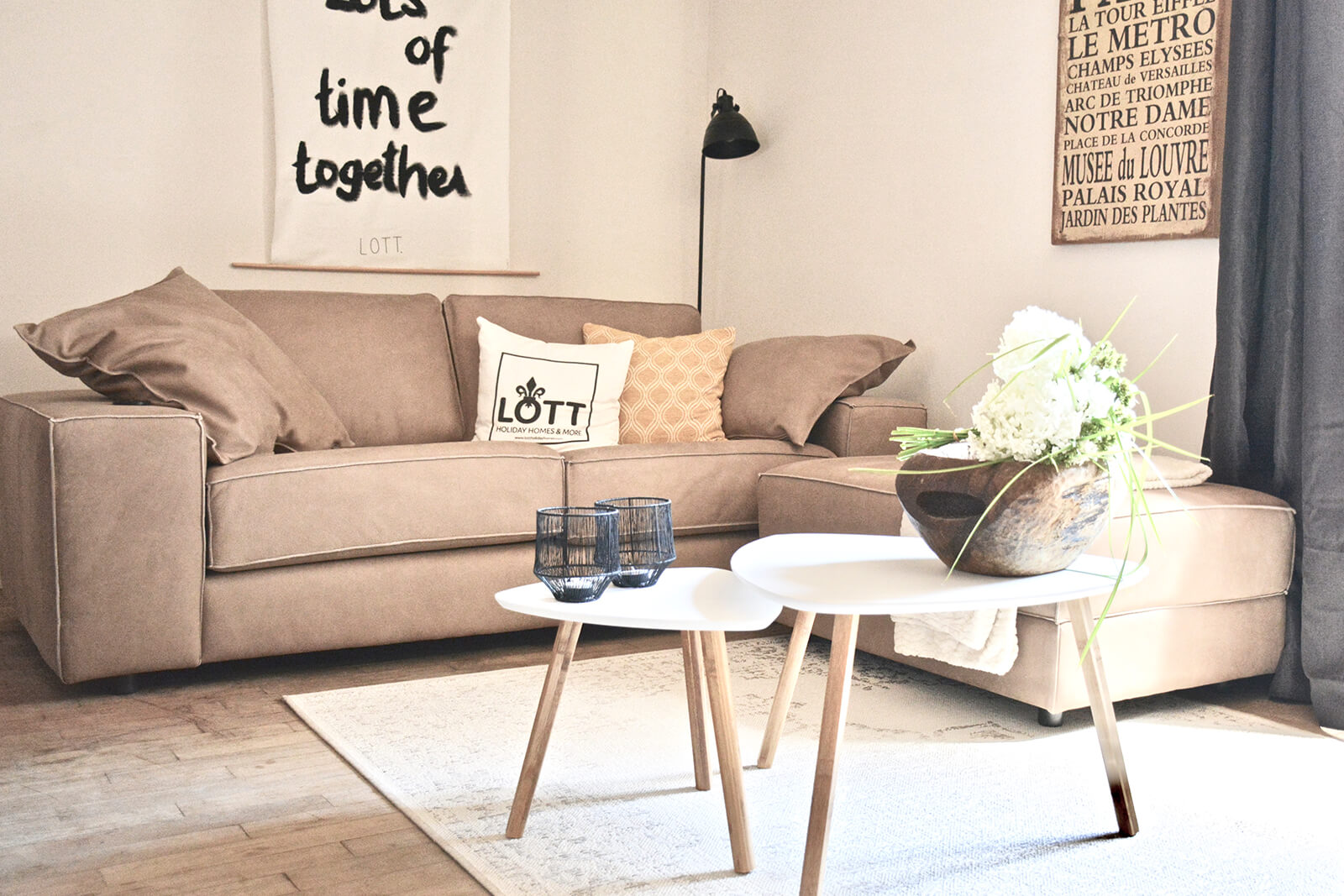 We can imagine you might spend most of your time from June to September outdoors. But when it cools down, this cottage provides an excellent spot for you to read, watch the news or have a movie night in.
You feel right at home at this holiday home LOTT Duravel.
Sizeable living room with kitchen and dining area
The living room of holiday home LOTT Duravel is fully equipped to your needs. A real French country style kitchen with enough chairs around the table. When one is cooking, the other can sit at the table and join in the fun.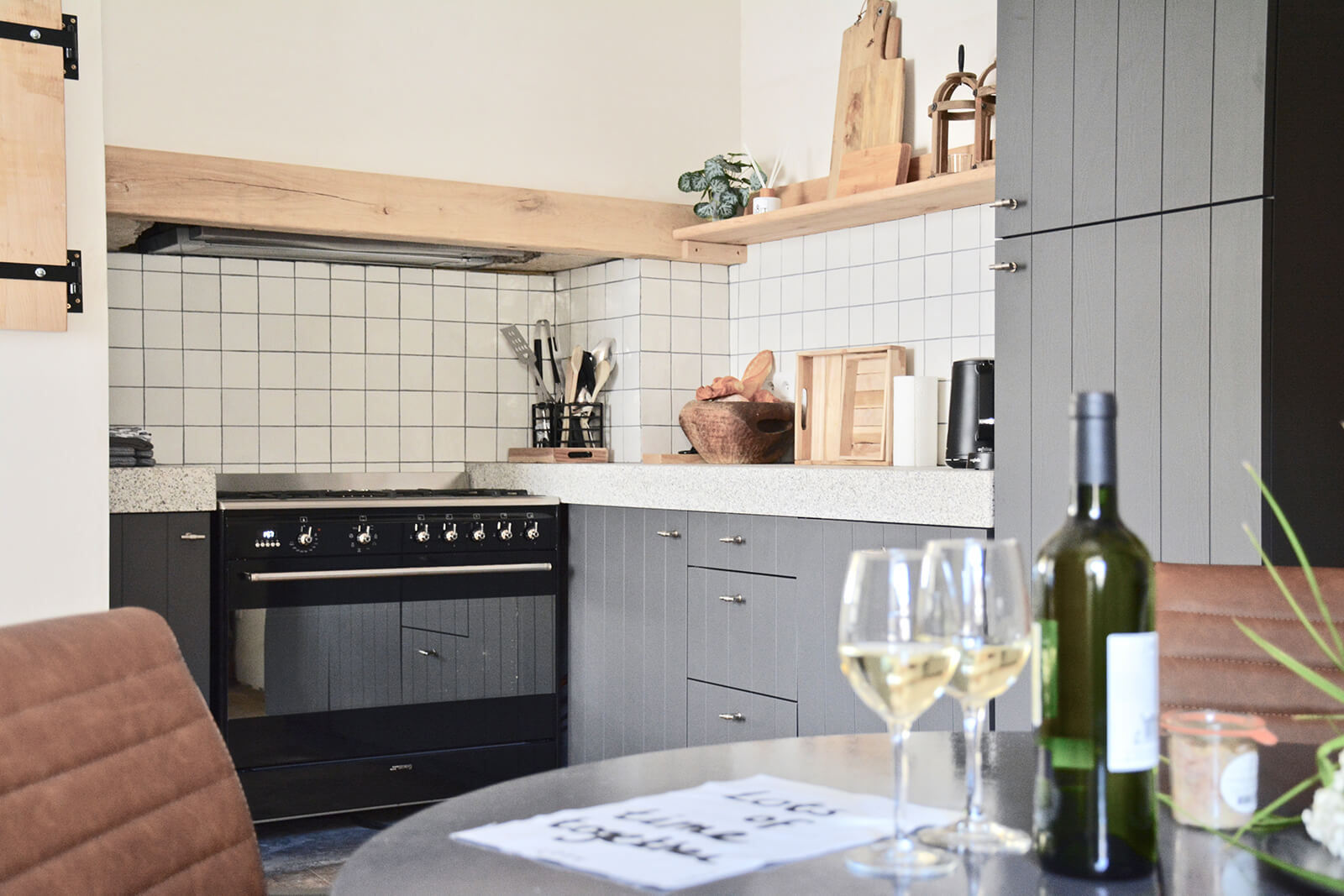 A black stovetop with electric oven to prepare your best dishes. You will have enough space thanks to the granite countertop. The window overlooking the garden finishes this magnificent kitchen.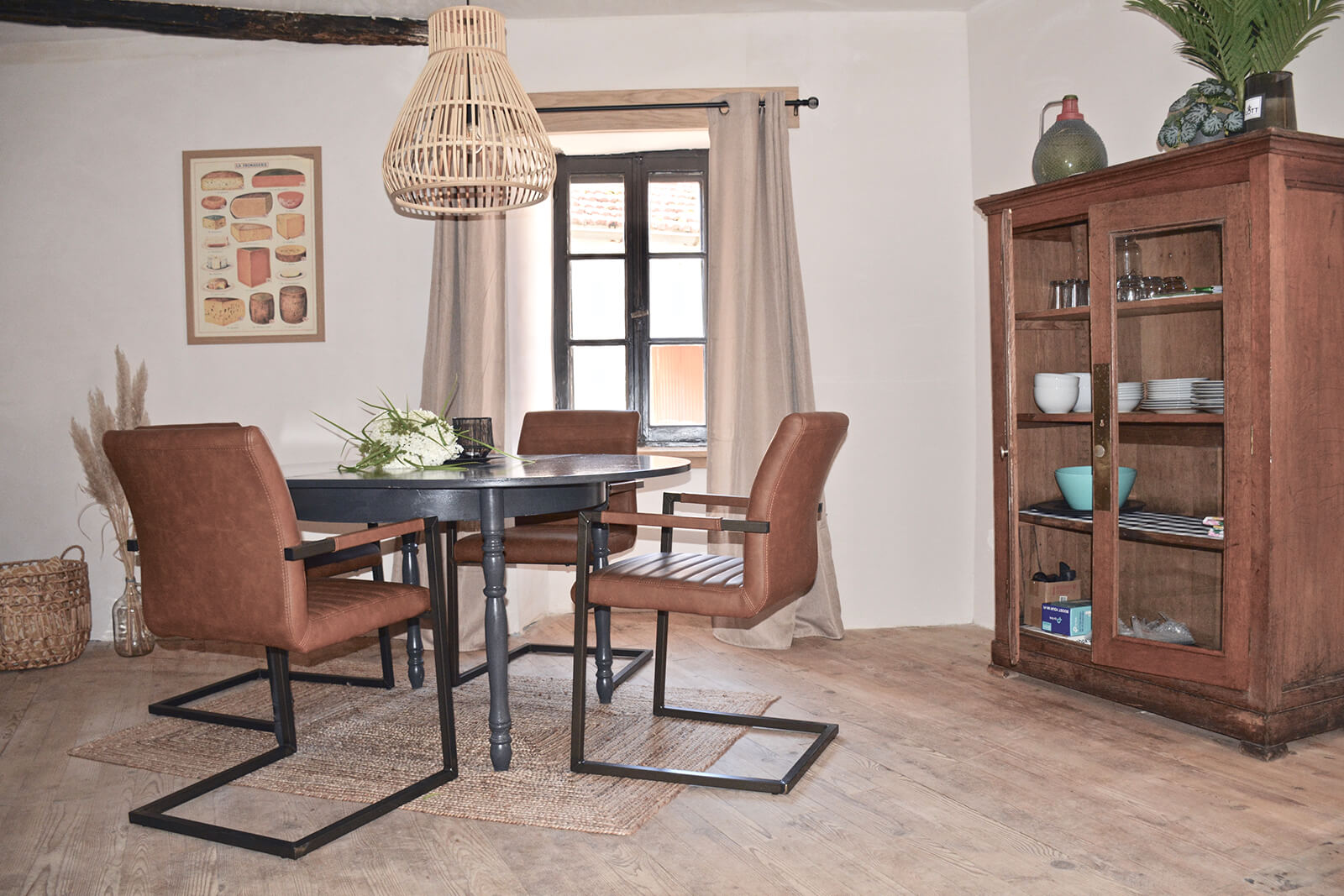 Next to the kitchen is a small covered porch that serves as the ultimate spot for your morning coffee.
Wonderful bedrooms with boxspring beds
The Holiday home LOTT Duravel has two bedrooms. This bedroom is accessible via the living room and has bunk beds and wardrobe. This bedroom is connected to the bathroom.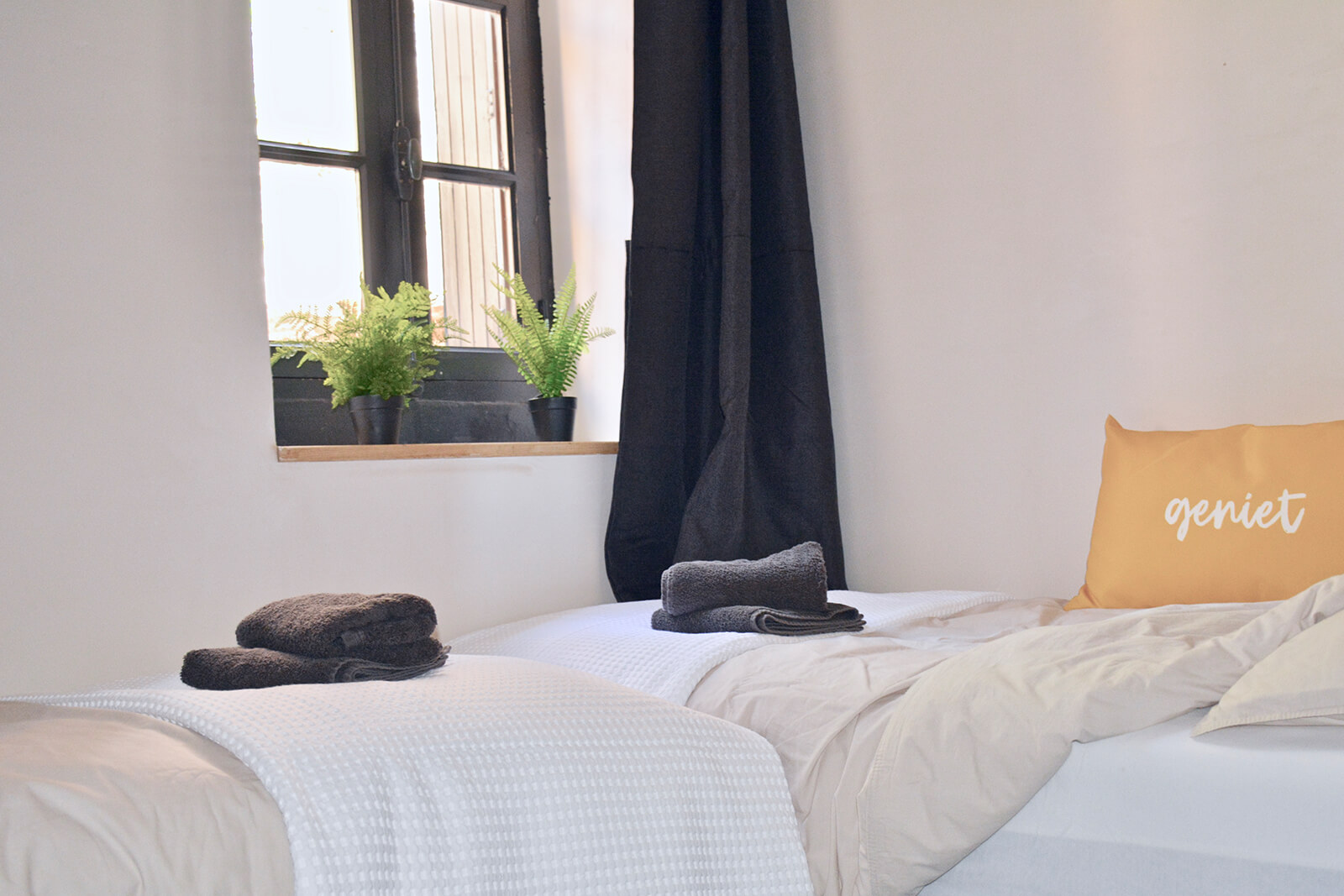 The master bedroom is also accessible via the living room, albeit via the stairs. On this lower level floor you will find an airy and light bedroom with sliding doors. There are bedside tables and reading lights; we've thought of everything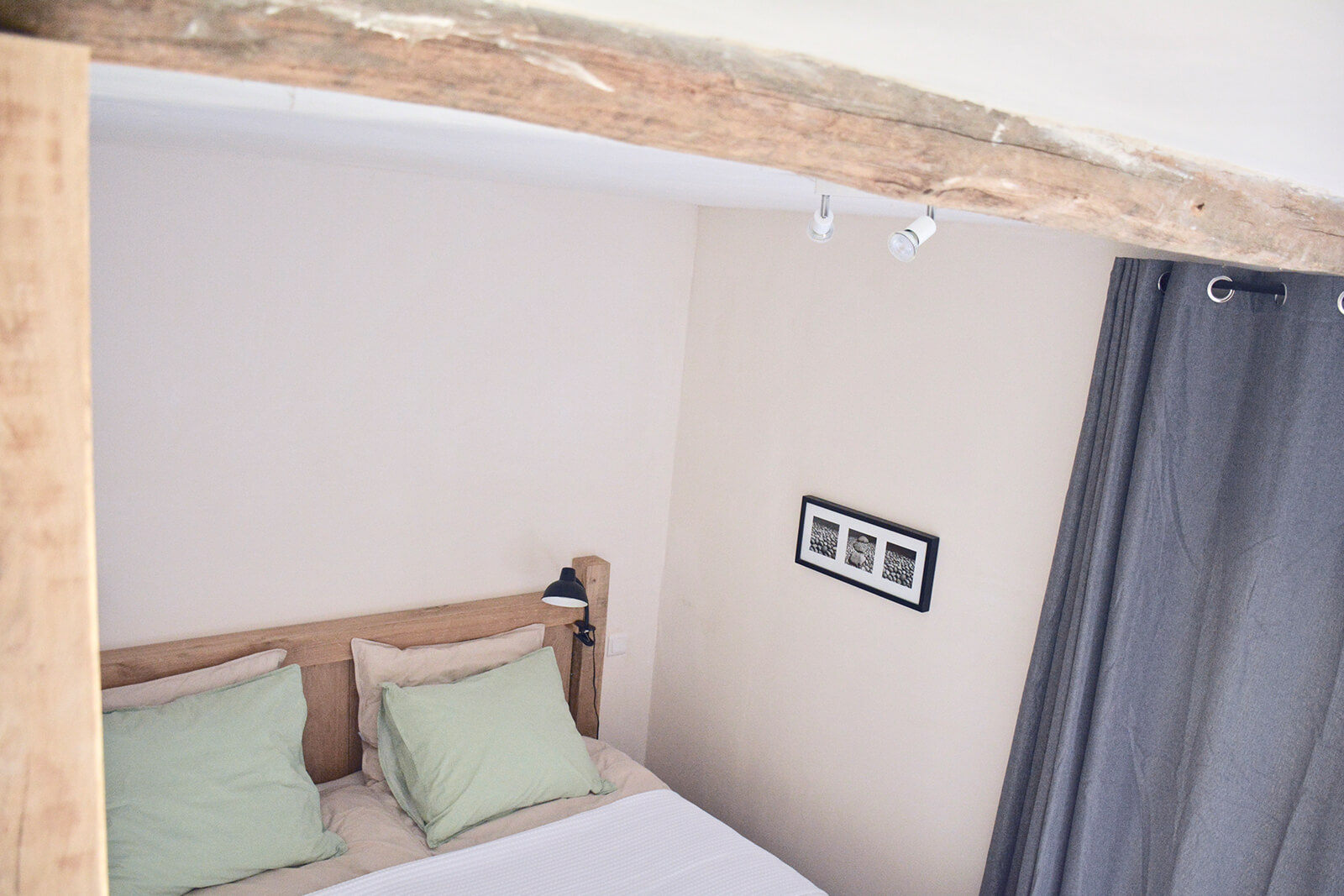 Bathroom with walk-in shower
This modern bathroom of holiday home LOTT Duravel is adjacent to the bedroom. There's a functional storage space by the sink to put all your belongings.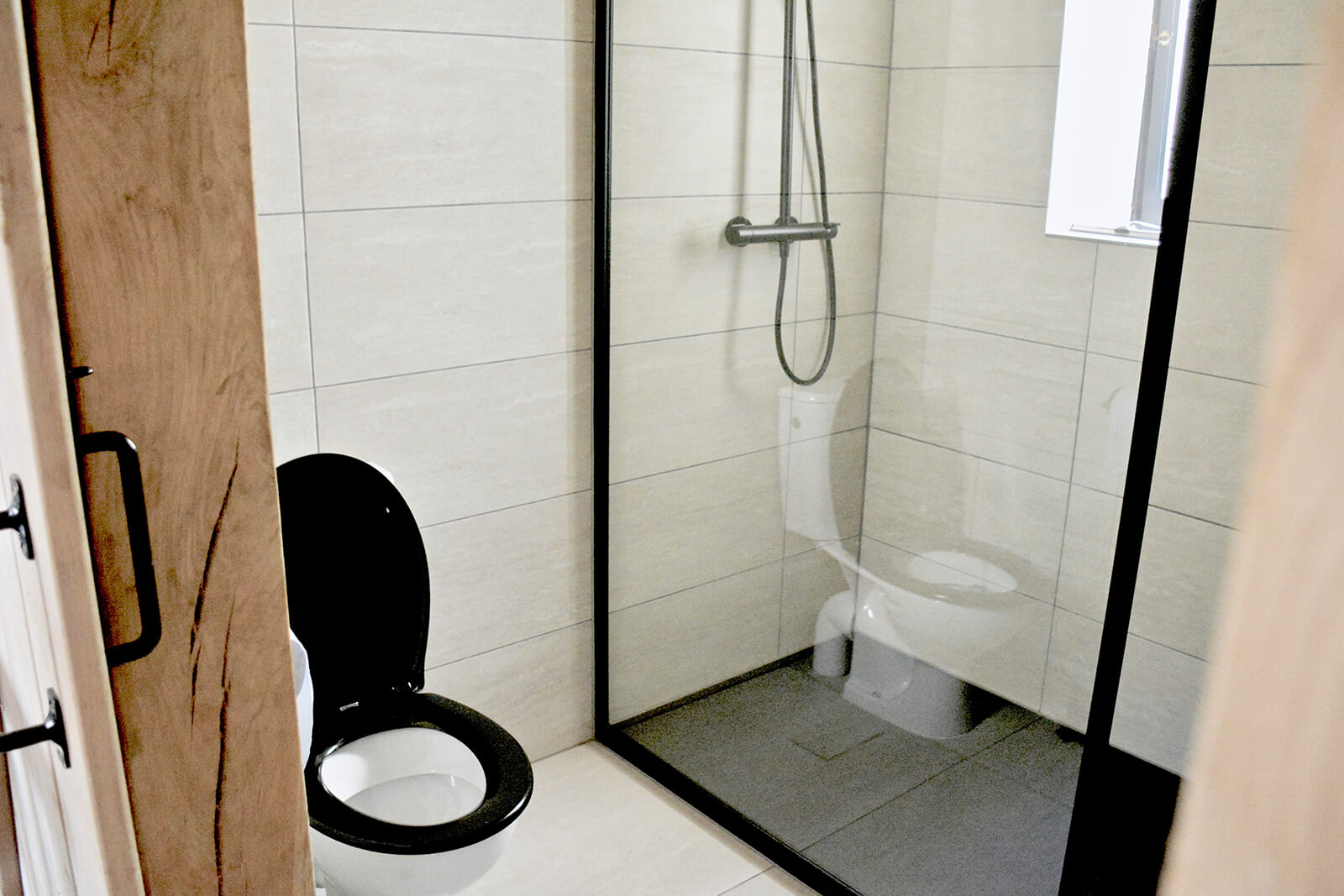 Cosy seats with covered porch and outdoor kitchen
Upon first look you might not imagine the garden connected to this house. But at the side of the house there's a nice space where your can relax.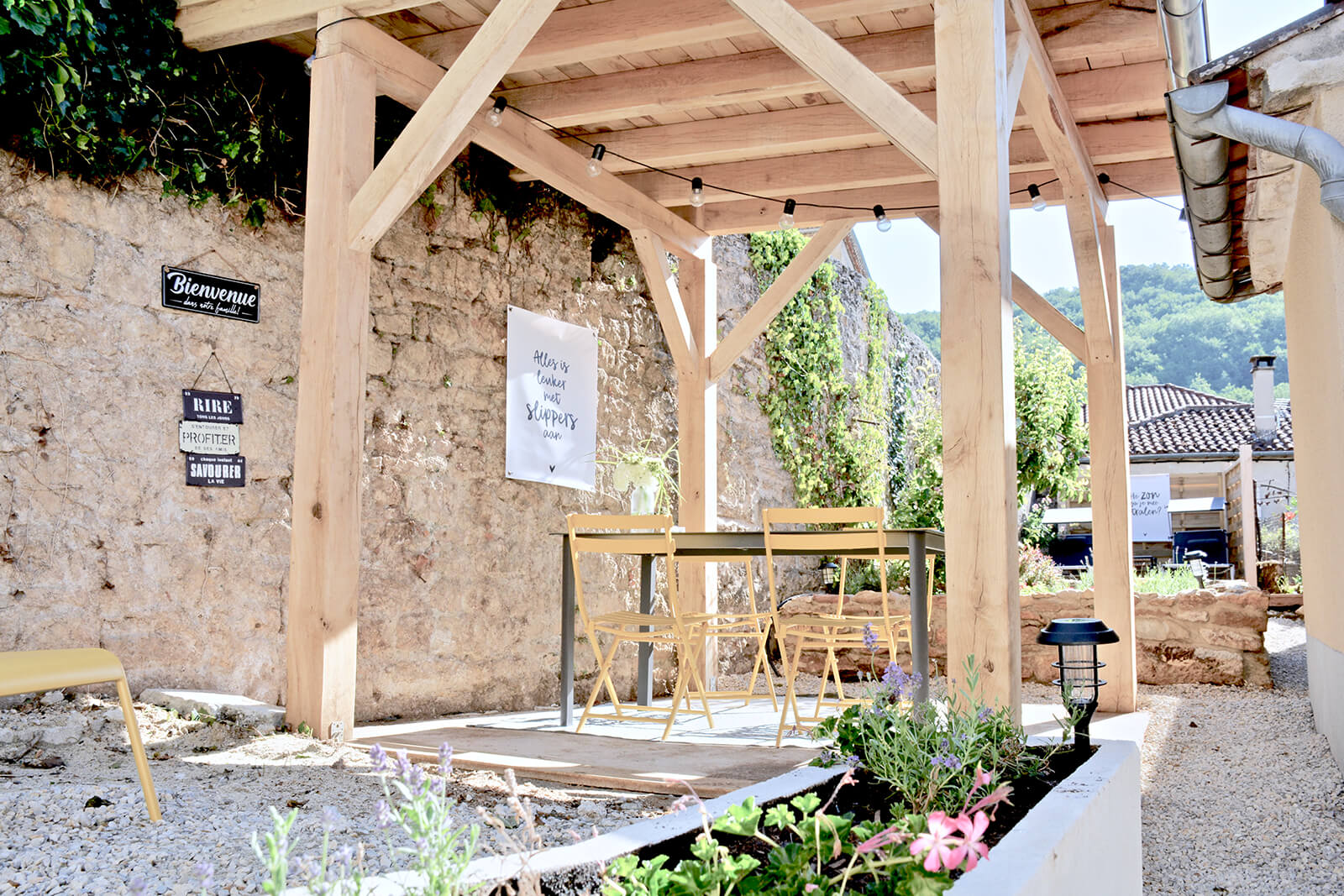 There is a wonderful outdoor kitchen area on this porch, a plancha to prepare your vegetables, meat and fish. There's also a table with chairs for you to enjoy your meal at.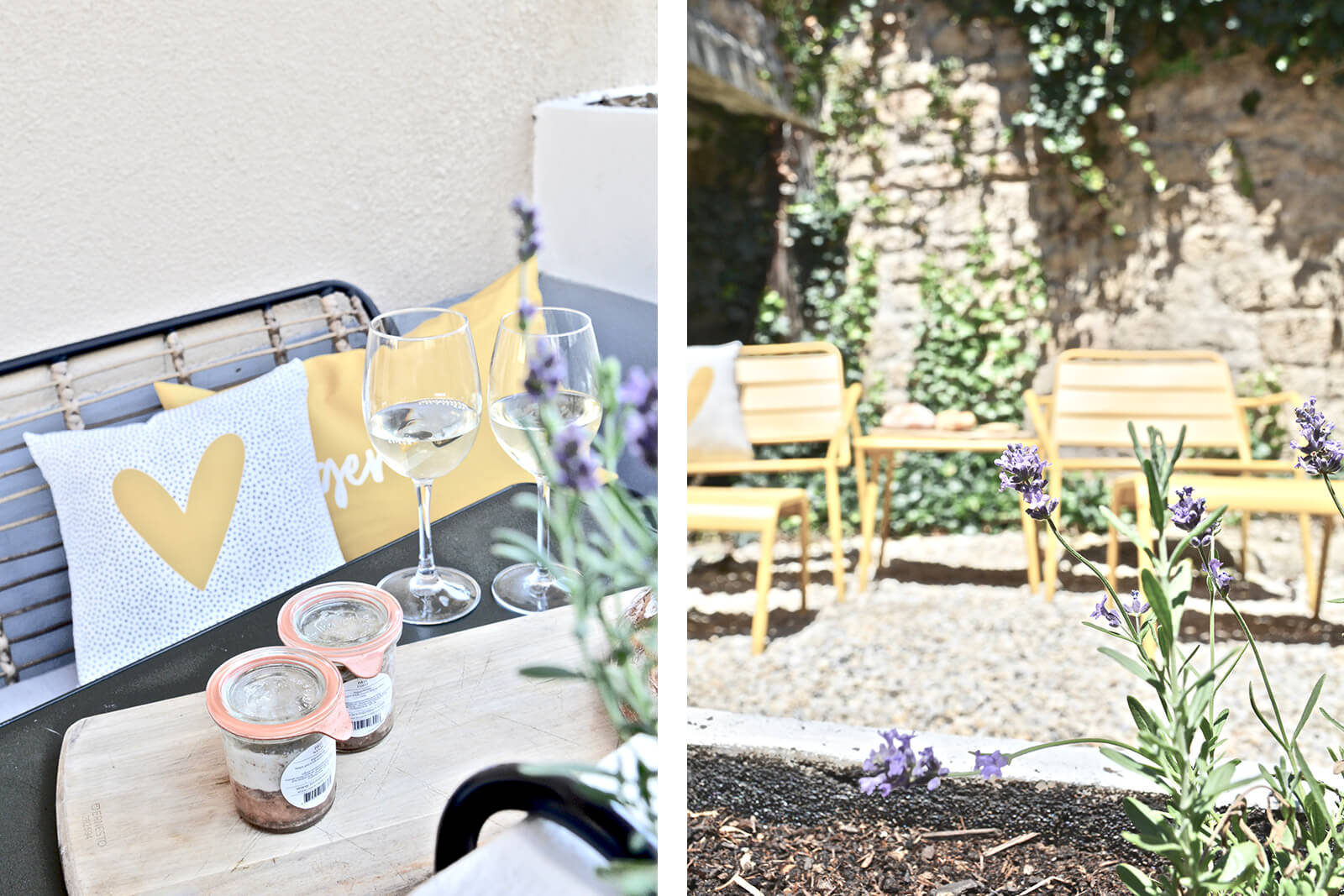 Another terrace is located at the very edge of the garden to read a magazine or to just dream away. A cosy detached cottage in the center of the village with garden, terrace and outdoor kitchen.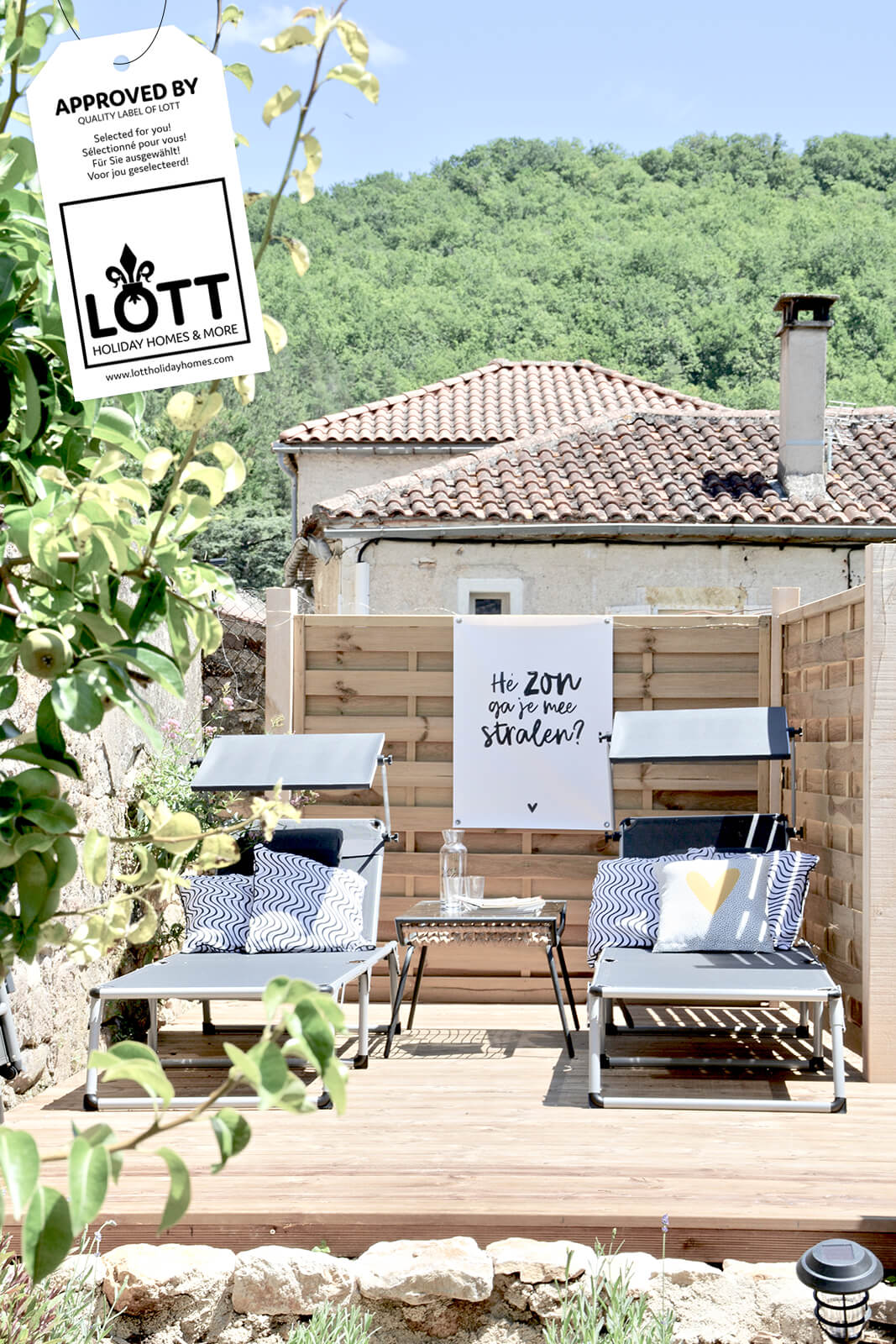 Authentic French Terrace (porch)
In front of the house there's the cosy spot with a sofa to enjoy your morning. A perfect place to enjoy a coffee with a fresh croissant from the local bakery.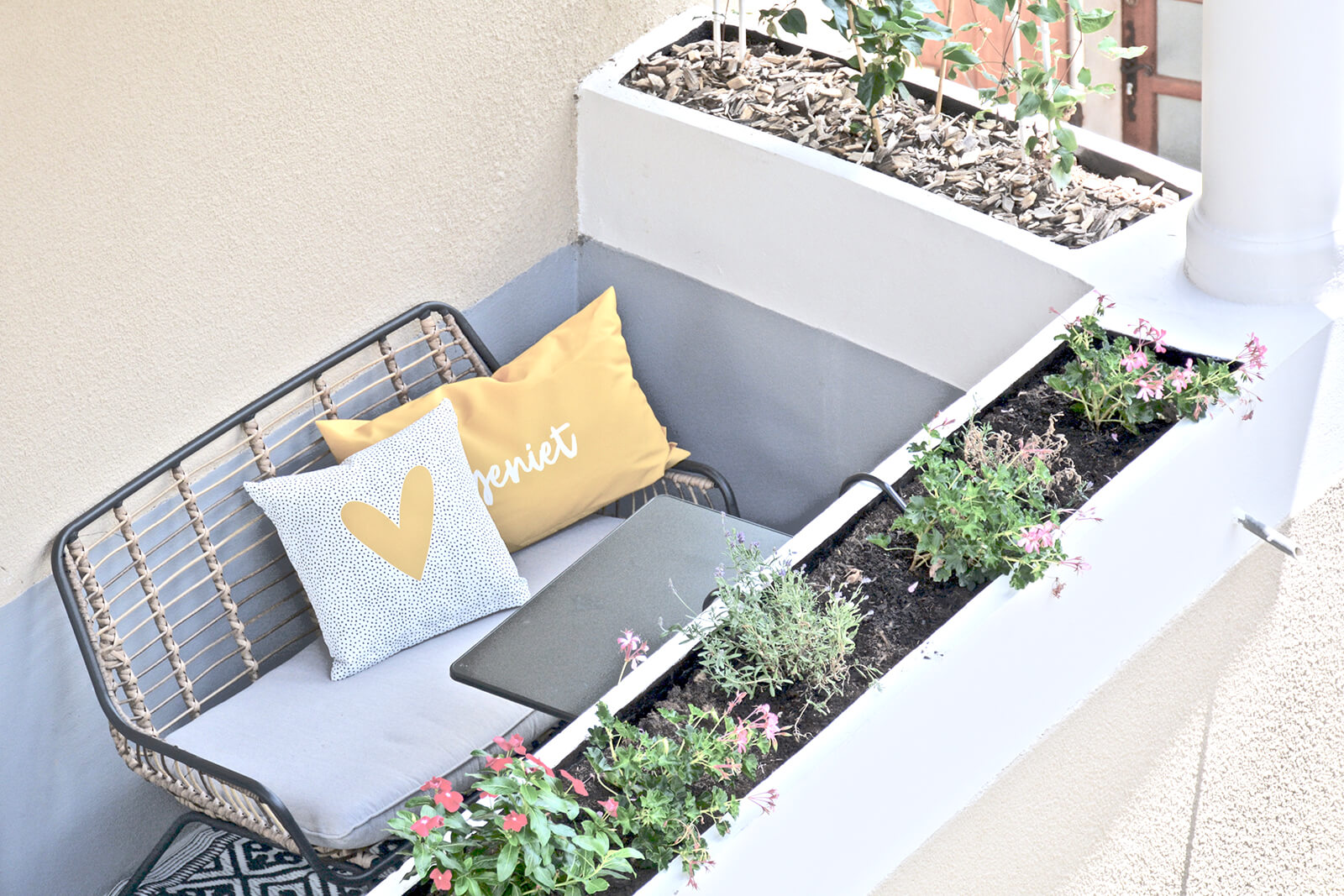 And at the end of the day you can unwind here, too. Exactly the way you want to.
Do you know where to spend your holiday yet?
FAQ - Frequently asked questions
Frequently asked questions of holiday home LOTT Duravel. Do you have another question? Please visit the main 'Frequently asked questions (FAQ)' page or contact us by email.
Holiday home prices
LOTT holiday homes & more makes it easy for you to book. No matter what cottage you book,
All LOTTages have the same price
All can be booked with flexible arrival and departure dates
Booking 7 nights or more in low and mid season always includes a 10% discount
Season
Price per night
Price per week
Low season
€113,40
€699,30
(Including €94,50 week price discount)
Mid season
€124,20
€774,90
(Including €94,50 week price discount)
Peak season
€135,-
€945,-
Week price discount
If you book for seven nights you will always get in the low and midseason a 10% discount of the high season price of 135 euros per night. This means you get a 13,50 euro discount for every night no matter what season your booking is in!
Additional fees
Extra person (from 3 years of age or older) = +10 euros per night
Bed linen for extra persons is + €15,- per person.
Tourist tax (dependent on the department) = +/- 1,10 euros per person (>13) per night
Minimal rental period
The holiday homes of LOTT holiday homes & more can be booked from a minimum of three nights. In the months of July & August at least one week.
Availability
Is LOTT Duravel your chosen cottage for your upcoming holiday?
Select in our online booking system your dates and you will immediately see the price for your stay and any discount.
Are your dates unavailable? Visit our 'Availability and Booking' page to see if there is any other LOTTage available for this period. You can always send us an e-mail with your preferred holiday dates and we can see what we can do for you.
Online booking
Choose your preferred booking dates here, fill out the form and send it to make your online booking complete.