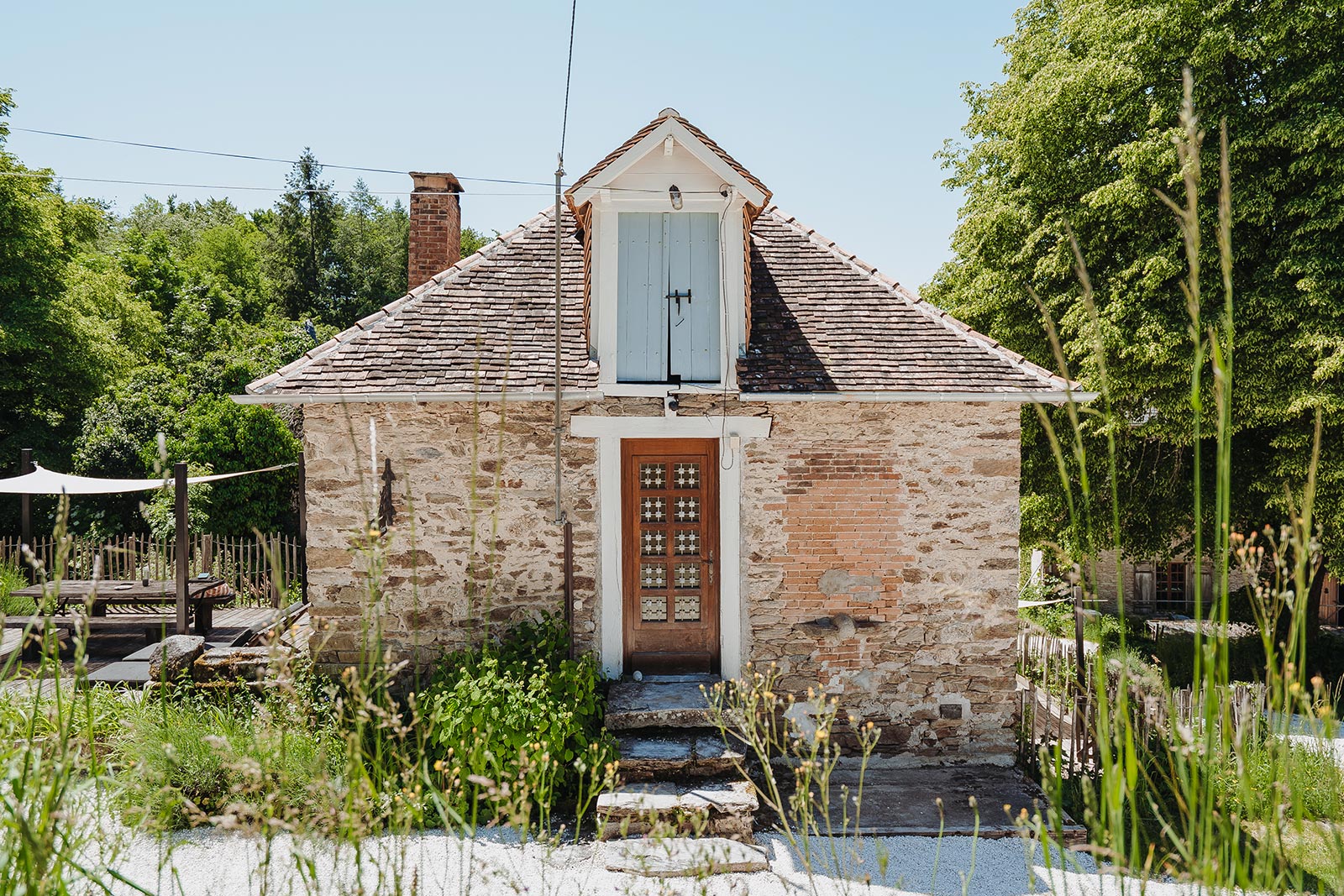 Explore holiday home LOTT Coussac-Bonneval
This cottage is located on our small-scale holiday resort La-Bastide. This single-level home is light and airy because of large windows and light-coloured furniture. At the left hand side of the home is a private, wooden, south-facing terrace.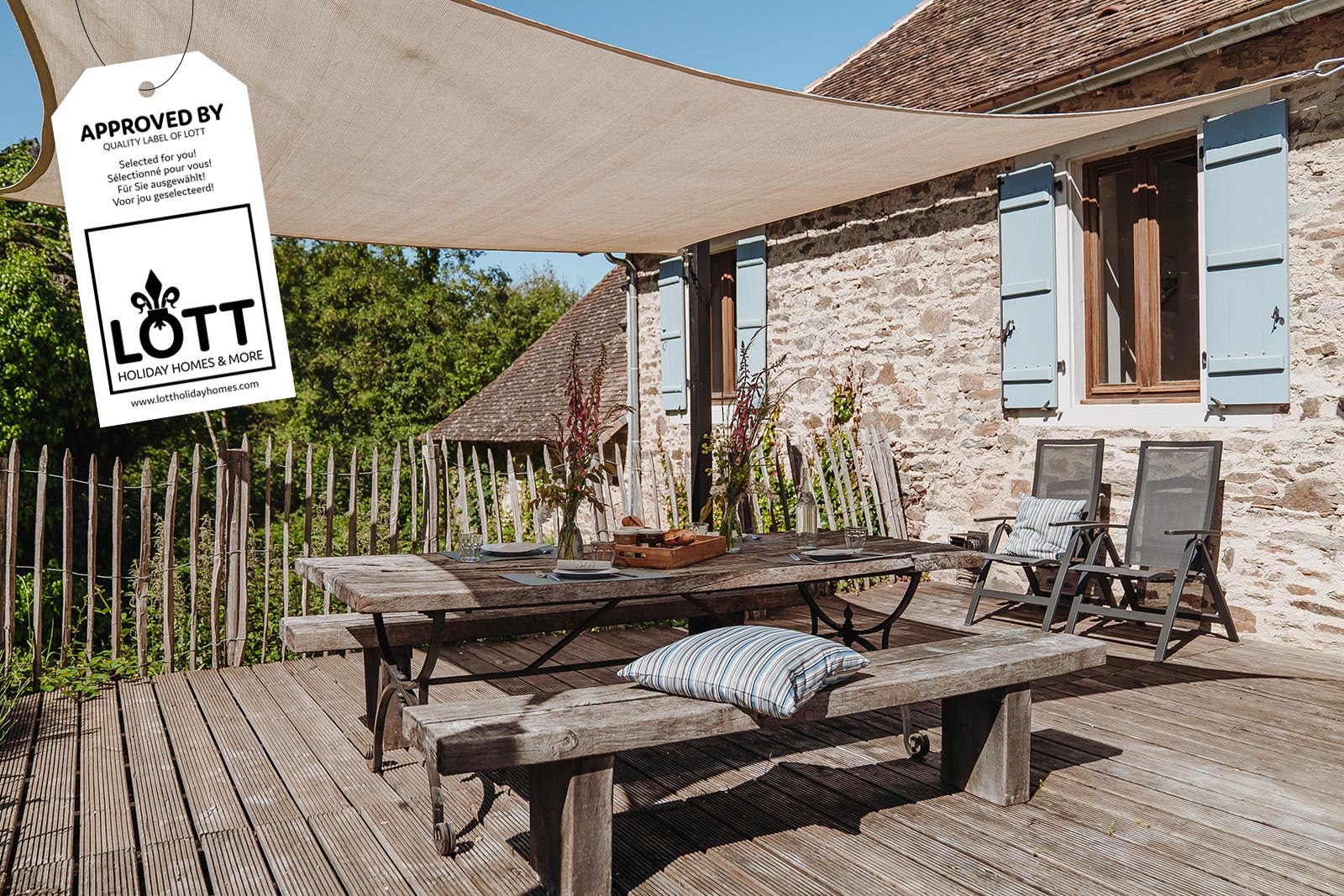 The cottage is located only 500m from the French village of Coussac-Bonneval. In this village you can find a bakery, butcher, small supermarket and cosy restaurants. Not only is this cottage perfectly located on a small resort in a picturesque village; its surroundings in the department of Haute-Vienne (near the Dordogne and Correze departments) ensure a tranquil and delightful stay.
Nature is in walking (or cycling!) distance. You can explore one of the area's many lakes or just walk about the village.
Location holiday home La-Bastide
Address: La Bastide, 87500 Coussac-Bonneval, France
Country: France
Region: Nouvelle-Aquitaine
Department: Haute-Vienne
Municipality, village: Coussac-Bonneval
By car, Driving holiday: 436 km from Paris
Train/bus: via Limoges
By airplane, Plane holiday: via Airport Bergerac or Airport Clermont-Ferrand Auvergne

location_on Locatie & route: Google maps
Holiday home LOTT La-Bastide
Layout 2-4 persons holiday home LOTT La-Bastide
The cottage LOTT La-Bastide suits 2-4 people and is a single-level cottage. Its surface area is around 80m2.
First (and only) floor: living room with open kitchen, two bedrooms, bathroom with bathtub, shower, sink and toilet
Outdoor area: private 40m2 terrace with sun beds, furniture, canvas shade cover
Facilities of the resort: 18000m2 terrain, shared heated pools, BBQ spot with ceramic BBQ, wooden pizza oven private parking
picture_as_pdfDownload map + features list
list_alt Features and facilities overview of all holiday homes
Photo gallery holiday home LOTT La-Bastide
See here the photos of LOTT La-Bastide. Get inspired by this luxurious cottage located in the Haute-Vienne department (region: Nouvelle-Aquitaine) in France.
Atmospheric living room with fireplace
This detached cottage has a bright living room with airy furniture. From the living room you have a good view of the small-scale resort of La-Bastide.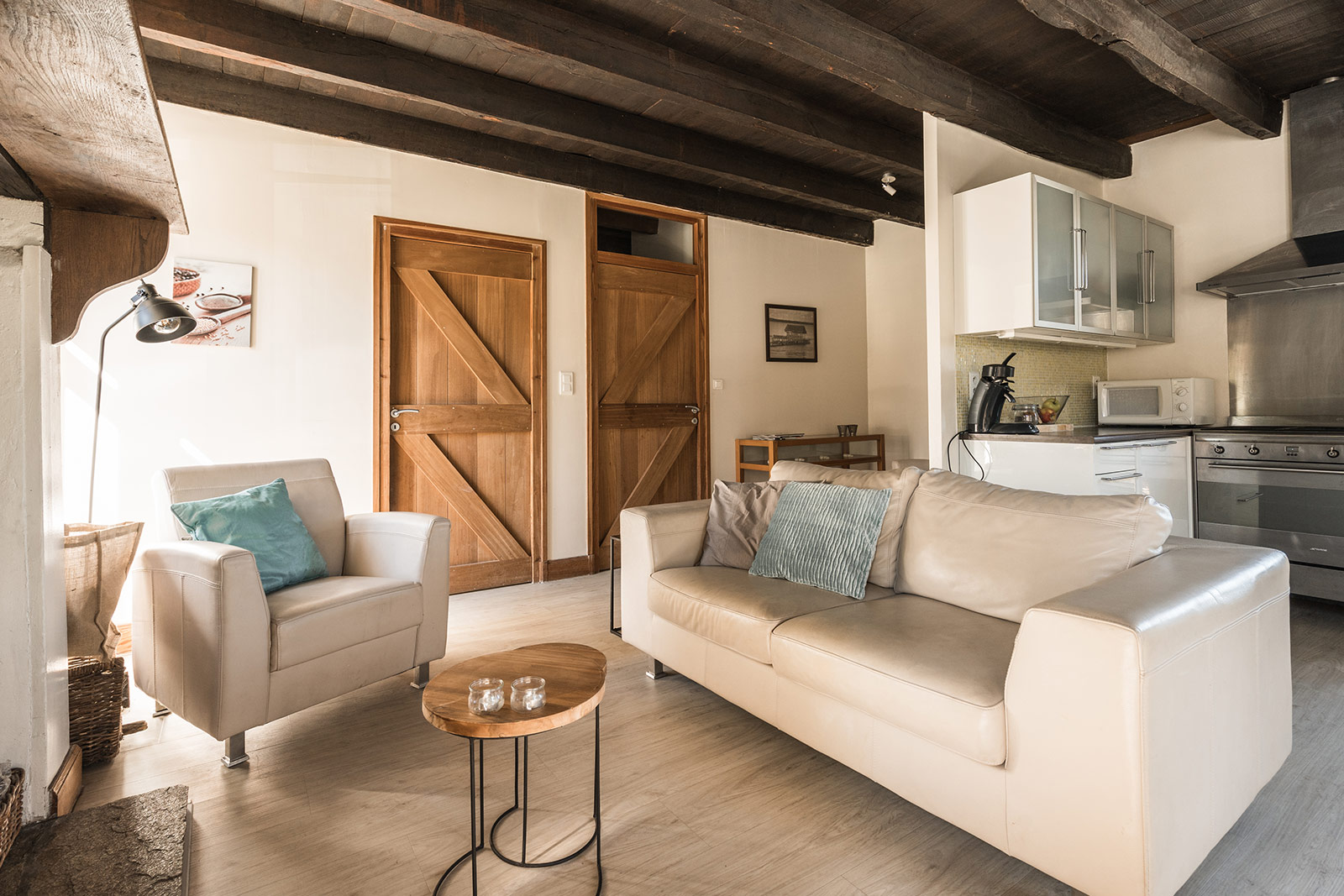 In the seating area you can find a fireplace which makes this LOTTage an excellent pick during the whole year no matter the weather!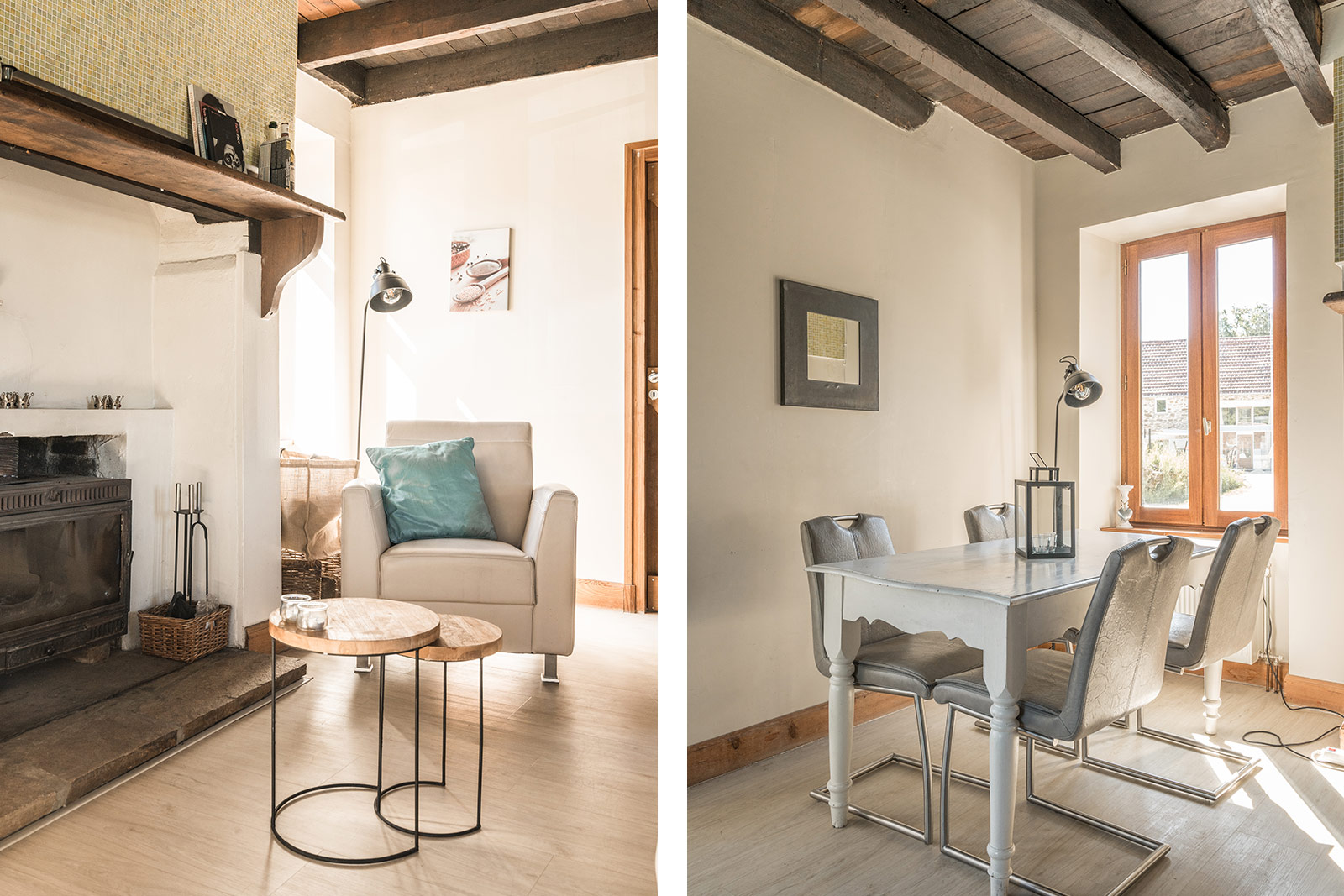 This is a perfect holiday home for up to four people. Holiday home LOTT La-Bastide also serves as a relaxing and calm "workation" spot: working and celebrating vacation simultaneously.
Open kitchen with view of La-Bastide
Cottage LOTT La-Bastide has a fully equipped kitchen. Do you enjoy cooking? You will have an excellent time in this kitchen. A SMEG stove and fridge in this U-shaped kitchen provide you with the best equipment and set-up to make delicious home-cooked meals. And that while staring at Chateau de Bonneval!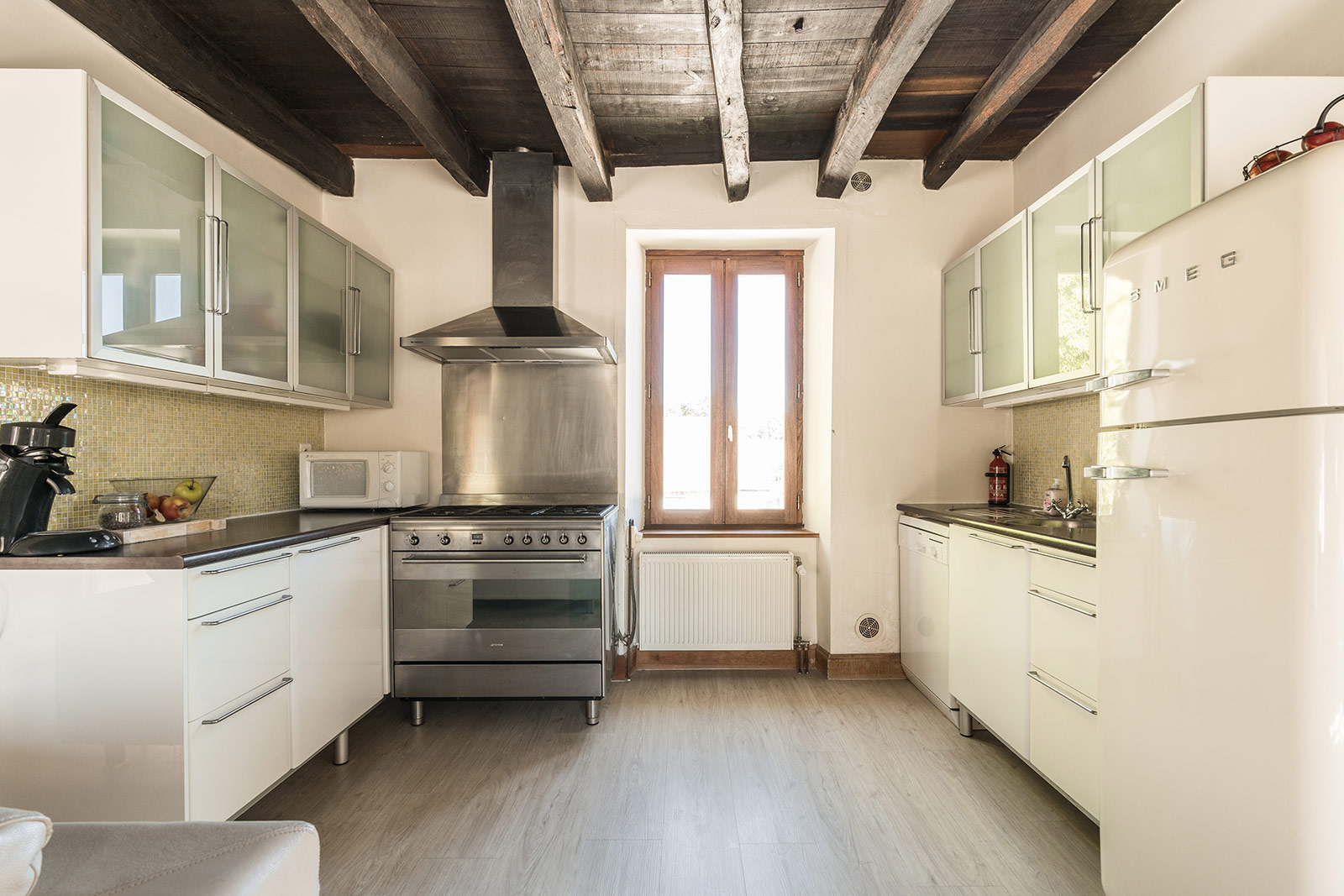 In this kitchen you can find a coffee filter and espressomachine. Would you rather enjoy a coffee made from freshly ground beans? A coffee machine with fresh beans is a walk away at the coffee station at the La-Bastide resort.
Spacious bedroom like a hotel suite
LOTTage La-Bastide has two bedrooms, each suitable for two persons. All bedrooms of LOTT holiday homes & more are equipped with the best boxspring beds.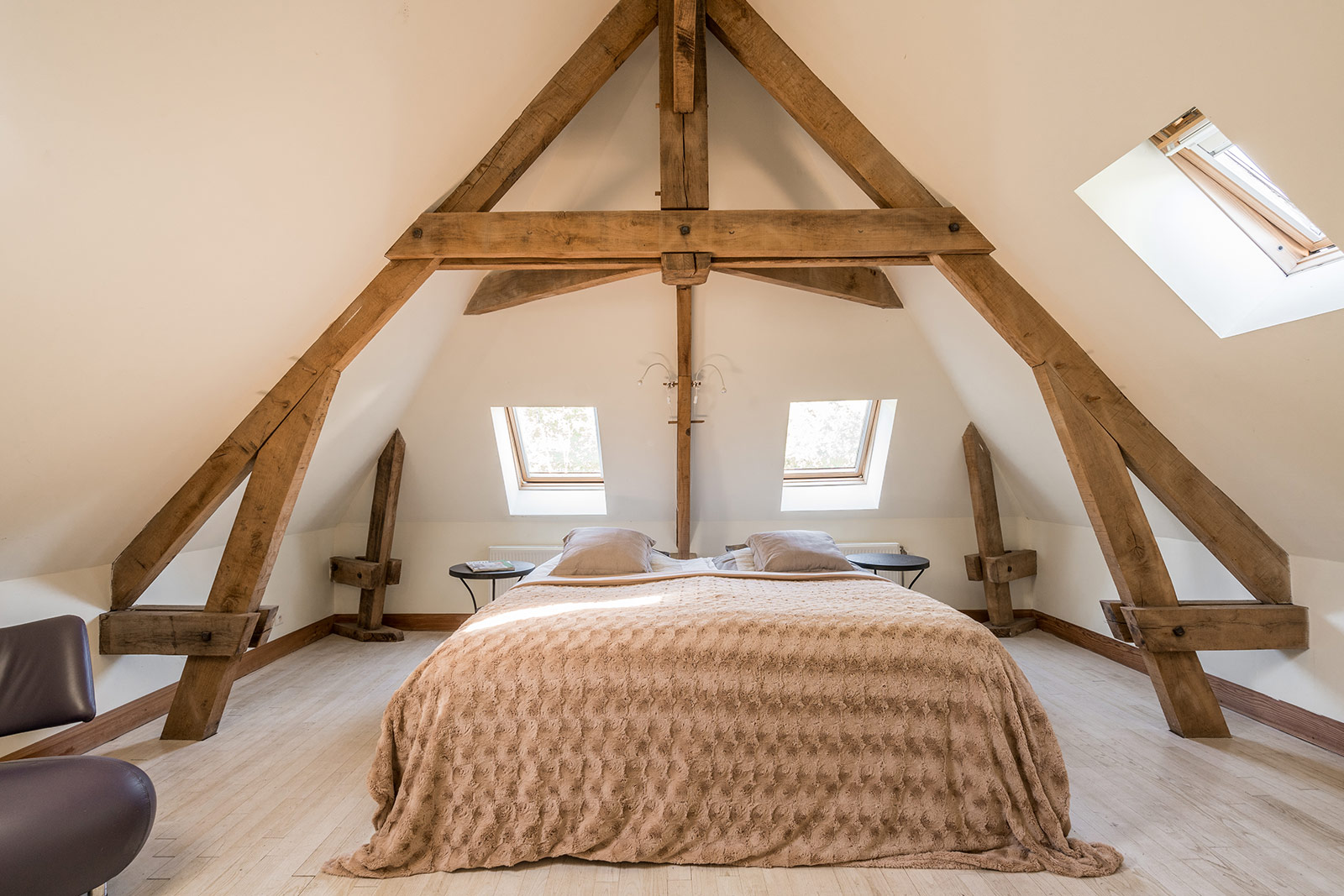 The main bedroom is light, spacious and open. Wooden (oak) roof trusses give a French vibe, complemented by leather chairs. Opening the windows allows the sound of the Valentine river to lull you to sleep, or the sound of chirping birds to wake you up.
Exquisite bathroom
This large bathroom has everything you might need. A large walk-in shower with glass wall, a big sink and luxury bath.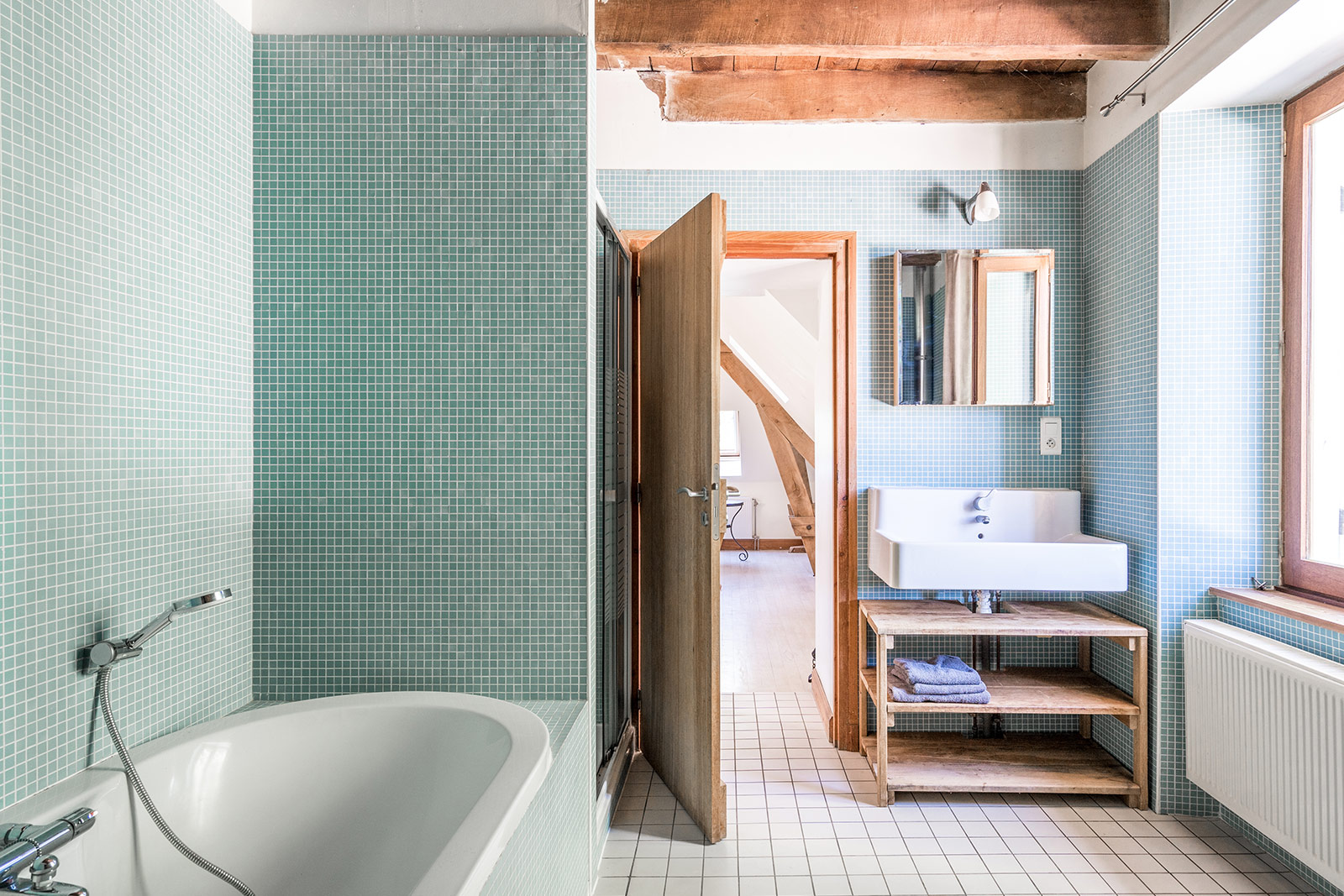 A good place to unwind; a definite plus in colder seasons. Treat yourself to a bath with fragrant products. Continue your rosy glow with a seat at the fireplace afterwards.
Nice terrace facing south
At the side of the LOTTage La-Bastide there is a big terrace. Sun hits your face in the morning while you are enjoying a cup of coffee with breakfast, or a local pastry made by the bakery in the village.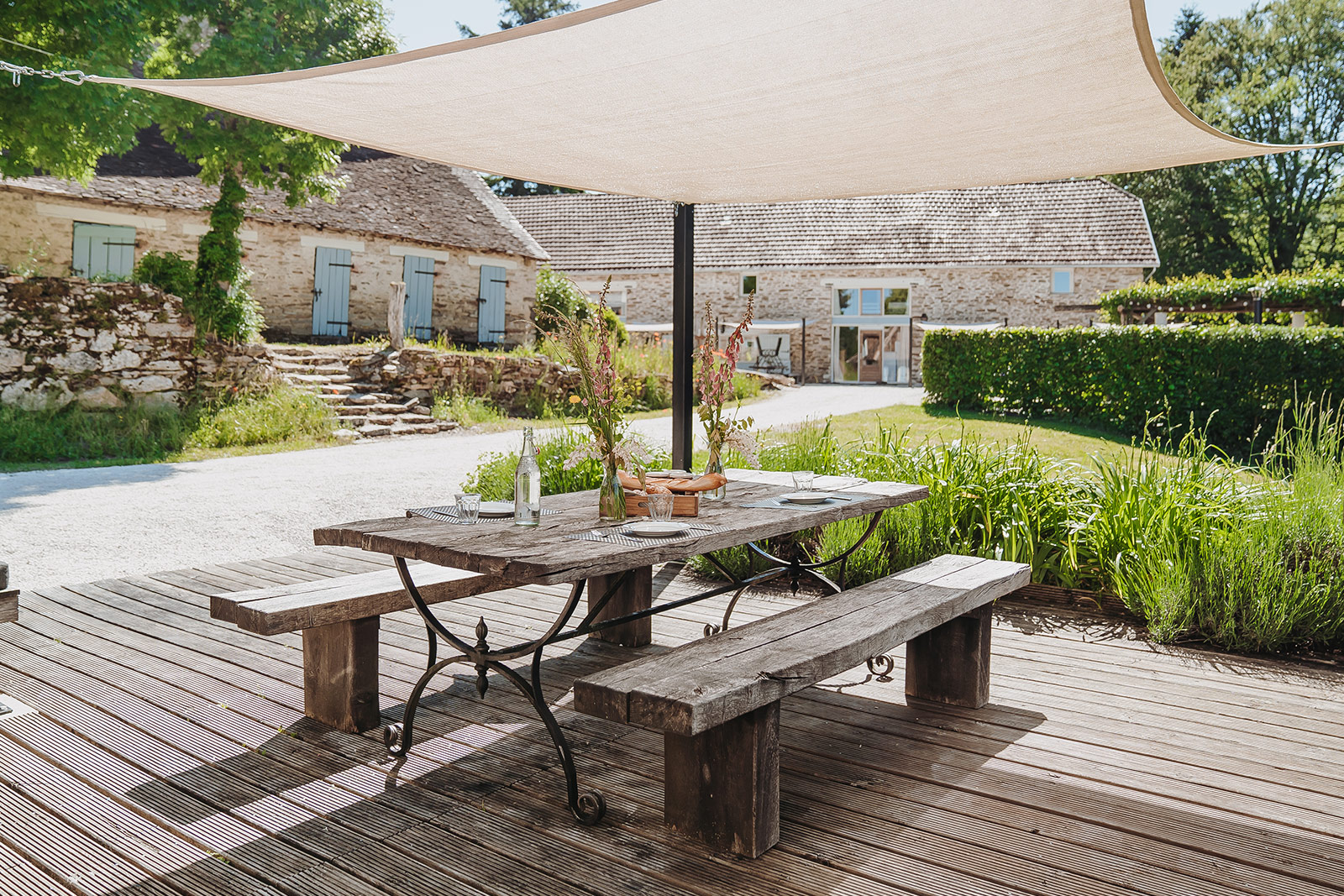 A good place to eat lunch or dinner, but also a space to relax. There are sun beds available and for those preferring shade there is a shade canvas to create some protection from the sun.
This is exactly the holiday home for those who enjoy being outdoors on vacation from March to September.
Lounge and relax at the communal pool
Are you staying at the LOTTage La-Bastide? Then your holiday comes with all the perks of staying at a small-scale resort; a shared pool with sun beds and big terrace.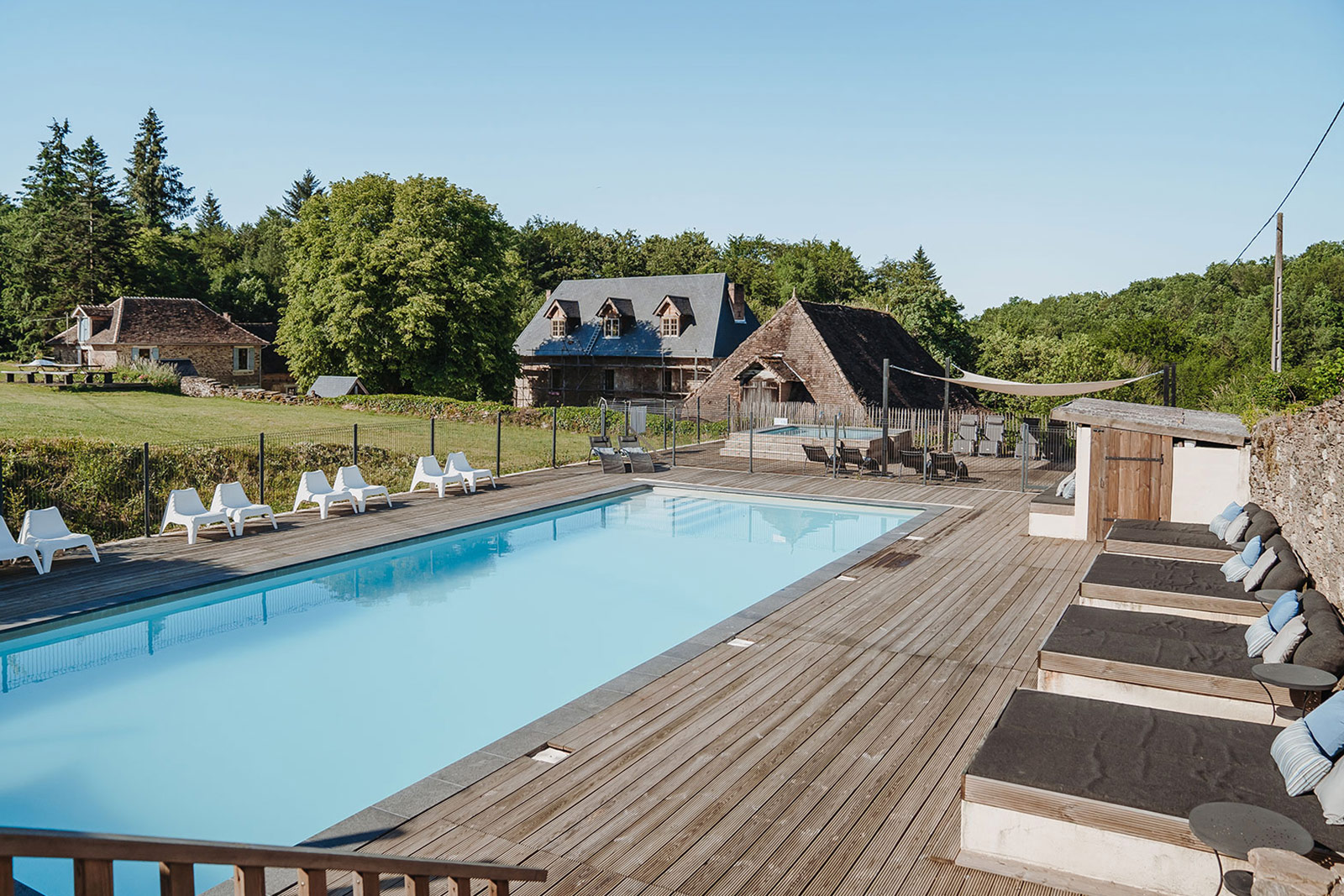 Because this home is located at our resort, you can enjoy all facilities provided. One is the spacious (15×6) pool to make some laps or to relax at.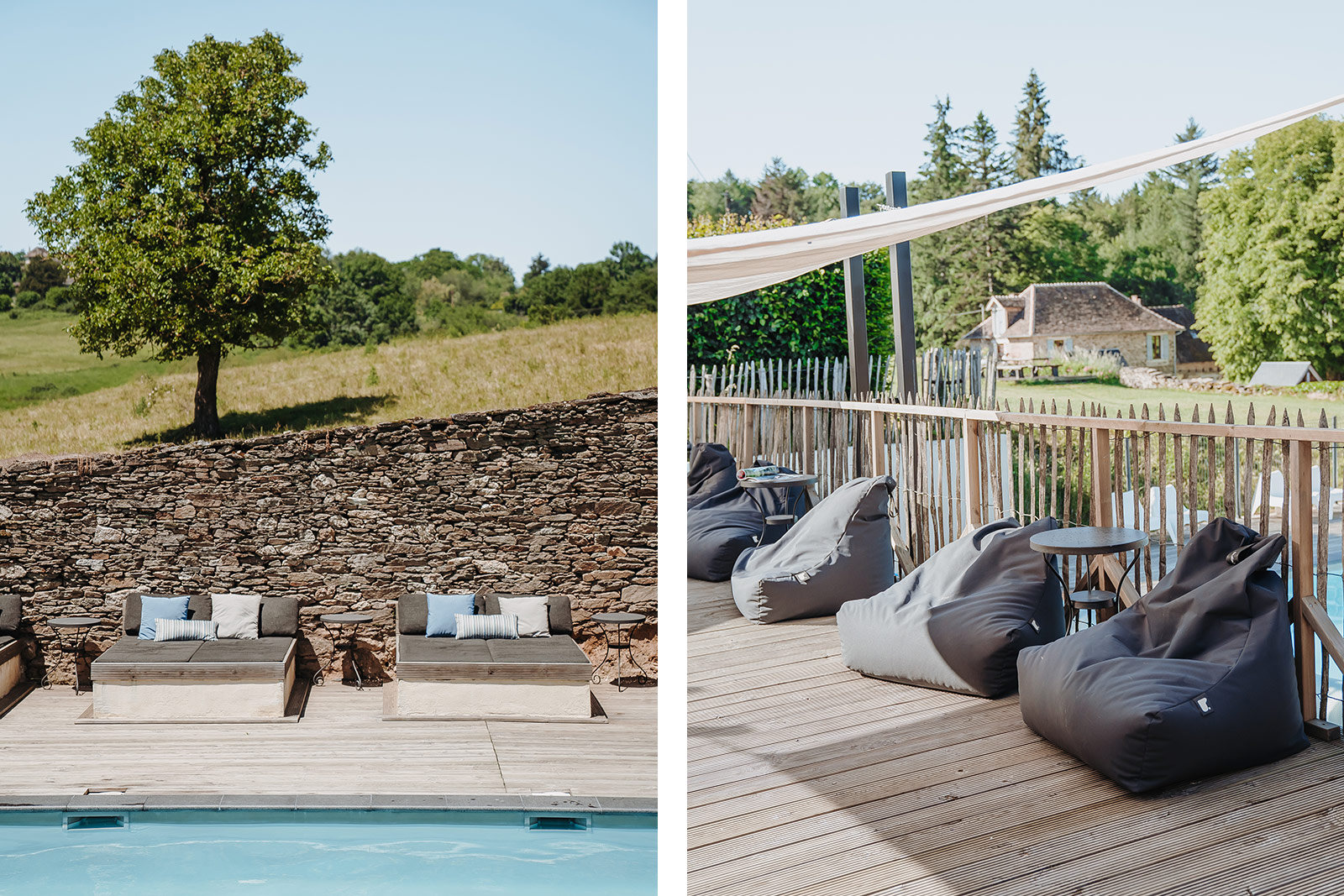 At the higher-located terrace there is a space for enjoying some drinks with a view of the pool and a unique view of the Limousine cows on the adjoining land.
FAQ - Frequently asked questions
Frequently asked questions of holiday home LOTT La-Bastide. Do you have another question? Please visit the main 'Frequently asked questions (FAQ)' page or contact us by email.
Holiday home prices
LOTT holiday homes & more makes it easy for you to book. No matter what cottage you book,
All LOTTages have the same price
All can be booked with flexible arrival and departure dates
Booking 7 nights or more in low and mid season always includes a 10% discount
Season
Price per night
Price per week
Low season
€113,40
€699,30
(Including €94,50 week price discount)
Mid season
€124,20
€774,90
(Including €94,50 week price discount)
Peak season
€135,-
€945,-
Week price discount
If you book for seven nights you will always get in the low and midseason a 10% discount of the high season price of 135 euros per night. This means you get a 13,50 euro discount for every night no matter what season your booking is in!
Additional fees
Extra person (from 3 years of age or older) = +10 euros per night
Bed linen for extra persons is + €15,- per person.
Tourist tax (dependent on the department) = +/- 1,10 euros per person (>13) per night
Minimal rental period
The holiday homes of LOTT holiday homes & more can be booked from a minimum of three nights. In the months of July & August at least one week.
Availability
Is LOTT La-Bastide your chosen cottage for your upcoming holiday?
Select in our online booking system your dates and you will immediately see the price for your stay and any discount.
Are your dates unavailable? Visit our 'Availability and Booking' page to see if there is any other LOTTage available for this period. You can always send us an e-mail with your preferred holiday dates and we can see what we can do for you.
Online booking
Choose your preferred booking dates here, fill out the form and send it to make your online booking complete.