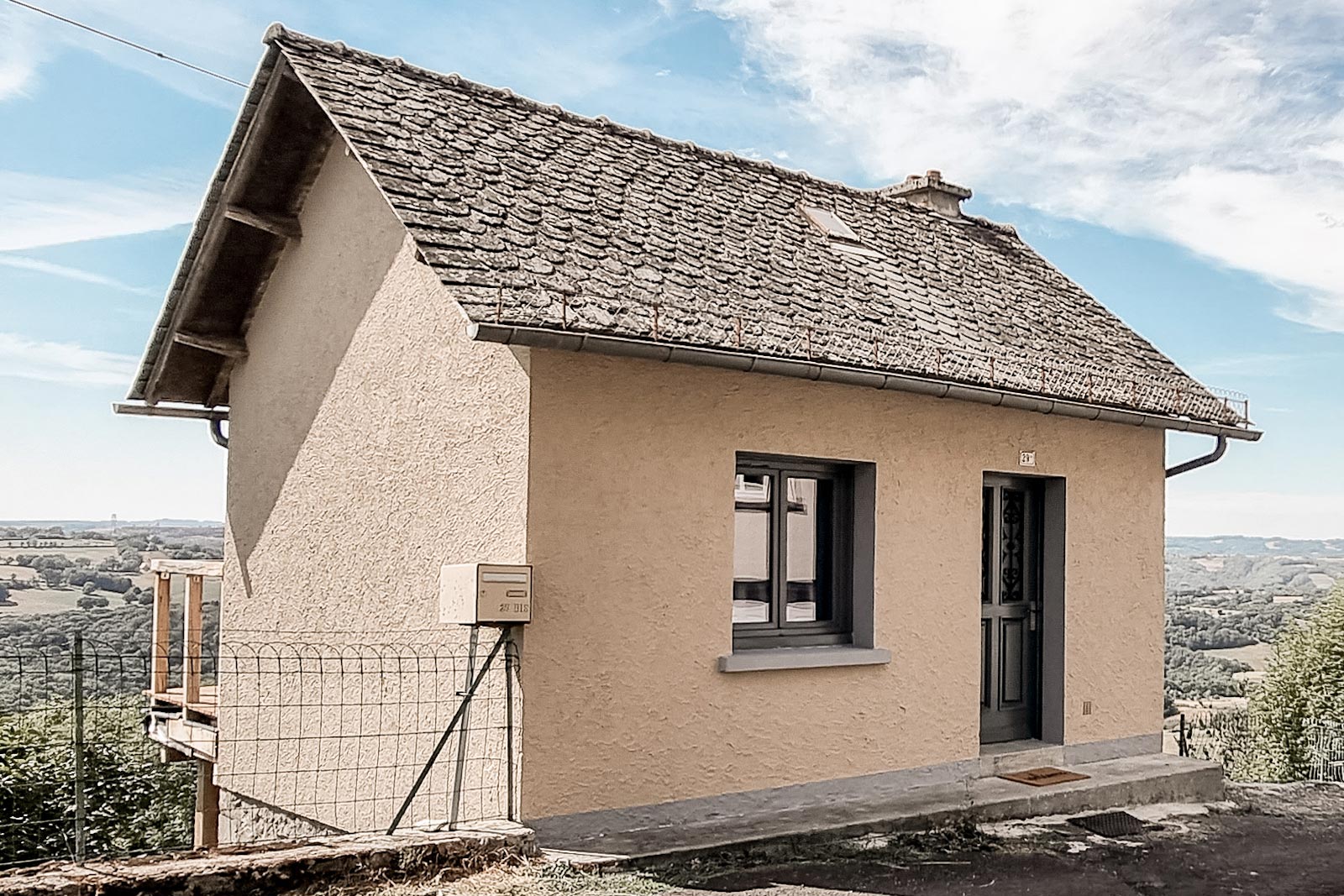 Discover holiday home LOTT Mur-de-Barrez
This charming detached vacation home is located in the tourist village of Mur-de-Barrez. A picturesque French village with a historic center linked to the Grimaldi family of Monaco. A charming village where you can walk from your vacation home to a good bakery, an artisanal butcher, and several small supermarkets, bars, and restaurants.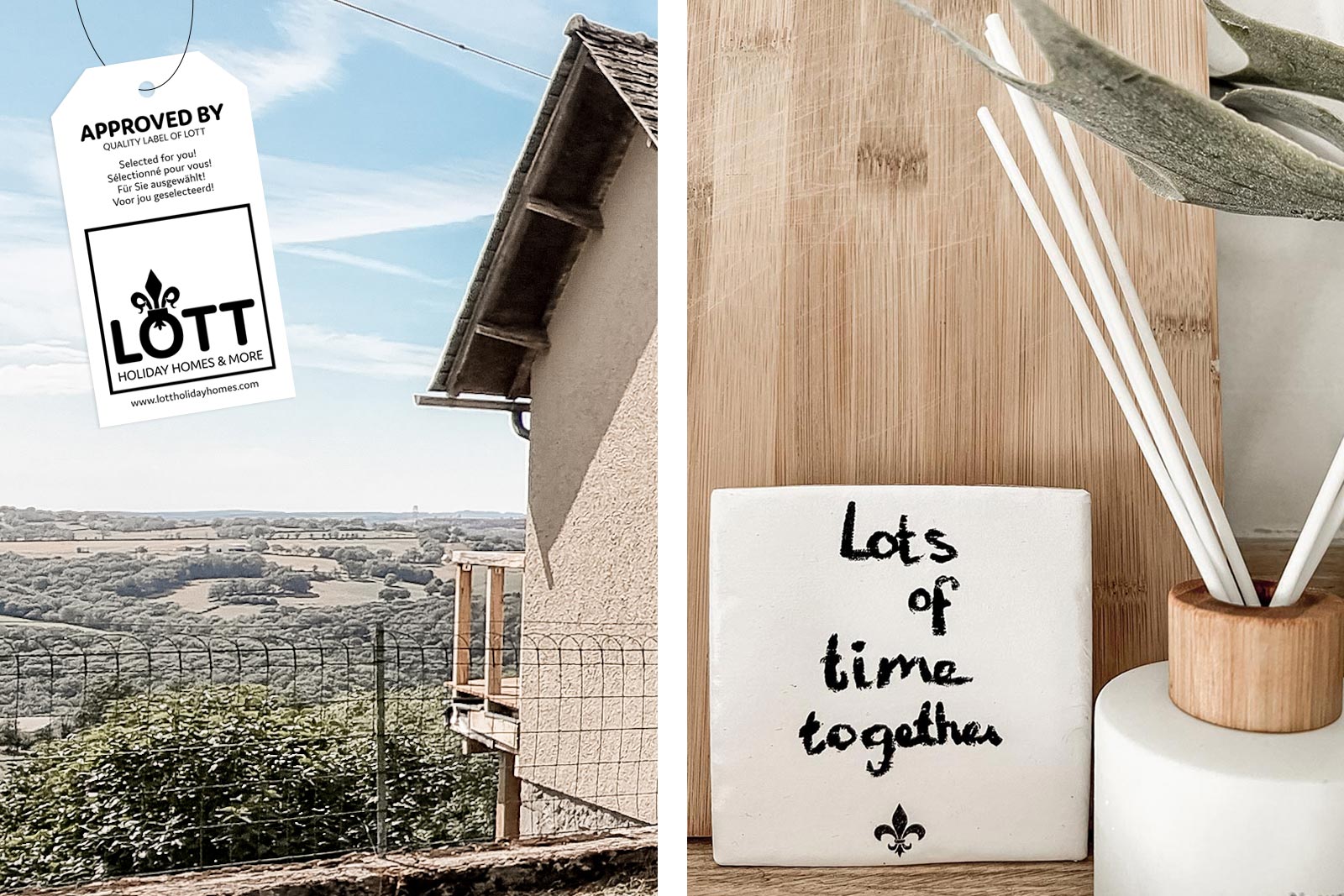 A small detached vacation home for two people, but with such a beautiful view! If you stay in this lovely house on the edge of the village, you'll immediately feel at home in France among the local residents. It's a perfect base for exploring the Aveyron/Cantal region on foot, by bike, or by car. The area is known for its delightful climate, interesting attractions, natural beauty, and delicious local products. There are plenty of nice restaurants to try the local cuisine.
From the living room, you step onto the balcony and feel like you're alone in the Mur-de-Barrez valley. From the ground floor, you can walk onto the large, beautifully landscaped wooden terrace. Cozy seating on your balcony, on the wooden terrace, or under the veranda in the shade, enjoying your lunch or dinner. At any time of day or season, a different painting unfolds from the balcony or the wooden terrace. A breathtaking view that never gets old.
This special place is not only in a charming French village but also centrally located in the beautiful surroundings of Aveyron, right on the edge of Cantal. Easily accessible are places like Rodez, Aurillac, or Lioran where you can also go skiing in winter. The nice thing is that you can start a hike from your holiday home LOTT Mur-de-Barrez. You can walk to the castle l'es Planade du Château (the highest point in Mur-de-Barrez), go cycling or mountain biking, horseback riding, visit one of the various caves, or enjoy a terrace.
Location holiday home LOTT Mur-de-Barrez
Address: 29 b Rue de la Parro, 12600 Mur-de-Barrez, France
Country: France
Region: Occitanië
Departement: Aveyron/Cantal
Municipality, village: Mur-de-Barrez
By car/ Driving holiday: 595 km from Paris
Train/Bus: Aurillac, Rodez
By plane/ Plane holiday: Airports Aurillac, Rodez, Brive, Clermont Ferrand, Toulouse

location_on Locatie & route: Google maps
Holiday home LOTT Mur-de-Barrez
Layout 2-person holiday home LOTT Mur-de-Barrez
Holiday home LOTT Mur-de-Barrez is for 2 people and consists of two floors with a living area of 32 m2.
First floor: Bedroom with walk-in shower and sink
Second floor: living room with open kitchen, toilet, terrace door to balcony
Outside: private garden of 300 m2 (large part rugged and sloping), veranda under the balcony with garden furniture, wooden terrace 30 m2
picture_as_pdf Download floor plan + features list
list_alt Overview of features and facilities of all vacation homes
Photo Gallery Holiday home LOTT Mur-de-Barrez
View the photo gallery of Holiday home LOTT Mur-de-Barrez here. A visual impression of this comfortable and charming vacation home centrally located in the Aveyron department in the Occitaniё region, just on the edge of Cantal in France.
Cozy living room with a breathtaking view
The detached vacation home has a small cozy living room with an open kitchen. Through the front door, you enter the living room of this LOTTage from LOTT holiday homes & more, with the toilet on the right and the stairs down on the left.
A lovely leather two-seater sofa from which you can enjoy the magnificent view through the French doors. A small side table and stylish cushions make it feel like "Home in France.".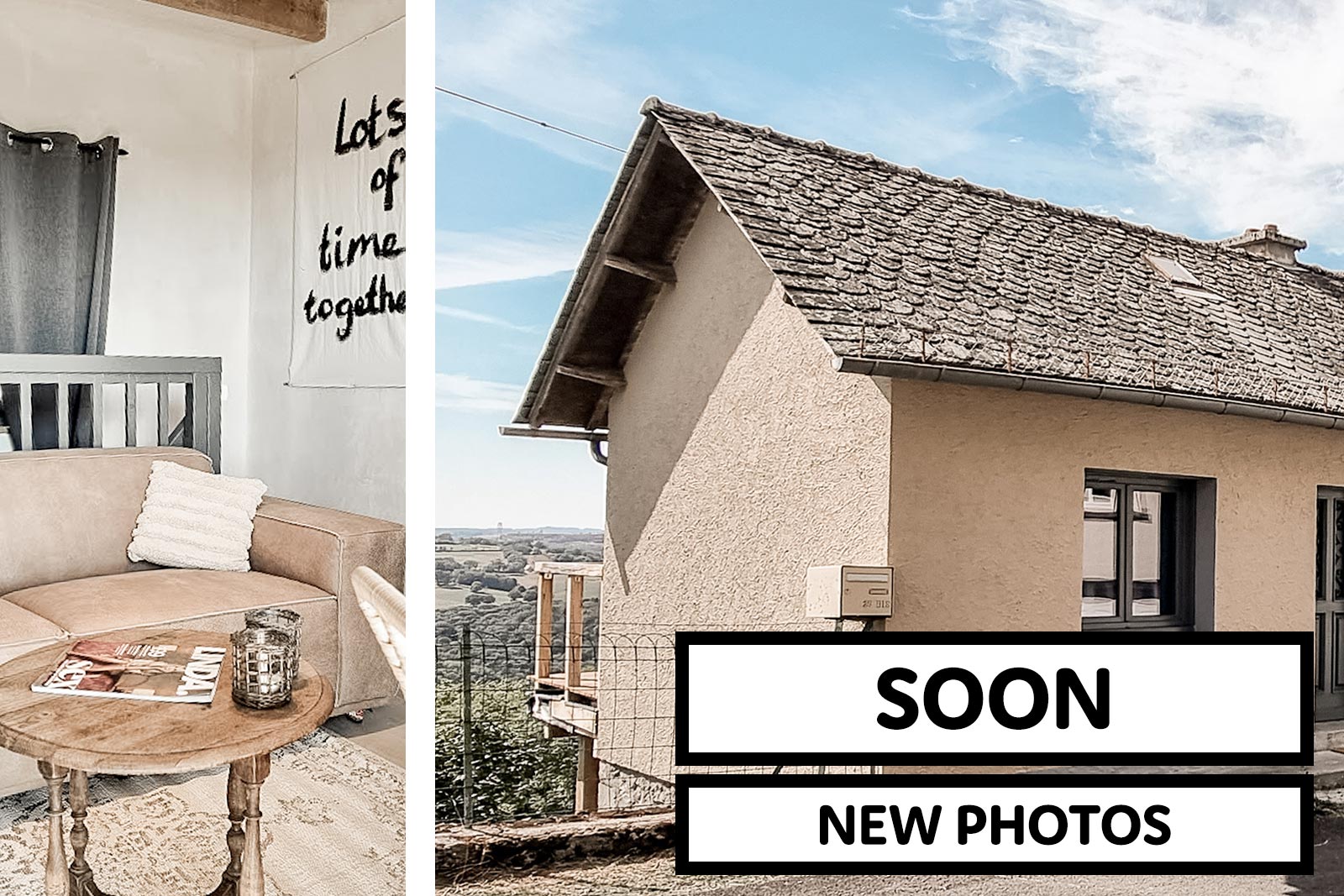 The vacation home is available year-round. I can imagine that from June to September or maybe even longer, you'll spend most of your time outside. However, if it cools down and you're here in the fall or winter, it's a delightful place to read a book, catch up on the news on television, or enjoy your favorite movies or series in the evening. This is also where the dining table for two is located, where you can dine in a cozy atmosphere.
Open kitchen
The open kitchen of vacation home LOTT Mur-de-Barrez is cozy and fully equipped. A genuine French country kitchen. A beautiful black SMEG gas stove with an electric oven for cooking or making oven dishes. The countertop is made of granite, and from the kitchen, you can look out over the valley where the house is located.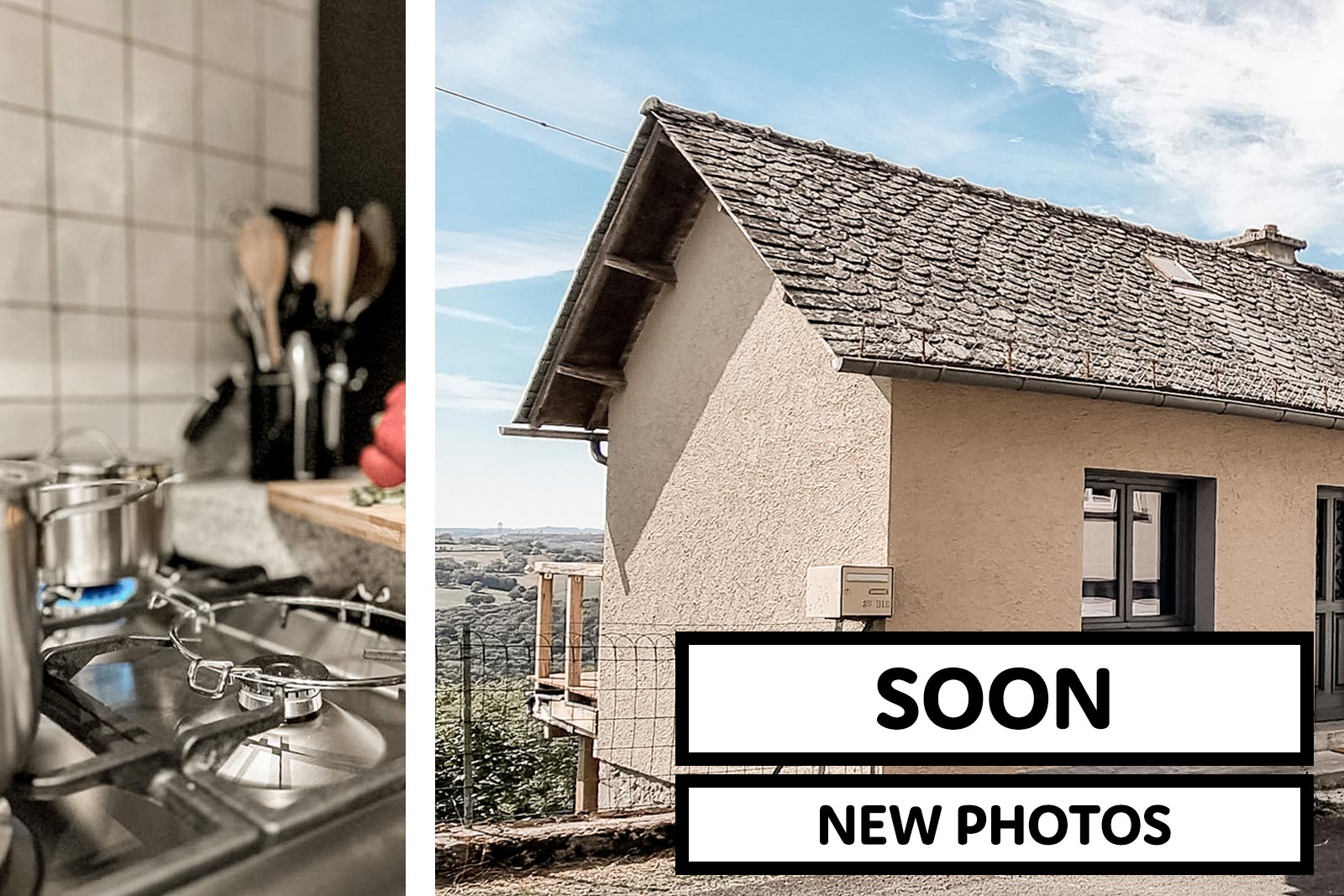 From the living room, you can step onto the balcony, where you can enjoy your first cup of coffee in the morning or have a glass of wine in the evening sun.
Charming bedroom with comfortable beds
Holiday home LOTT Mur-de-Barrez has one bedroom. From the living room, you go down the stairs and enter the bedroom on the first floor. Here, you'll find a lovely double bed, consisting of two box spring beds with a double mattress topper. A robust oak wooden headboard with nightstands and reading lamps complete the ensemble.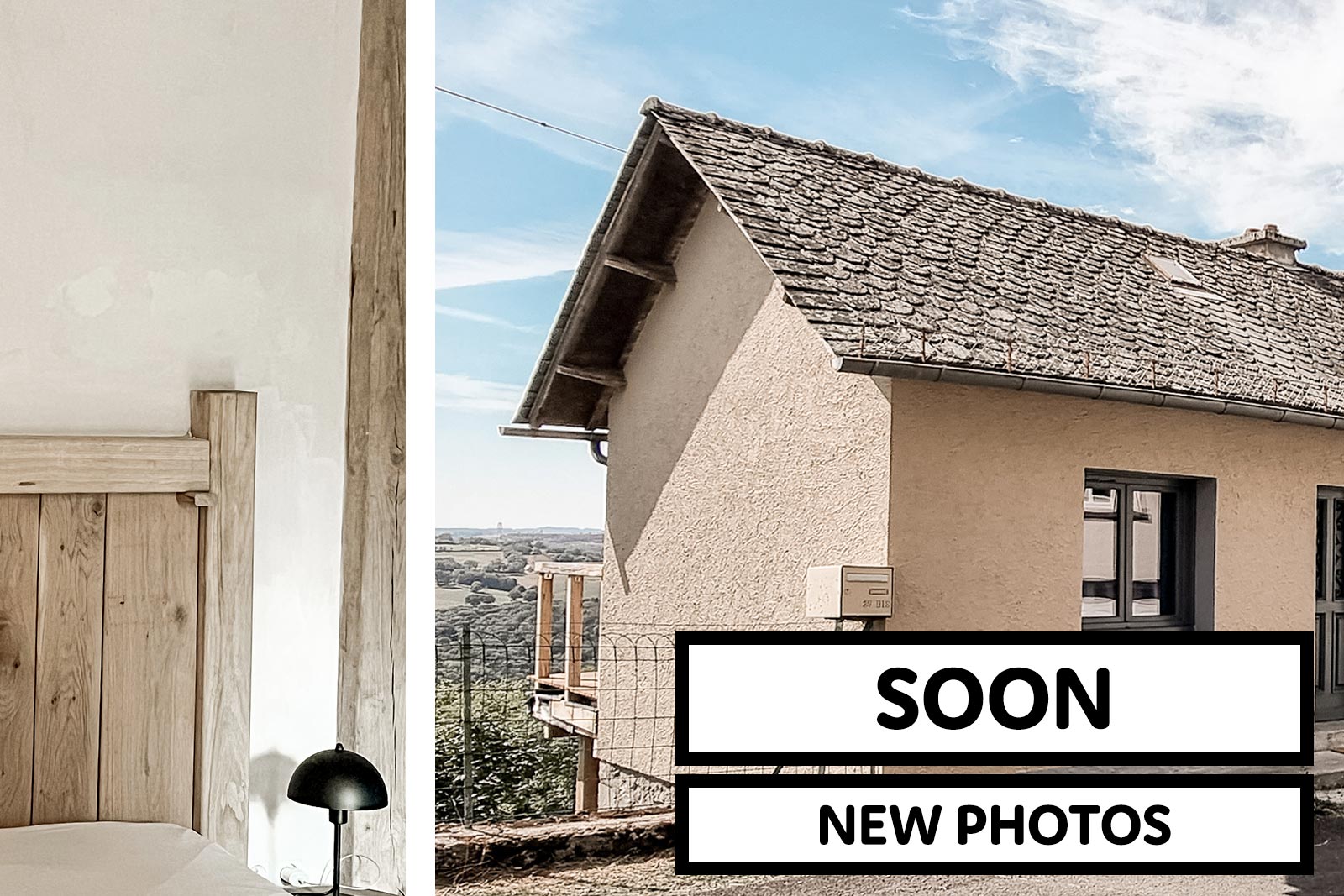 Bathroom with spacious walk-in shower
In the bedroom, there's also a vanity unit with a sink and a very spacious walk-in shower. There's a handy open oak wood cabinet for storing your clothes, and the house is equipped with a washing machine and a dryer, convenient for longer stays or on your way to another LOTTage from LOTT holiday homes & more.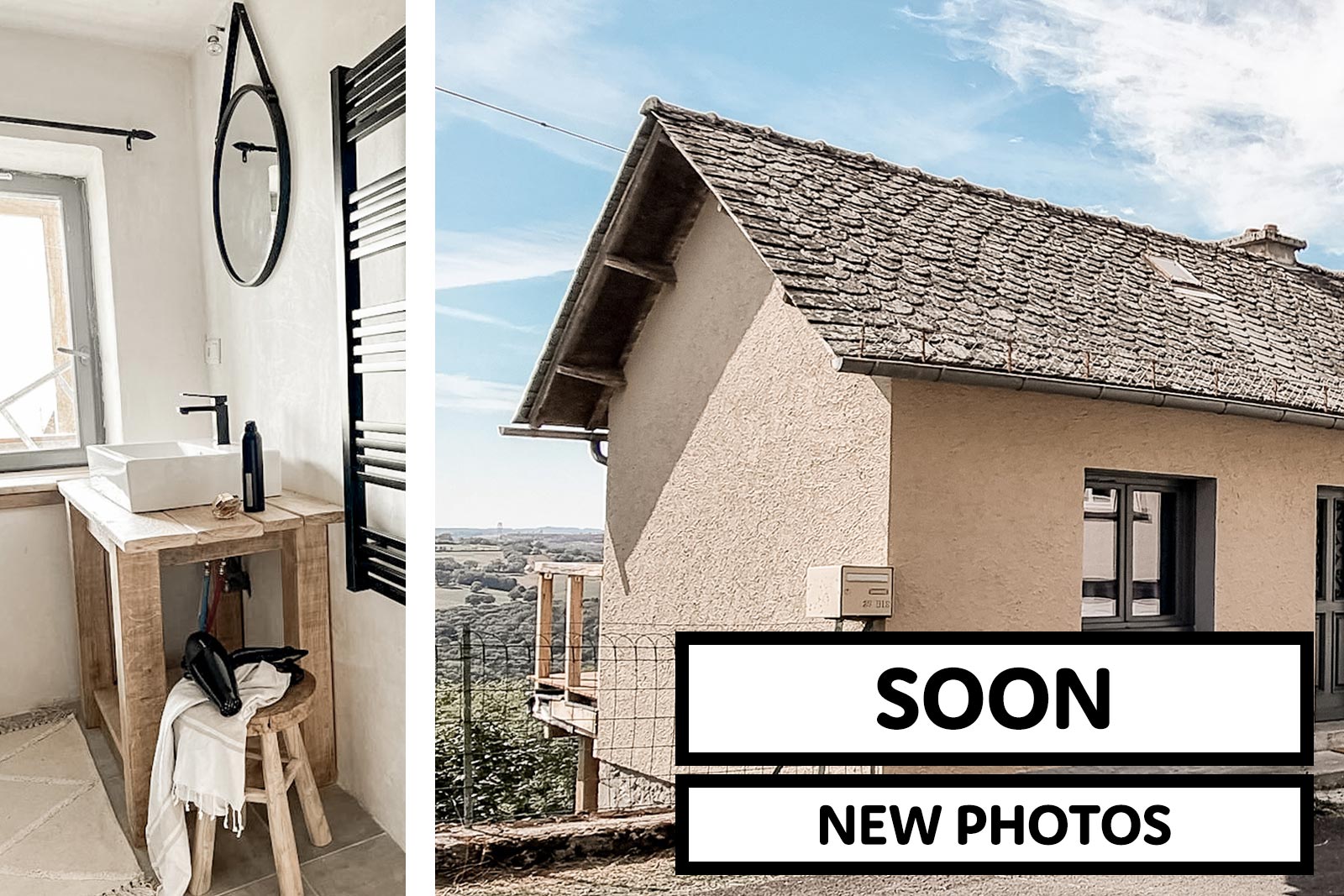 From the bedroom, you can walk onto the large wooden terrace with garden furniture or head to the side of the house to the veranda under the upper balcony.
Atmospheric outdoor space on the balcony or wooden terrace
Next to holiday home LOTT Mur-de-Barrez is a beautifully landscaped wooden terrace of 30 m2 with cozy seating. The rest of the 300 m2 garden slopes steeply downward (not accessible) and is fenced with a wooden sheep gate, guaranteeing an unobstructed view. Sheep from the farmer occasionally graze here to keep the terrain short.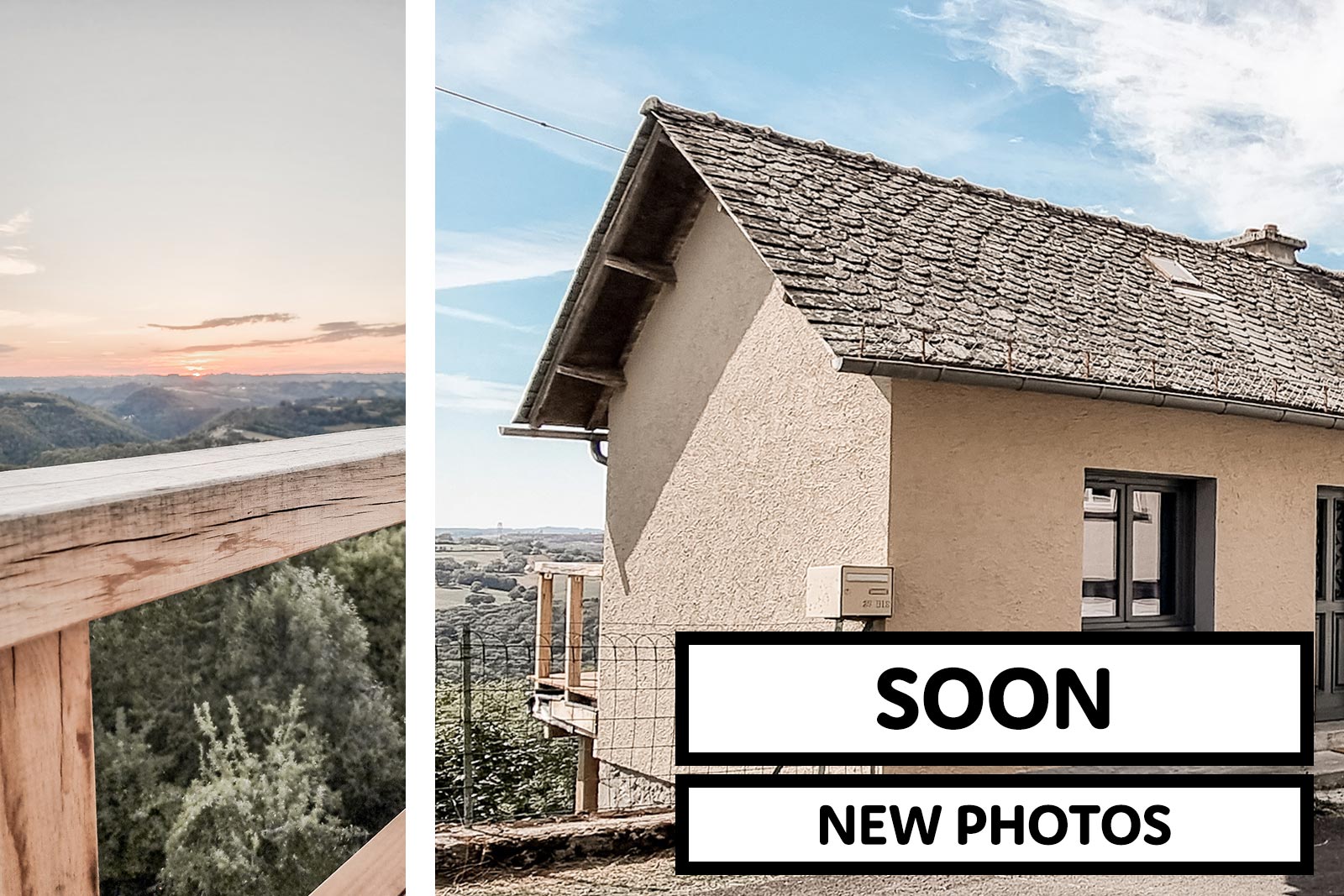 From the wooden terrace, you can access a veranda at the back of the vacation home. The veranda is located under the upper balcony and also offers a beautiful view with plenty of privacy. You'll feel like you're alone in the Mur-de-Barrez valley. You can sit in the shade here, or in slightly less favorable weather, you can still enjoy the outdoors.
You can barbecue with the ceramic barbecue. There's also a handy plancha plate for grilling vegetables, meat, and fish.
Balcony with wooden terrace
Holiday home LOTT Mur-de-Barrez not only has a delightful garden for reading a book or magazine and daydreaming, but you can also step outside from the living room. LOTT holiday homes & more has created a charming balcony. LOTT believes that with such a view, you should be able to step outside from the living room to enjoy a cup of coffee or a good glass of wine.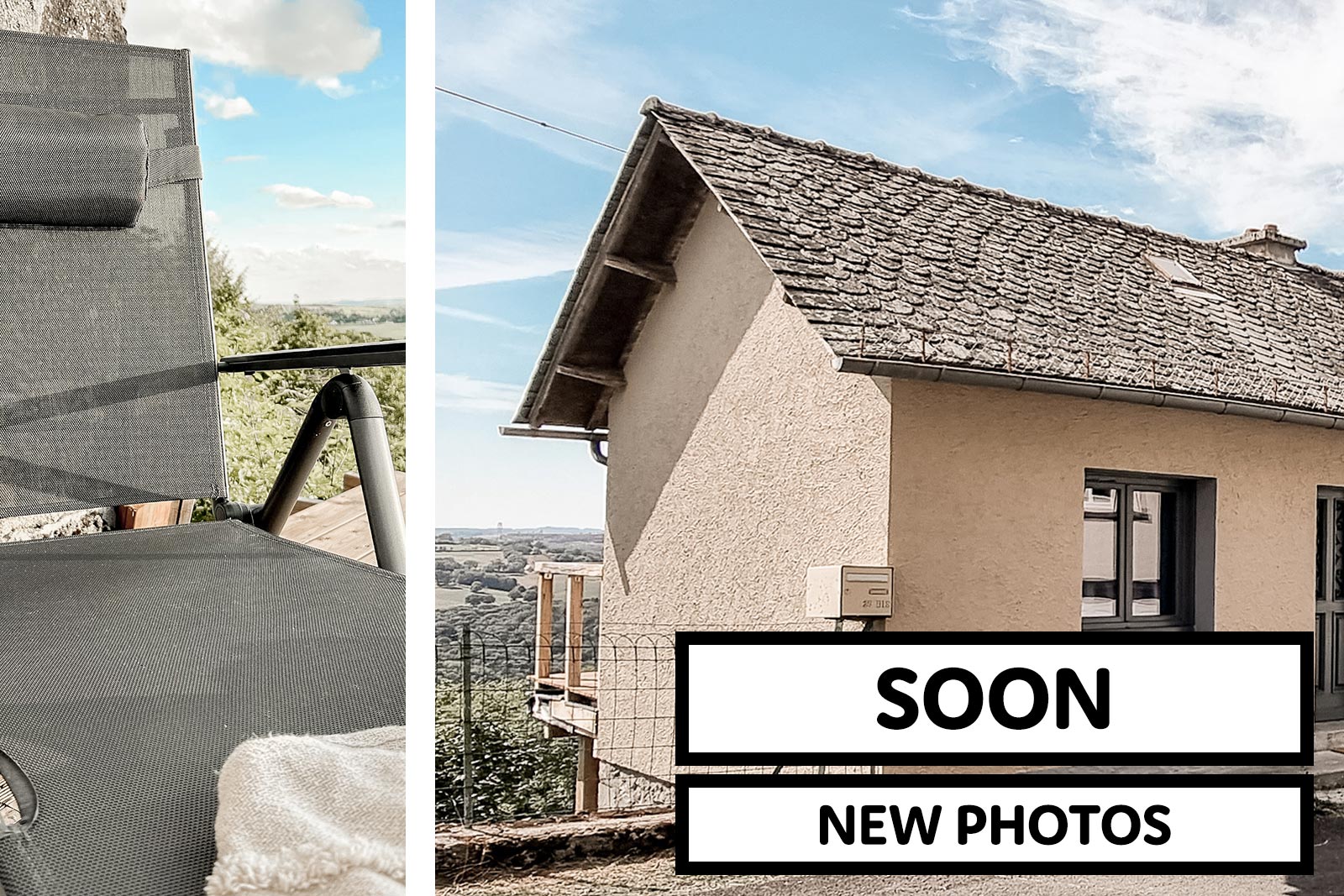 In the morning, you can walk to get the tastiest croissants and have breakfast on the balcony. It's also a wonderful place to relax at the end of the day and enjoy your vacation in your own way.
Do you already know where you'll be spending your vacation?
FAQ - Frequently asked questions
Frequently asked questions of holiday home LOTT Mur-de-Barrez. Do you have another question? Please visit the main 'Frequently asked questions (FAQ)' page or contact us by email.
Holiday home prices
LOTT holiday homes & more makes it easy for you to book. No matter what cottage you book,
All LOTTages have the same price
All can be booked with flexible arrival and departure dates
Booking 7 nights or more in low and mid season always includes a 10% discount
Season
Price per night
Price per week
Low season
€113,40
€699,30
(Including €94,50 week price discount)
Mid season
€124,20
€774,90
(Including €94,50 week price discount)
Peak season
€135,-
€945,-
Week price discount
If you book for seven nights you will always get in the low and midseason a 10% discount of the high season price of 135 euros per night. This means you get a 13,50 euro discount for every night no matter what season your booking is in!
Additional fees
Extra person (from 3 years of age or older) = +10 euros per night
Bed linen for extra persons is + €15,- per person.
Tourist tax (dependent on the department) = +/- 1,10 euros per person (>13) per night
Minimal rental period
The holiday homes of LOTT holiday homes & more can be booked from a minimum of three nights. In the months of July & August at least one week.
Availability
Is LOTT Duravel your chosen cottage for your upcoming holiday?
Select in our online booking system your dates and you will immediately see the price for your stay and any discount.
Are your dates unavailable? Visit our 'Availability and Booking' page to see if there is any other LOTTage available for this period. You can always send us an e-mail with your preferred holiday dates and we can see what we can do for you.
Online booking
Choose your preferred booking dates here, fill out the form and send it to make your online booking complete.