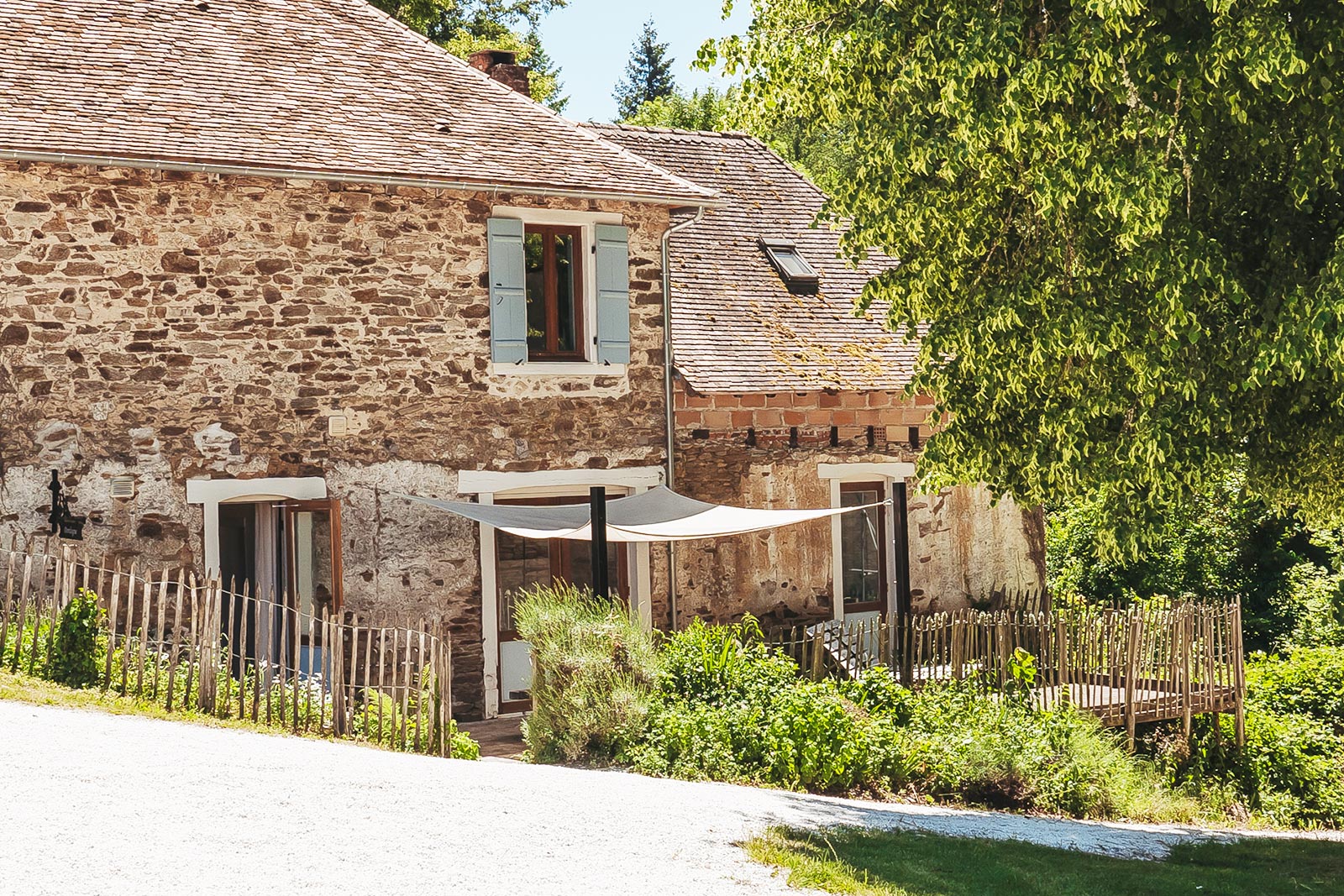 Explore holiday home LOTT Coussac-Bonneval
The holiday home LOTT Coussac-Bonneval is located in its eponymous village. The cottage is located at the La-Bastide holiday resort, a 500-meter walk from the village center where you can find a bakery, butcher, small supermarket and good restaurants.
This single-level holiday homes has big windows and wide-opening doors to a fenced, private patio.
This cottage has all the advantages of its location on a small-scale resort, like the large, heated pool with lounge area, 18.000m2 of land, a cosy BBQ spot with ceramic BBQ and a wooden pizza oven all for shared use.
This unique place is not only situated in a picturesque French village, but also central to the Haute-Vienne department. Atmospheric villages such as Segur-Le-Chateau and larger cities as Limoges, Brive-de-Gaillarde or Perigueux lie just 40 of 70 minutes away by car.
From your cottage LOTT Coussac-Bonneval you can easily walk onto paths to explore the tranquil surroundings. You can walk along the domain of Chauffaile or visit one of the many lakes of the area.
Location holiday home LOTT Coussac-Bonneval
Address: La Bastide, 87500 Coussac-Bonneval, France
Country: France
Region: Nouvelle-Aquitaine
Department: Haute-Vienne
Municipality, village: Coussac-Bonneval
By car, Driving holiday: 436 km from Paris
Train/bus: via Limoges
By airplane, Plane holiday: via Airport Bergerac or Airport Clermont-Ferrand Auvergne

location_on Locatie & route: Google maps
Holiday home LOTT Coussac-Bonneval
Layout 2-4 persons holiday home LOTT Coussac-Bonneval
This cottage for 2-4 persons is a single-level home with a surface area of 80m2.
First (and only) floor: living room (25m2), separate kitchen, two spacious bedrooms, bathroom (en suite to the main bedroom) with walk-in shower, sink and toilet
Outdoor area: private terrace (40m2) with sun beds, furniture and canvas shade cover
Facilities of the resort: 18000m2 terrain, shared heated pools, BBQ spot with ceramic BBQ, wooden pizza oven, private parking
picture_as_pdfDownload map + features list
list_alt Features and facilities overview of all holiday homes
Photo gallery holiday home LOTT Coussac-Bonneval
See here the photos of LOTT Coussac-Bonneval. Get inspired by this luxurious cottage located in the Haute-Vienne department (region: Nouvelle-Aquitaine) in France.
Spacious living room with original elements
This detached home has a robust interior. By using original elements combined with modern facilities, this home has a calm and cosy French atmosphere.
A good couch with chaise longue, side tables and a fireplace that heats up this LOTTage in colder seasons. The living room is spacious even for four people because its kitchen is separate.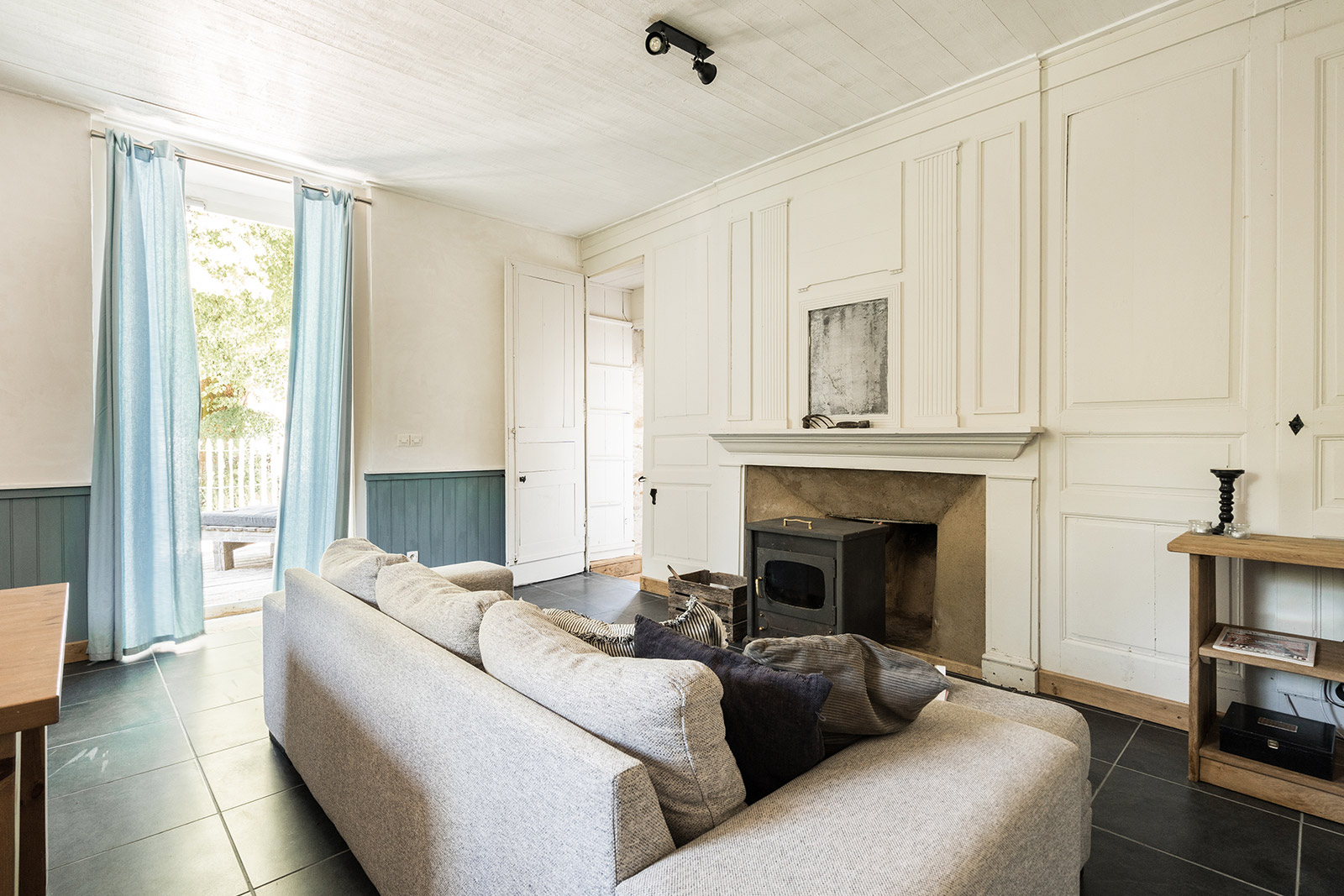 Because of its thick walls, this home remains cool throughout the summer. From the living room you have access to the big terrace to enjoy some sun rays.
Atmospheric kitchen
Holiday home LOTT Coussac-Bonneval has a smart kitchen with all necessary equipment. There is a small table with comfortable chairs to enjoy a quick snack or breakfast (the main table is located in the living), or to enjoy a glass of wine while cooking.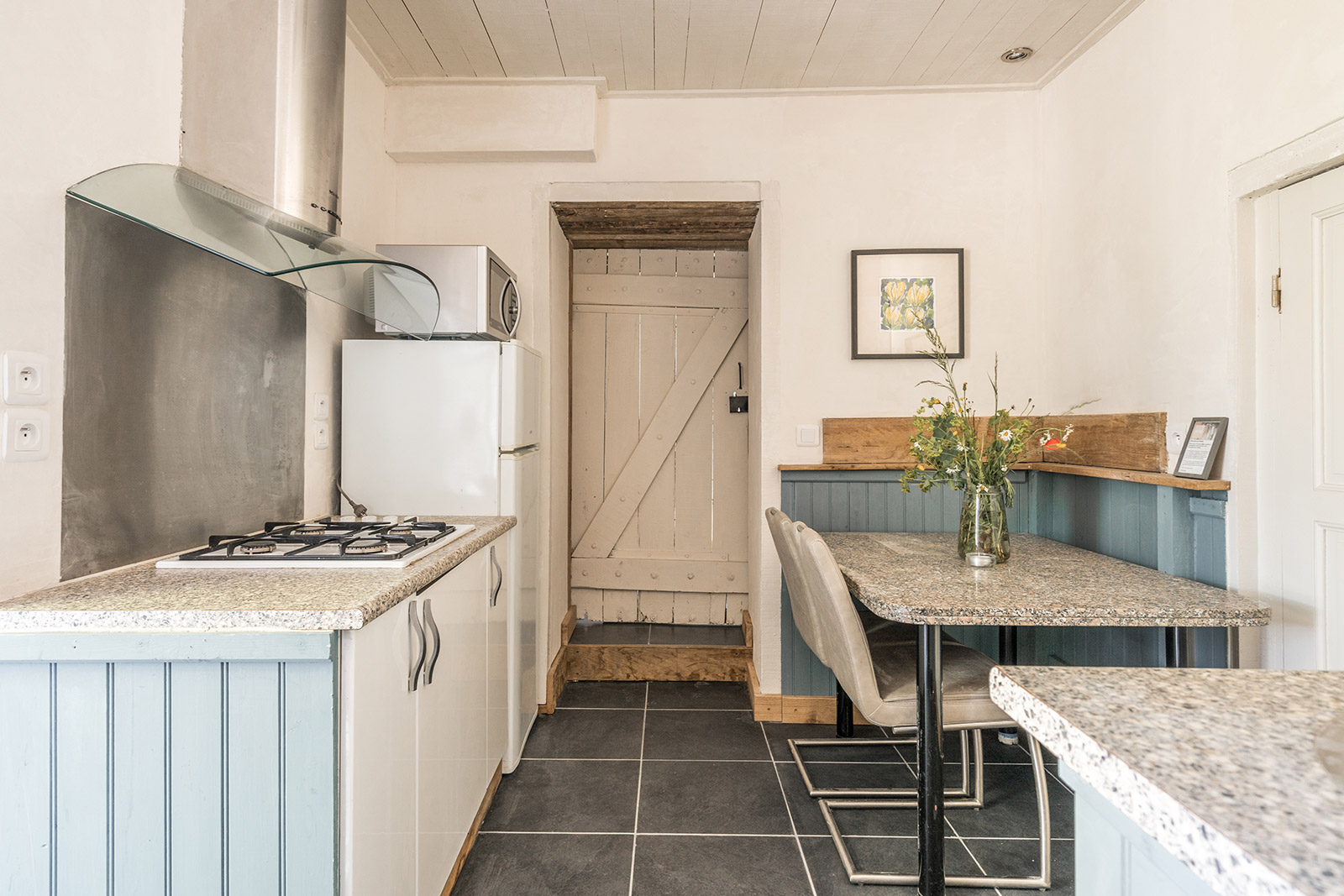 In this kitchen you can find a coffee filter and espressomachine. Would you rather enjoy a coffee made from freshly ground beans? A coffee machine with fresh beans is a walk away at the coffee station at the La-Bastide resort.
Beautiful bedrooms with comfy beds
Holiday home LOTT Coussac-Bonneval has two spacious bedrooms. The main bedrooms has a twin boxspring bed and an open wardrobe to put all your belongings in. This bedroom has an en suite bathroom (which is the single bathroom of the cottage).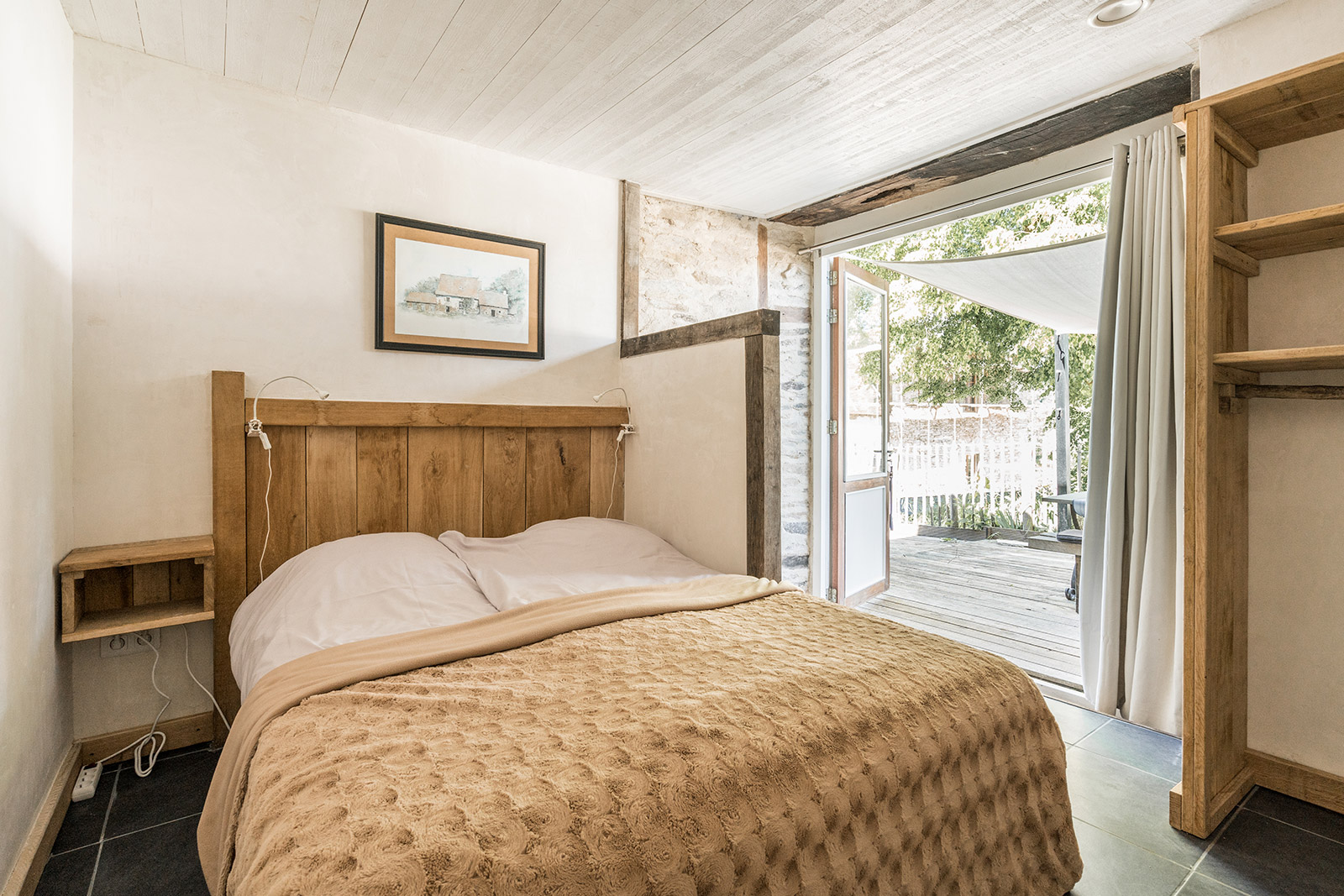 The second bedroom is left of the kitchen and has two built-in single beds. When you're only with two people, you can use this room for storage!
Modern bathroom with walk-in shower
This modern bathroom is next to the main bedroom (en suite). This bathroom has a walk-in shower, a toilet and big sink for all your toiletries. This is the cottage's only toilet.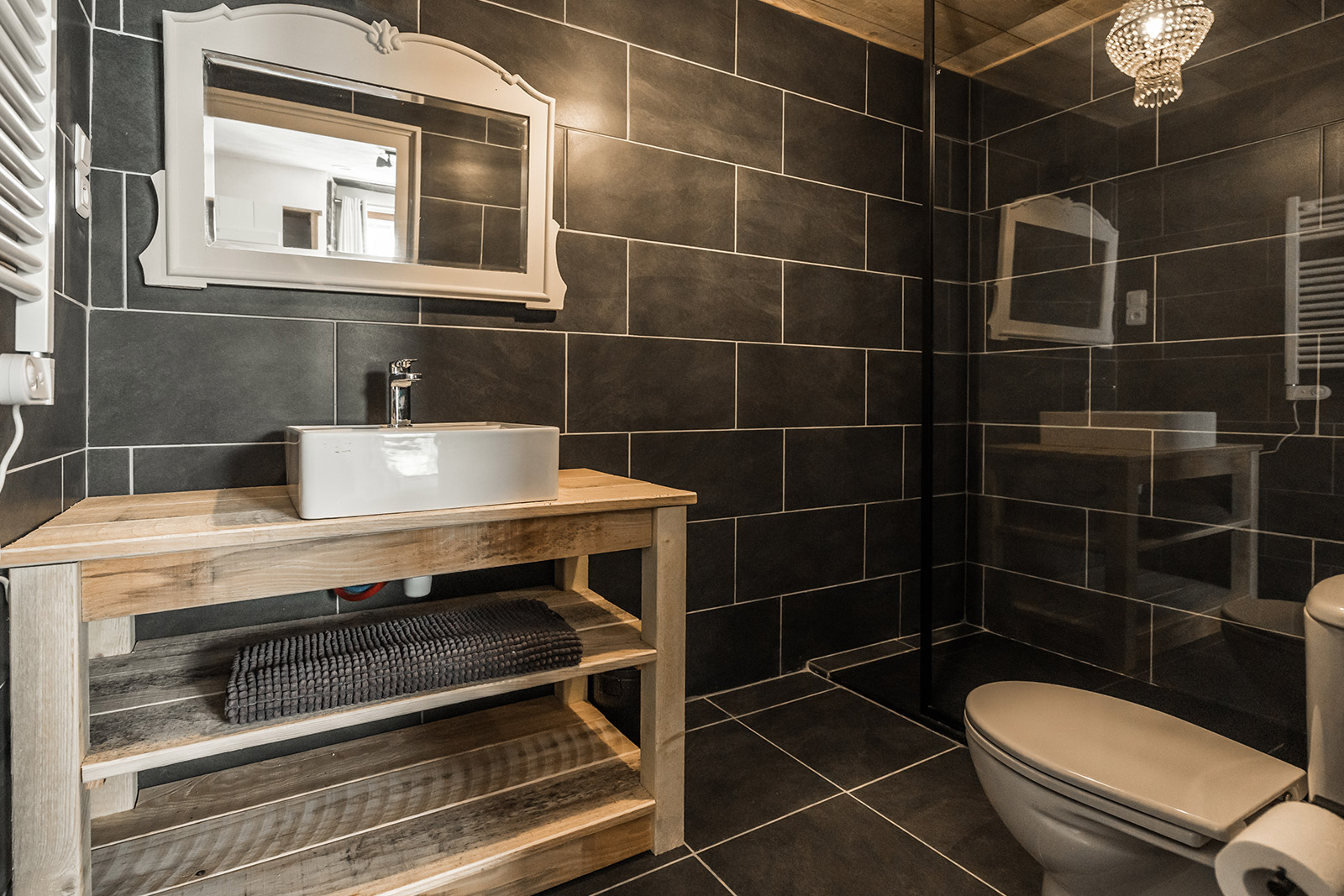 Easy access from bedroom to bathroom, how convenient! Because of this en suite bathroom, this cottage is mostly suited for couples (with children). Would you rather enjoy a stay of four with friends? See if LOTT La-Bastide is available or ask us for any possibilities.
Private terrace with large sun beds
At the side of this cottage is a big terrace. In the morning, the sun will warm your face and during the afternoon you can find some cool wind here. There is a canvas shade available.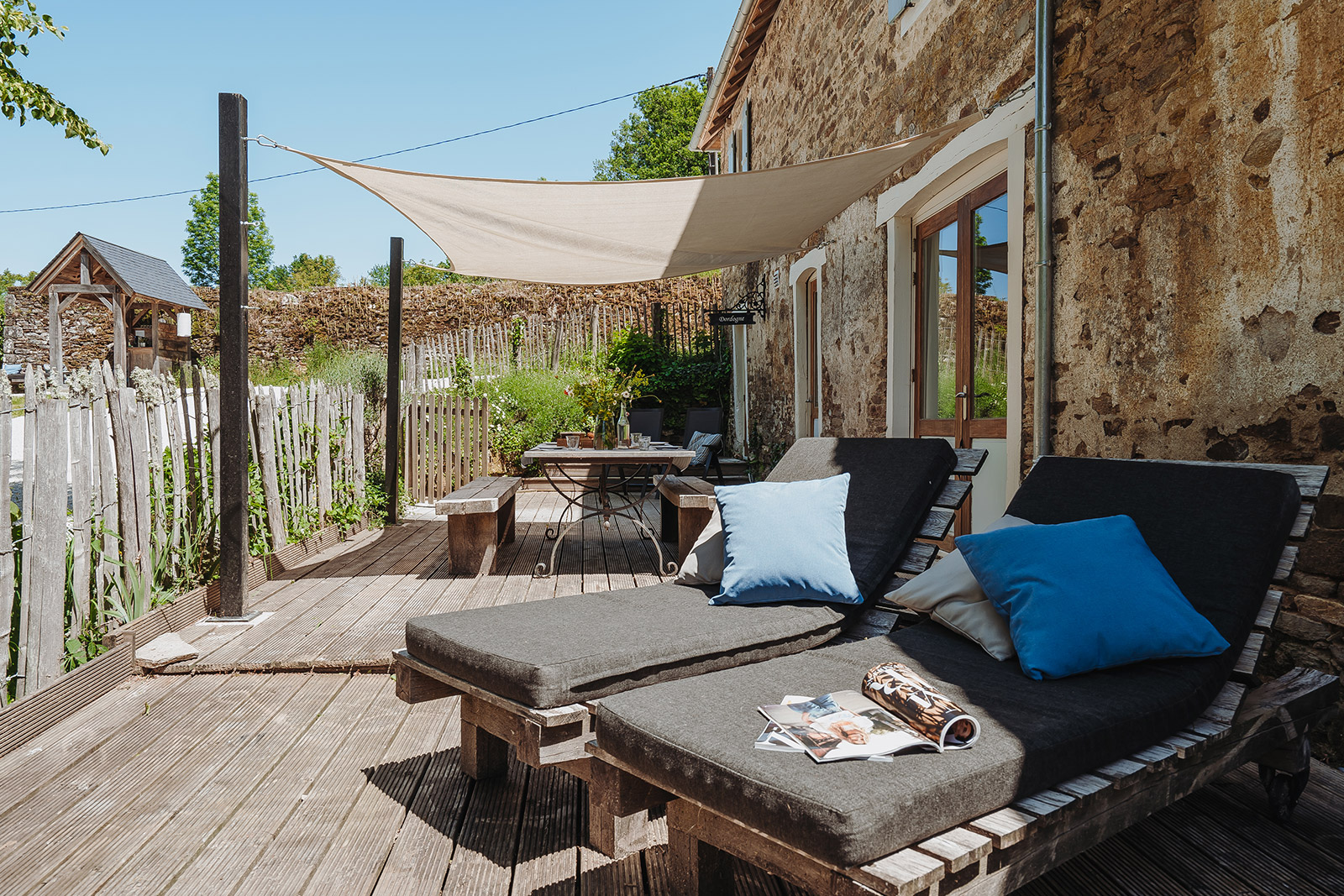 The terrace is so spacious it can be divided into three areas: a seating area with adjustable chairs. In the middle area there's a hard stone table with benches and a canvas shade cover. In the back there's two roomy sun beds with cushioning to dream away to the sounds of the Valentine river nearby.
Do you see yourself lying here?
A wonderful pool included!
Swimming with a view of the nearby pastures, a Limousine cow watching you do laps. Who would say no to that?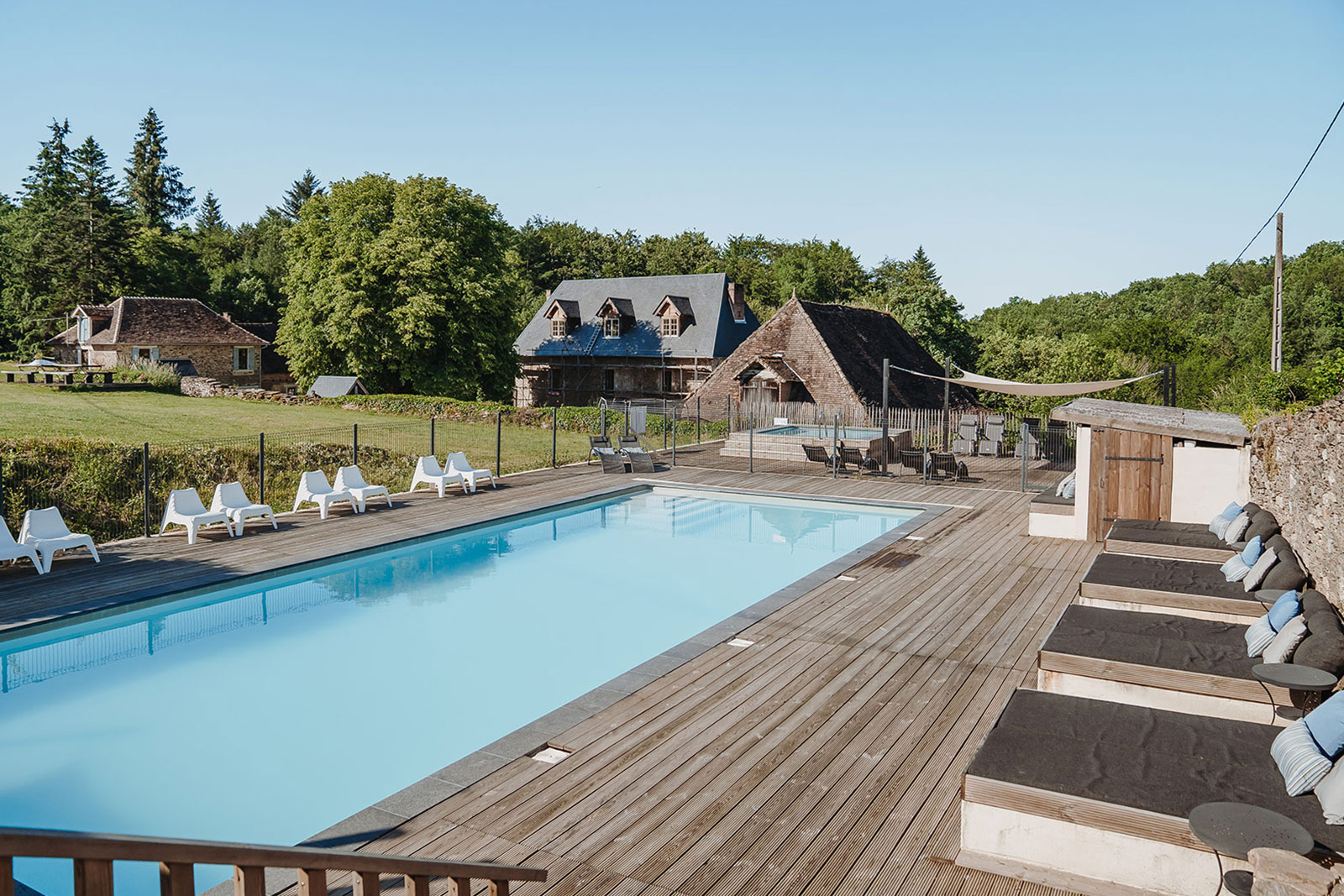 Holiday home LOTT Coussac-Bonneval is located at the small-scale holiday resort La-Bastide and therefore comes with all the facilities that the resort has to offer. This spacious pool and its luxurious terrace is one of those!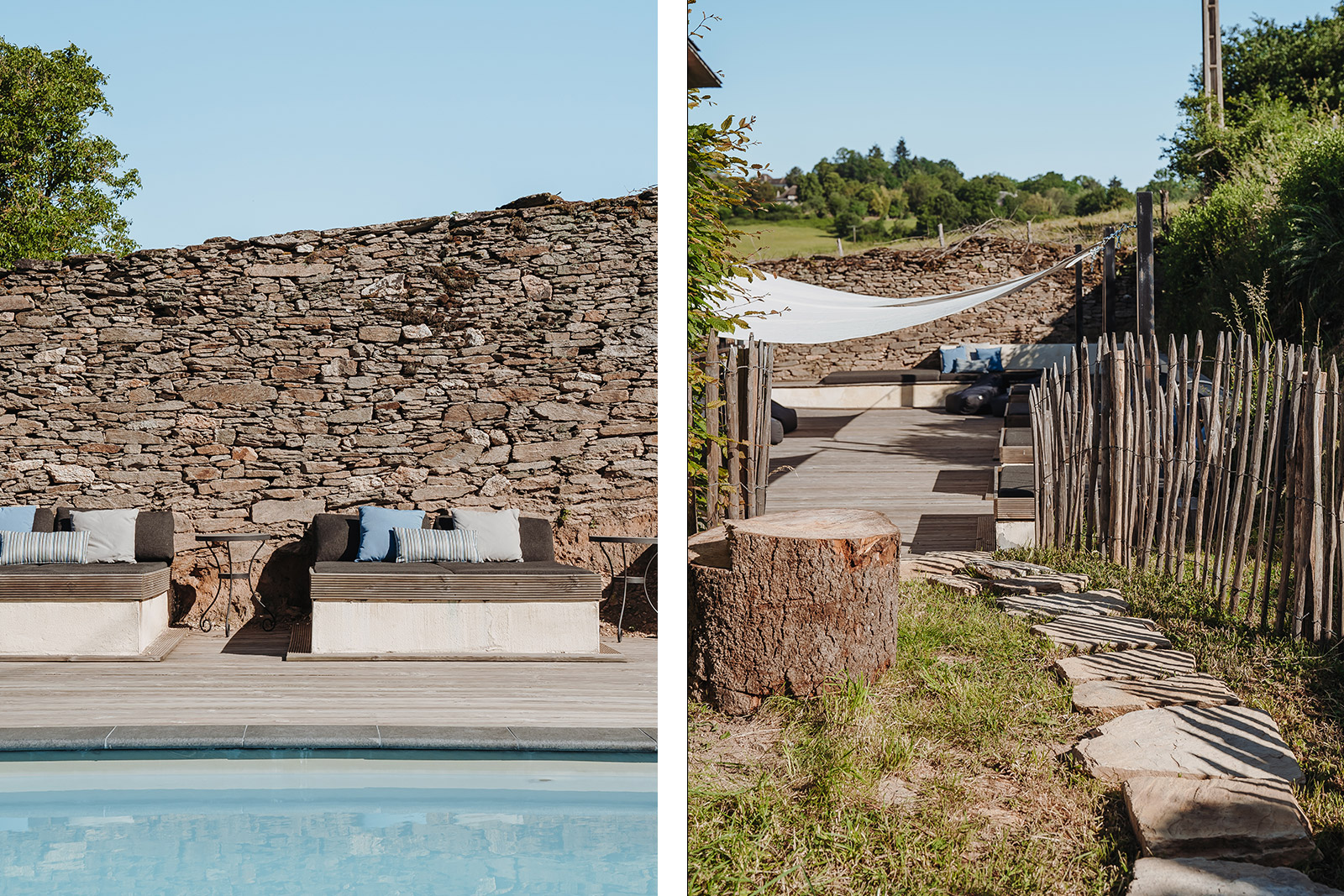 Fenced, with big sun beds and chairs is the terrace adjoining the pool. Want to have a drink? There's a lounge next to it with cool storage.
FAQ - Frequently asked questions
Frequently asked questions of holiday home LOTT Coussac-Bonneval. Do you have another question? Please visit the main 'Frequently asked questions (FAQ)' page or contact us by email.
Holiday home prices
LOTT holiday homes & more makes it easy for you to book. No matter what cottage you book,
All LOTTages have the same price
All can be booked with flexible arrival and departure dates
Booking 7 nights or more in low and mid season always includes a 10% discount
Season
Price per night
Price per week
Low season
€113,40
€699,30
(Including €94,50 week price discount)
Mid season
€124,20
€774,90
(Including €94,50 week price discount)
Peak season
€135,-
€945,-
Week price discount
If you book for seven nights you will always get in the low and midseason a 10% discount of the high season price of 135 euros per night. This means you get a 13,50 euro discount for every night no matter what season your booking is in!
Additional fees
Extra person (from 3 years of age or older) = +10 euros per night
Bed linen for extra persons is + €15,- per person.
Tourist tax (dependent on the department) = +/- 1,10 euros per person (>13) per night
Minimal rental period
The holiday homes of LOTT holiday homes & more can be booked from a minimum of three nights. In the months of July & August at least one week.
Availability
Is LOTT Coussac-Bonneval your chosen cottage for your upcoming holiday?
Select in our online booking system your dates and you will immediately see the price for your stay and any discount.
Are your dates unavailable? Visit our 'Availability and Booking' page to see if there is any other LOTTage available for this period. You can always send us an e-mail with your preferred holiday dates and we can see what we can do for you.
Online booking
Choose your preferred booking dates here, fill out the form and send it to make your online booking complete.