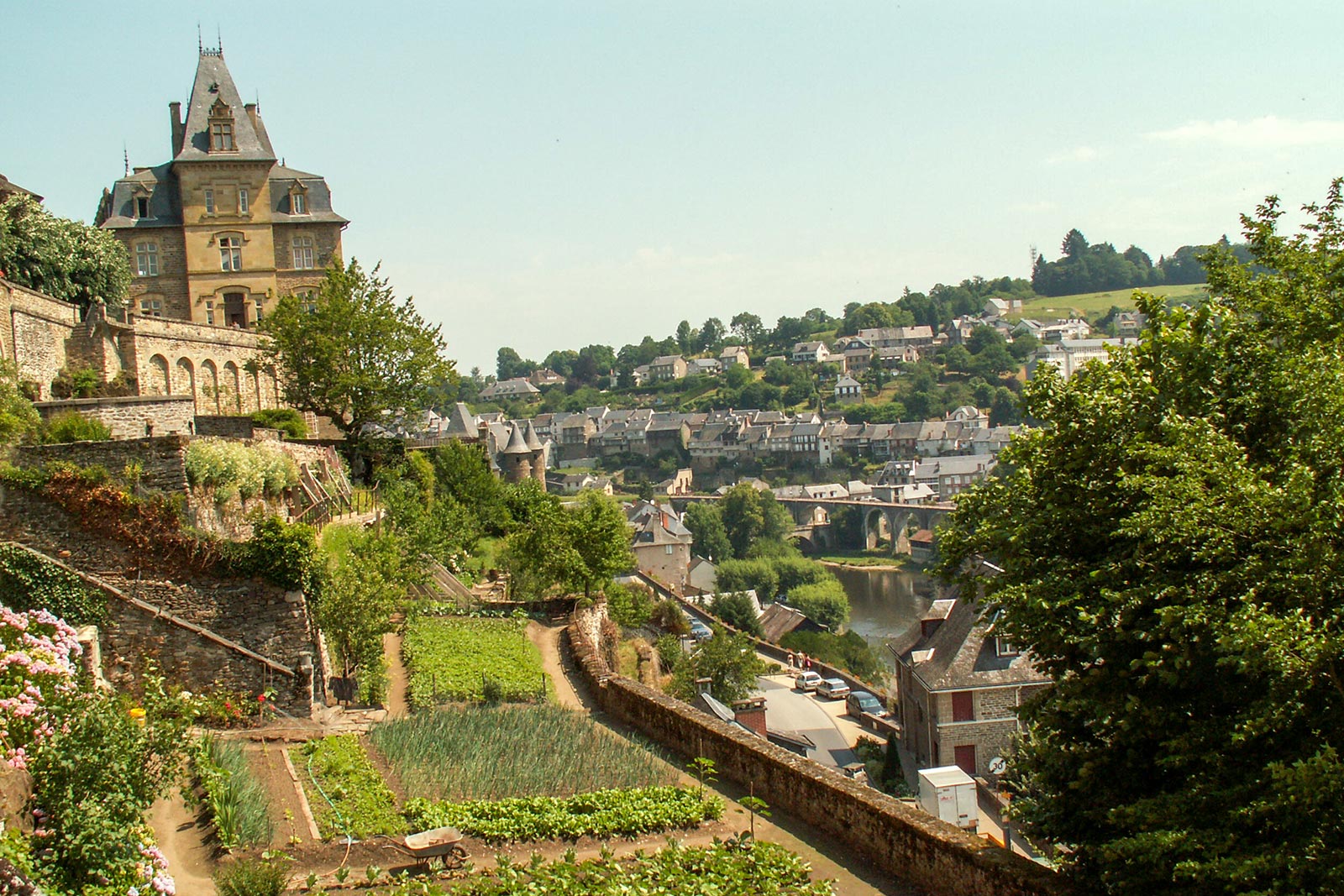 There is plenty to discover while on holiday in Haute-Vienne at one of our holiday homes. Haute-Vienne has it all; sights, villages, and (sports) activities.
Holiday ideas and inspirations for the Haute-Vienne department
Below you will find some ideas and suggestions and specific directions for the Haute-Vienne department divided up into things to do and things to see in the following categories. Please bear in mind that this is only a starting point. During your stay, you can always visit the local tourist information (Office du Tourisme) for more ideas.
Sights
There are some sights that are definitely worth a visit during your holiday at LOTT's holiday homes. We have highlighted some of these, but feel free to discover more yourself! There's always more castles, museums and historical grounds to discover.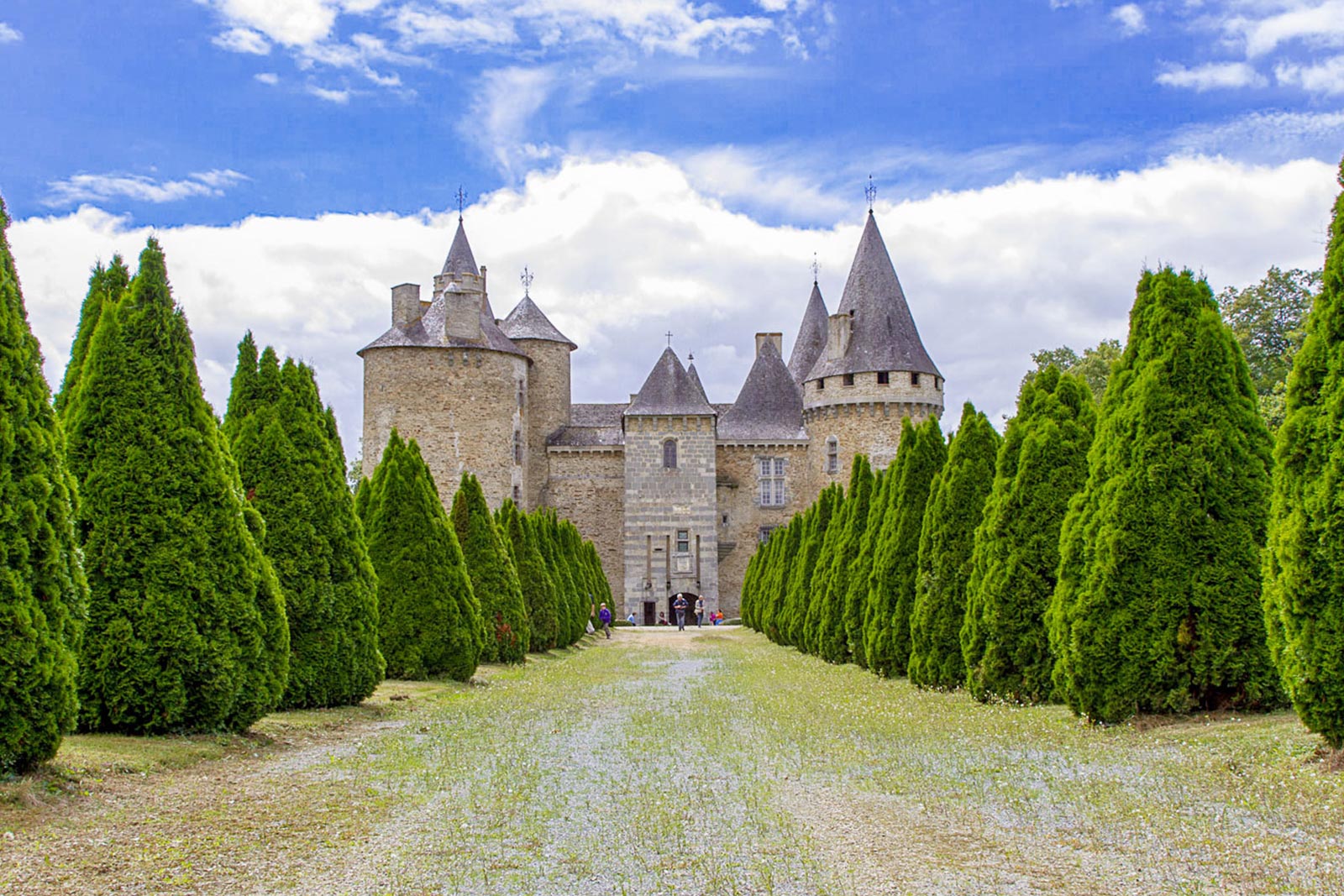 Château de Bonneval
Het Château de Bonneval is a beautiful castle, still owned by the Bonneval family. You can book a tour at the tourist office of the eponymous Coussac-Bonneval village (office du tourisme), or book directly at the castle website.
Château de Hautefort
Château de Hautefort is a Medieval fortress converted into a living space in the 17th century. In its neigborhood are some restaurants worthy of a visit. A good day trip during your stay!
Oradour sur Glane
Oradour sur Glane is a village perished during WWII. It has been kept as a historical site to remember the 10th of June in 1944 when the German army completely destructed the village. Its remnants have not been altered and it is an impressive site to witness.
Cities
The department of Haute-Vienne has the luxury of being surrounded by three big cities. All within an hour's drive away. Three completely unique cities.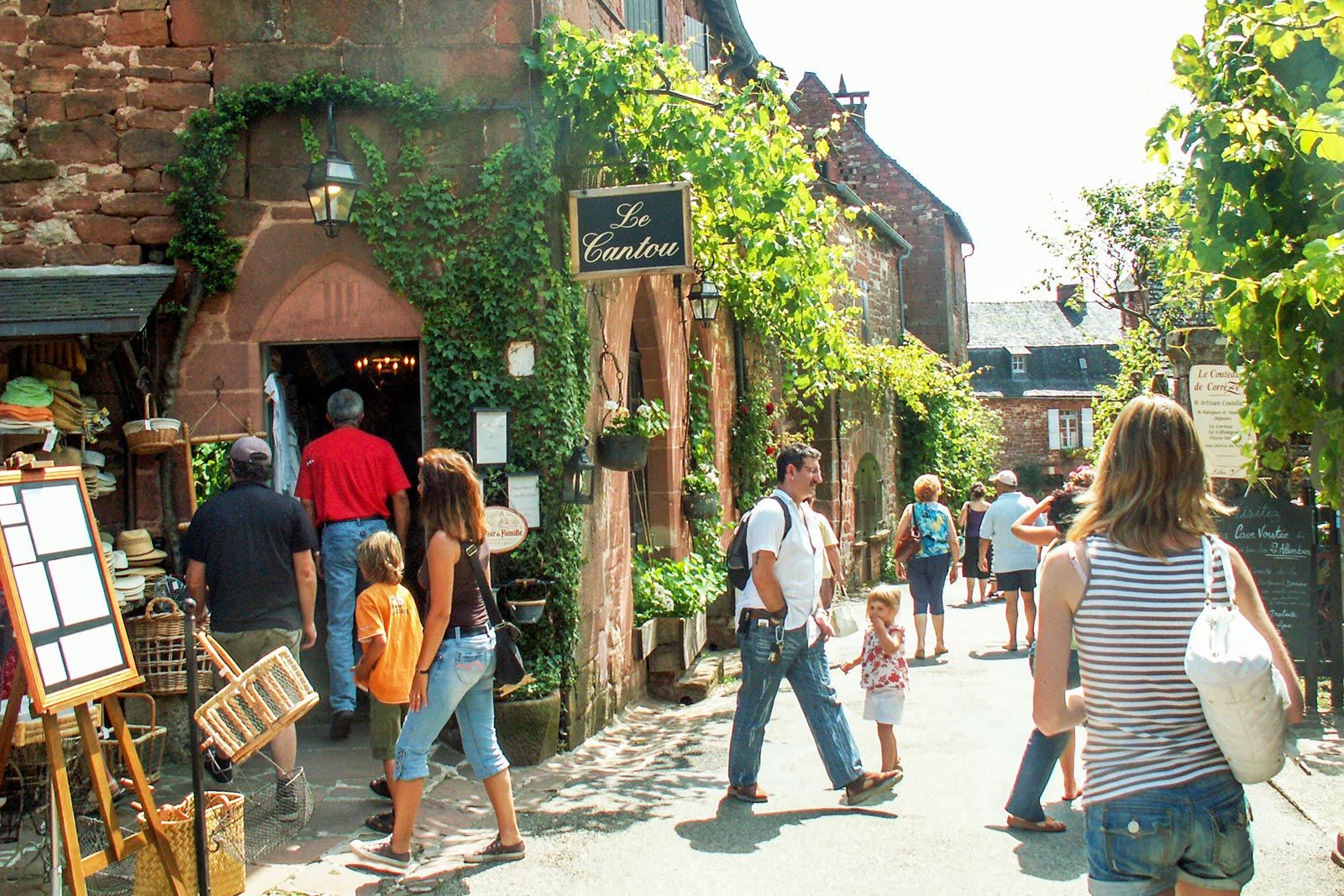 Limoges
Limoges is Haute-Vienne's capital and the city dates back decades ago. Highlights are "Les Halles", Place de la Motte, the Cathedral of Saint Etienne and its garden. It's a good city to explore in a day trip.
Brive la Gaillarde
Brive la Gaillarde, commonly shortened to Brive, is a cozy and relaxed city. It has a historical center with many alleys and bars. The farmer's market on Saturday mornings is definitely worth a visit.
Périgueux
Périgueux is the most ancient city of the Dordogne and is definitely one of our favorites. This city is car free and has many narrow alleys and small streets. There's plenty of delicacies, bars, squares with lunchrooms and wines to taste.
Villages and towns
Day trips to unexplored villages are definitely part of your holiday experience. Submerge yourself in history while visiting a village, or stroll through the alleyways. We have listed some authentic villages for you.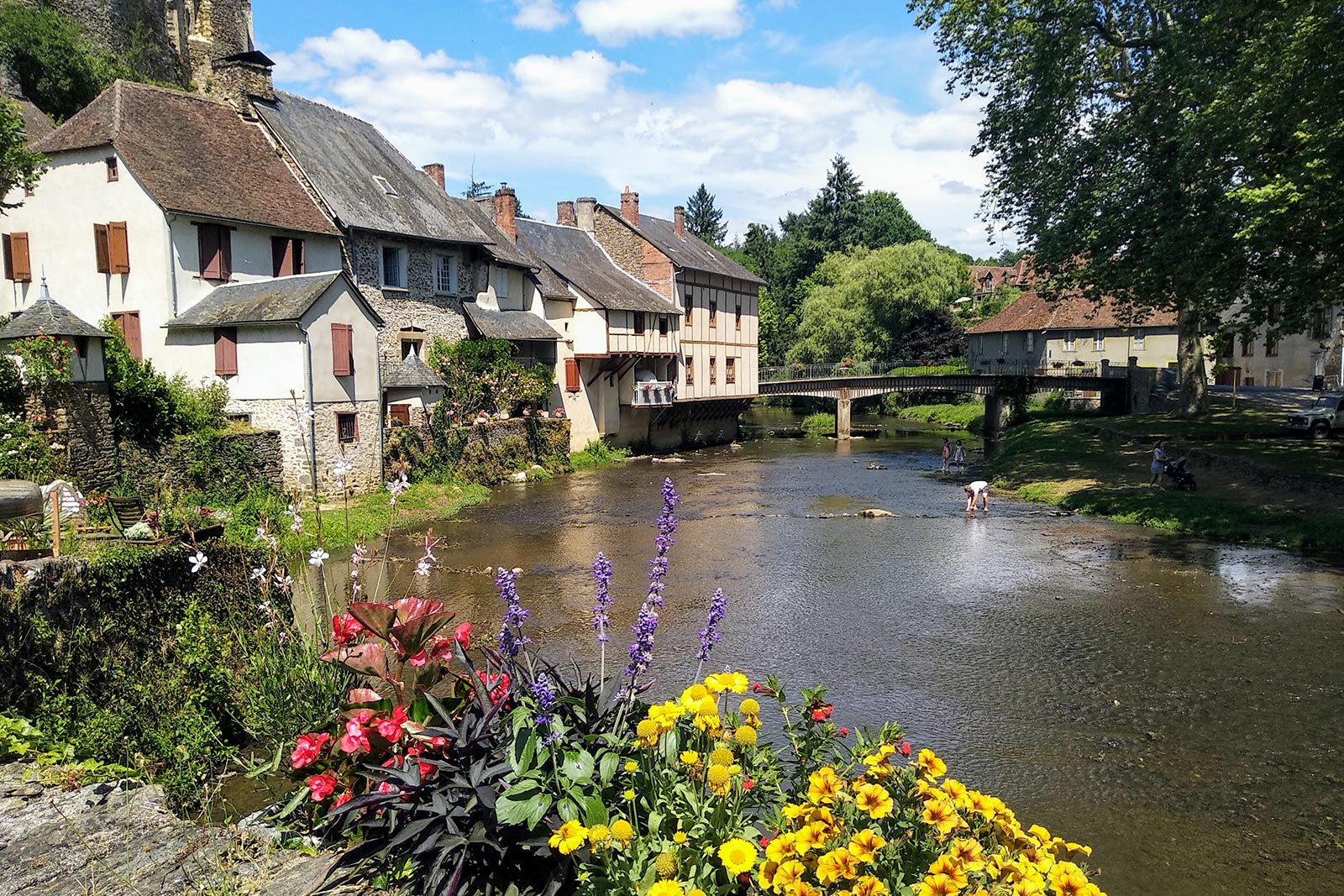 Les Plus Beaux Villages
Several villages have received the quality label of "Les plus beaux villages de France". These villages are scattered around France, some of them in the Haute-Vienne region. A good website to find these villages per region can be found below.
Ségur le Châteaux
Ségur le Château is a Plus Beaux Villages de France. The village is based at the ruins of a 12th century castle which was opened for the public in 2021. You can stroll through the village and eat at a local restaurant. During the summer months, you can go to the Marche du Producteurs (food market where you can eat local dishes).
Saint Leonard de Noblat
Saint Leonard de Noblat is located in the heart of the Vienne. It is a charming medieval village on route of the pilgrimage of Santiago de Compostella. It's a good village to stroll through and visit a brocante, or to picnic alongside the outer banks of the river Vienne.
Collonges de la Rouge
The village of Collognes de la Rouge is also a medieval village and a plus beaux village de France. The name stems from its red sandstone houses. Very touristy, but definitely worth a visit for its shops and restaurants.
Brantôme
Brantôme, located alongside the river Dronne, is also named the Venice of the Perigord. You can canoe alongside the village or just walk through and visit the abbey of Saint Pierre de Brantome.
Markets and brocantes
Would you like to visit a brocante or vide grenier ("attic sale")? Stroll through markets looking for that one delicacy? You're at the right place in the Haute-Vienne department. There's many types of markets; the farmers' market, flea markets, Sunday markets and different stalls throughout the village.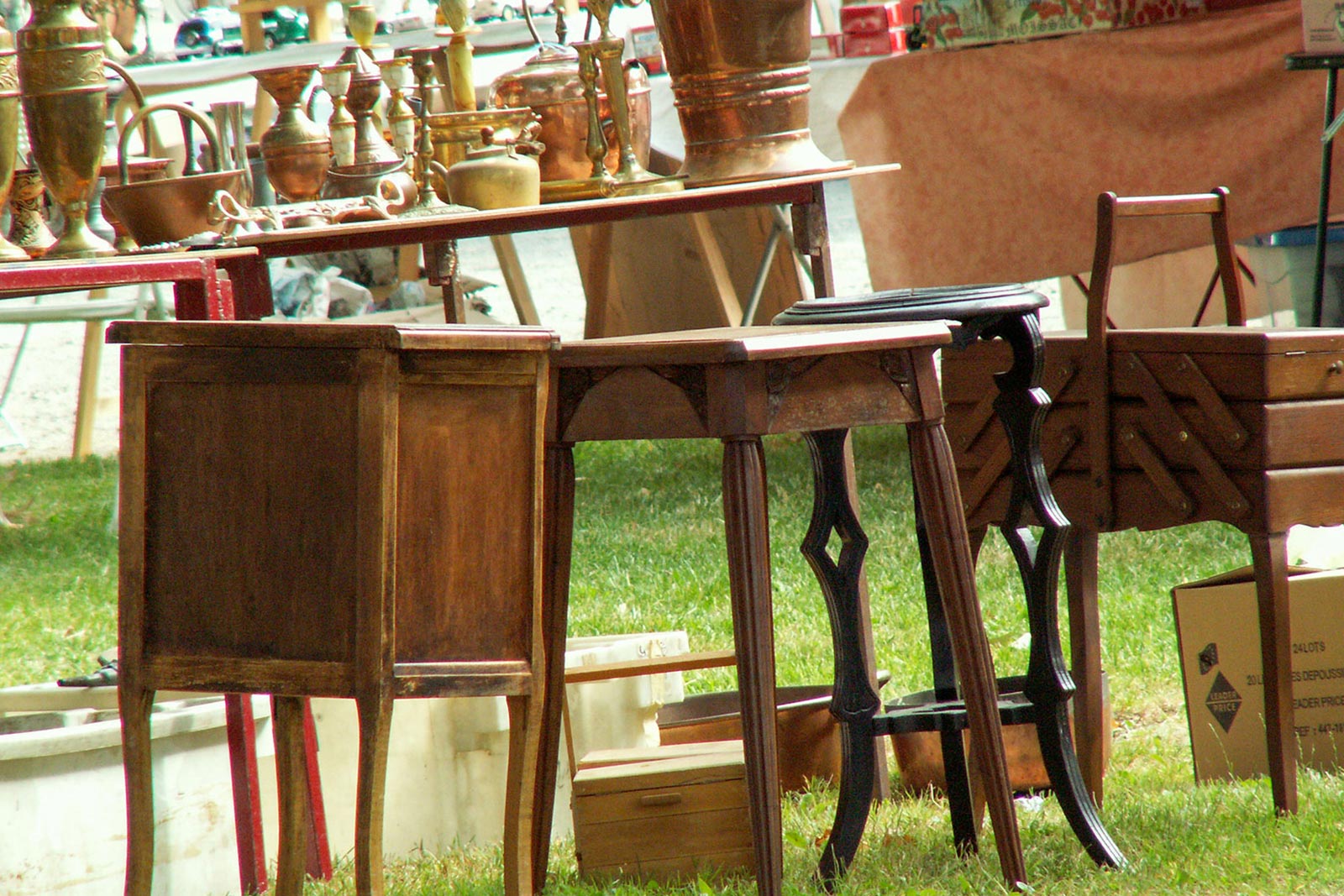 Weekly farmers' markets
In almost every French village there's a weekly farmers' market, some even bigger than others. You can get your fresh produce, fruits and regional products. See our "French regional products of the Haute-Vienne" for more information.
Marché du producteurs
In many villages you can find the "marche du producteurs" during the high season (summer months). You can find these in the Correze, Haute-Vienne and Dordogne departments. They are markets with picnic tables to enjoy the items on sale right there. The long-stretched picnic tables invite many to this unique event completed with live music. Our recommendation is the one in Segur le Chateau.
Halle de Limoges
The "Halle de Limoges" is the covered/permanent farmers' market of Limoges. In an old building in the middle of town, this gem can be found. Tip: the adjacent restaurant is an excellent lunch spot!
Halle Brive de Gaillairde
Halle Brive de Gaillarde is is the covered/permanent farmers' market of Brive. This market is an excellent addition to your day trip to the city, especially when visiting on Saturday mornings for a combined trip to the open air market.
Vide-Grenier & Brocante
These are good websites to find brocantes or attic sales. What's in a name; garage sale, flea market or attic sale? Great for a stroll and see its offers.
Day trips (active, sportive, educational)
Day trips (active, sportive, educational)
A day out during your holiday is always fun! We have highlighted some activities for you to undertake while on vacation in the Haute Vienne.
Canoeing in Uzèrche
Departing from the village of Uzerche, you can canoe on the Vezere river. There are several routes, differing in length, available.
Canoeing in Brantôme
At the edge of Brantome you can canoe on the river through the city. The short route takes you through the city, but longer routes are available!
Espace Hermeline
Espace Hermeline in Bussière-Galant is een recreational park with outdoor acitivities. You can climb trees, cycle the train tracks, zipline, minigolf, ride the kids' train, play tennis, hike and fish here.
Centre Loisir Rouffiac
Centre Loisir Rouffiac offers a wide range of outdoor activities such as waterskiing, tree climbing and pedal boating. There's also a big lake suitable for swimming. A good place to spend the day.
Zoo Parc Zoo Reynou
The zoo of Parc Zoo Reynou is located in the city of Vigen, just outside Limoges. It is a spacious zoo and perfect for a day's walk. This is a family favorite!
Caves of Lascaux
The caves of Lascaux are in the Vezere valley in the Dordogne department (Nouvelle-Aquitaine region). In 1940 many cave etches were discovered. Experts date these back to 15.000 to 10.000 years BC. These caves have opened to the public in 1984.
Les jardins de Marqueyssac
The gardens of Marqueyssac offers long routes through its natural beauty. You can walk more than 6km through hand-carved boxwood creations adorned with belvederes, rockeries and dry stone.
Lakes and swimming locations
Lakes and swimming locations
The Haute-Vienne department in the Nouvelle-Aquitaine region (previously known as the Limousin) is renowned for its many rivers, lakes and swimming destinations that are all under supervision for their water quality. They provide excellent opportunity for swimming, pedal boating and supping. We have highlighted the two largest lakes here, but see more information on our "Swimming in Haute-Vienne" page.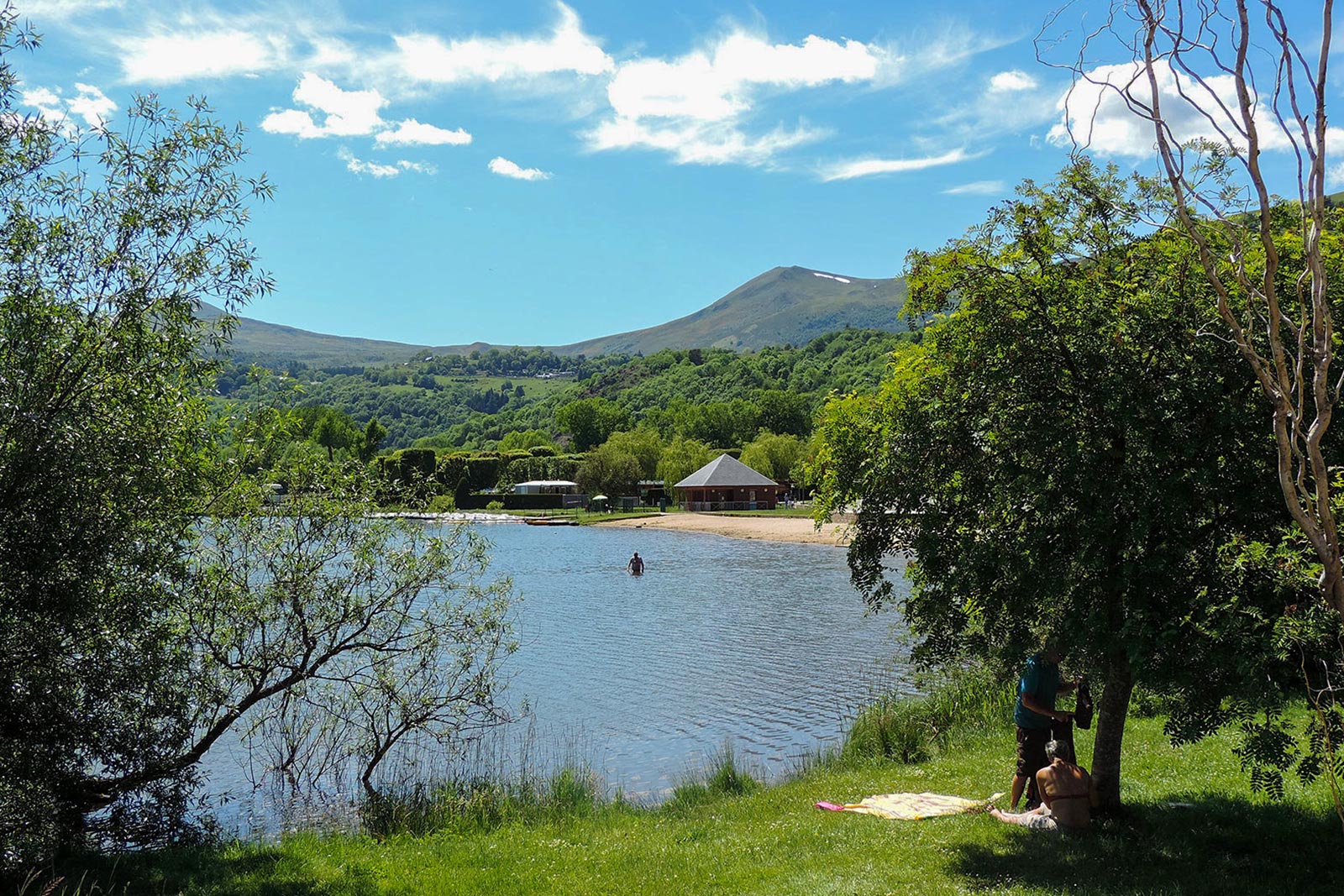 Lac de Vassiviere
Lac de Vassivieren is a 1000 acre lake with over 47km of outer banks. It almost feels Canadian. The lake is excellent for swimming, canoeing or just to cycle or walk alongside its banks. During the summer months you can join a taxi boat to cross around this lake.
Lac Saint Pardoux
Wonderful lake with lots to discover: hiking, canoeing, waterski, climbing park. A good place for an active day in the water.
"Highly recommended is the train to the Puy-de-Dôme. What a view."
- Jan and Simone
Holiday home LOTT Murol
Holiday in the Haute-Vienne, France!
Hiking in the Haute-Vienne

Holiday in the Haute-Vienne, France!
Holiday home LOTT Saint Germain les Belles

Holiday in the Haute-Vienne, France!
Things to see and discover in the Haute-Vienne (Nouvelle-Aquitaine)

Holiday in the Haute-Vienne, France!
Holiday home LOTT La-Bastide

Holiday in the Haute-Vienne, France!
Cycling in the Haute-Vienne

Holiday in the Haute-Vienne, France!
Holiday home LOTT Coussac-Bonneval

What to discover – must do - ideas while you're here?
We have collected some ideas and inspirations for activities in the regions/departments of France where LOTT holiday homes is located. Please visit the 'To discover in the regions of France' page or the 'Things to do?' page, these are excellent starting points for your trips during your stay at LOTT holiday homes.
FAQ - Frequently asked questions
Frequently asked questions. Do you have another question? Please visit the main 'FAQ' page or contact us by email.
Yes, in the regions and departments of France where we, LOTT holiday homes, are located we have gathered plenty of ideas, suggestions and inspirations for activities and things to see and must do.
This includes sights, cities, villages, markets, brocantes, day trips (active / sportive / educational), lakes and swimming locations.
In the regions and departments where LOTT holiday homes has holiday homes, we have listed a number of attractions for you. Think of castles or an interesting place to visit. The holiday suggestions/ ideas and holiday links can be found under the regions where you want or are going to have a nice holiday.
We have highlighted a number of cities and villages for you that you can visit during your holiday in one of the holiday homes of LOTT holiday homes & more. We have set up a handy page with holiday suggestions, ideas and links for your holiday.
You will not only find cities, villages and places here but also sights, markets and flea markets, day trips (active, sporty, educational) and lakes and swimming.
Do you want to visit a market or flea market during your holiday? Under each region we have put down a number of suggestions, ideas and links for the best markets and flea markets.
See in which region you want or go on holiday at LOTT holiday homes & more and read where the markets and flea markets are in that area.