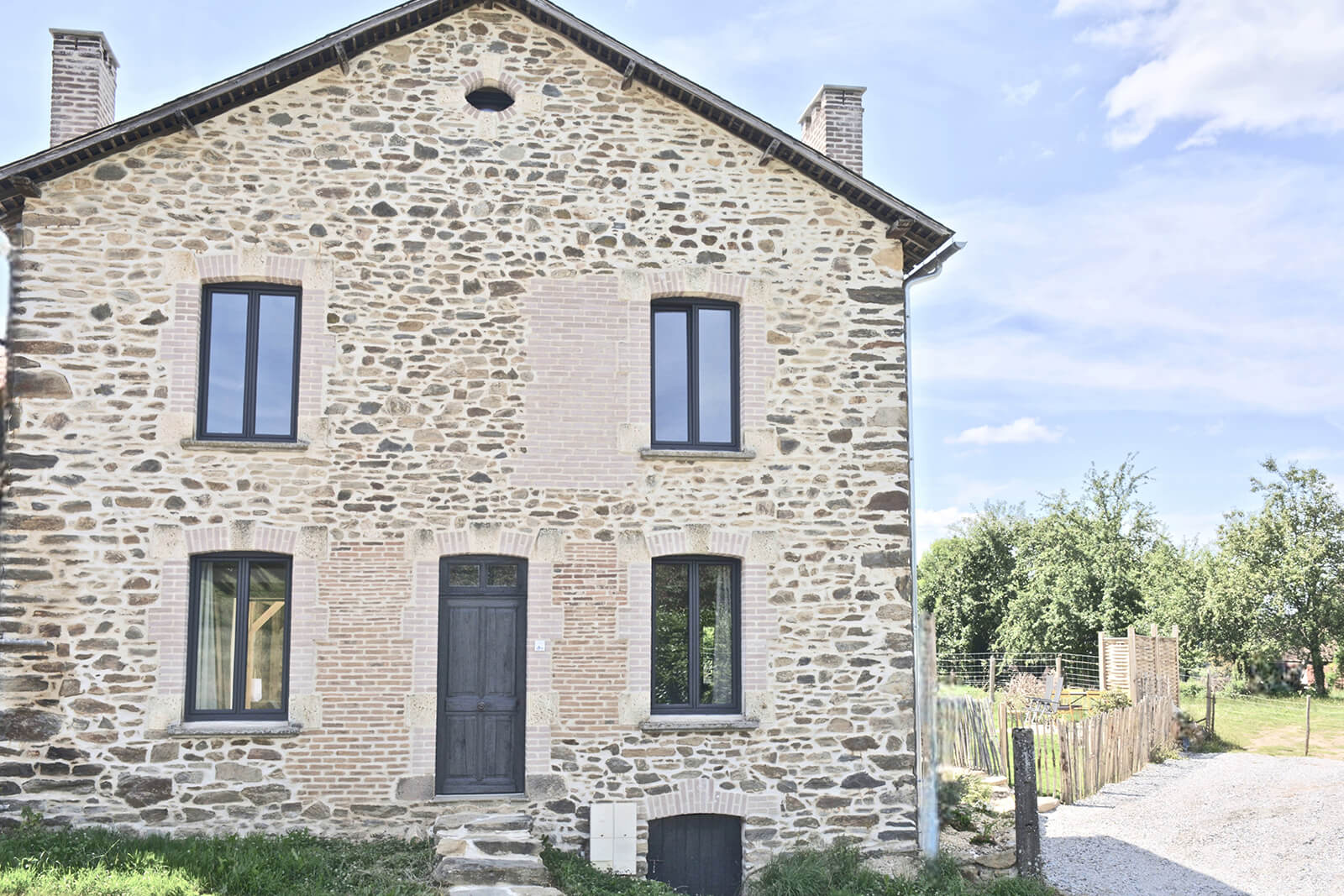 Explore Holiday home LOTT Saint Germain les Belles
This unique detached holiday home is on the outskirts of the French village Said Germain les Belles, hence the LOTTage's name. This French village is easily accessible on foot for a visit to the supermarket, bakery or butcher.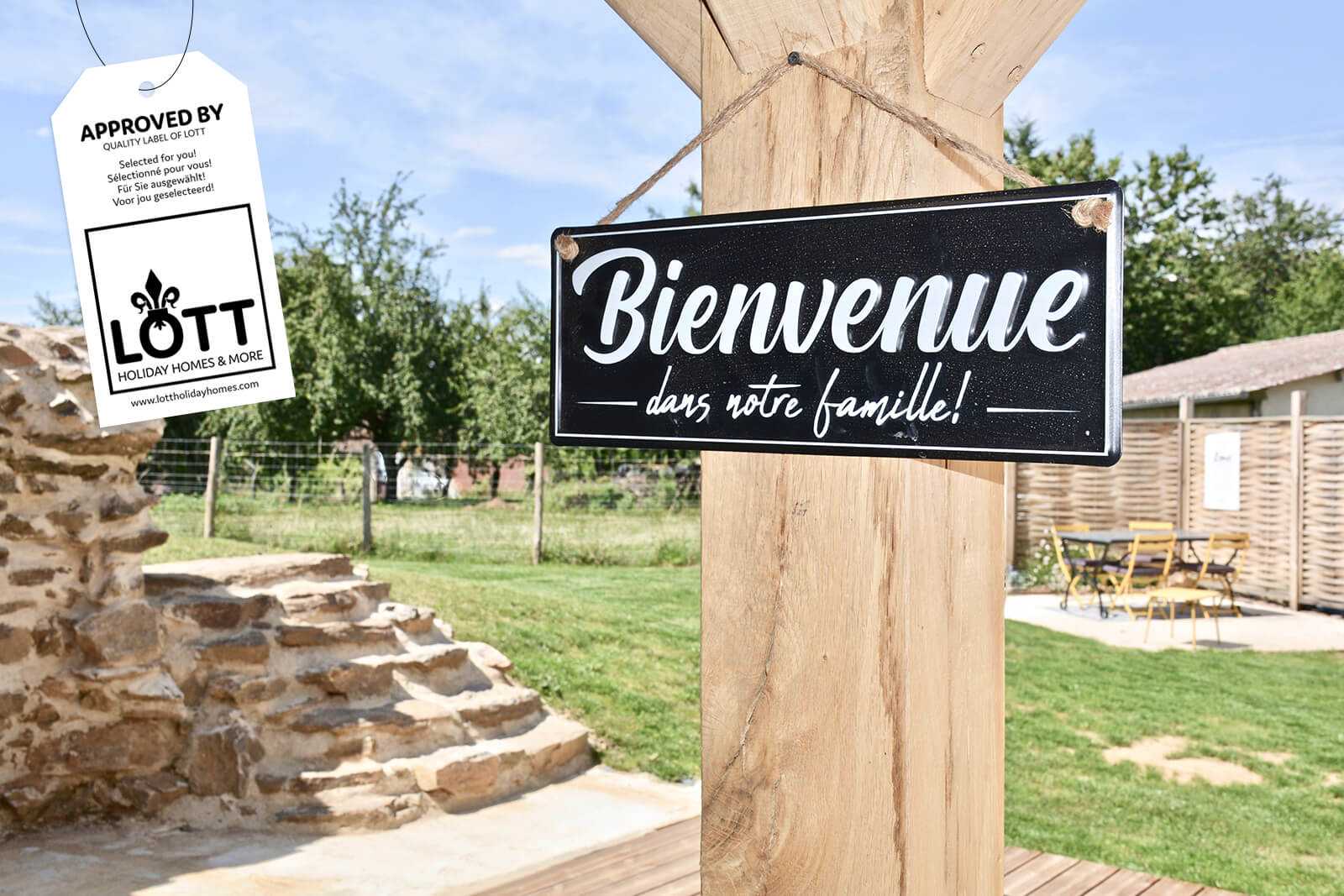 This is a cottage with a cosy feel. Not only its interior but the architecture makes for a light, airy atmosphere. The cottage has two big windows at the front of the house and sizeable sliding doors in the back. Walking through those sliding doors, you will find a covered porch. Walking through the garden you will find a private pool belonging to the LOTTage Saint Germain les Belles.
A delightful home located in the center of France. There are plenty of lakes nearby for those who wish to explore nature. For the city dwellers, Limoges and Brive-la-Gaillarde are only half an hour away. Additionally, this house could also be suitable for those who wish to make a stopover on their way to the south of France, Spain or Portugal because this LOTTage is only 10 minutes away from the A20 highway to Paris/Toulouse.
Location holiday home LOTT Saint Germain les Belles
Address: Leycuras, 87380 Saint-Germain-les-Belles, France
Country: France
Region: Nouvelle-Aquitaine
Department: Haute-Vienne
Municipality, village: Saint Germain les Belles
By car, Driving holiday: 436 km from Paris
Train/bus: via Limoges
By airplane, Plane holiday: via Airport Bergerac or Airport Clermont-Ferrand Auvergne

location_on Locatie & route: Google maps
Holiday home LOTT Saint Germain les Belles
Layout 2-4 person holiday home LOTT Saint Germain les Belles
This holiday cottage is suitable for 2-4 persons and consists of three floors. Its complete surface area is 90m2.
First floor: living room with open-plan kitchen
Second floor: large bedroom, bathroom with walk-in shower and double sink, separate toilet
Third floor: large bedroom
Outdoor area: private garden of 600m2, porch, furniture, outdoor fire place, terrace, private pool with terrace, private parking space (with electric outlet)
picture_as_pdfDownload map + features list
list_alt Features and facilities overview of all holiday homes
Photo gallery holiday cottage LOTT Saint Germain les Belles
See here all photos of this wonderful holiday cottage LOTT Saint Germain les Belles. These give you a good impression of this cottage in nature, right within the heart of the Haute-Vienne department in the Nouvelle-Aquitaine region of France.
Airy living room with wooden fireplace
This detached home has a comfortable living room. There is a robust leather couch, ottoman and side tables. This living room offers a smart tv to watch your favourite shows on a cold night in.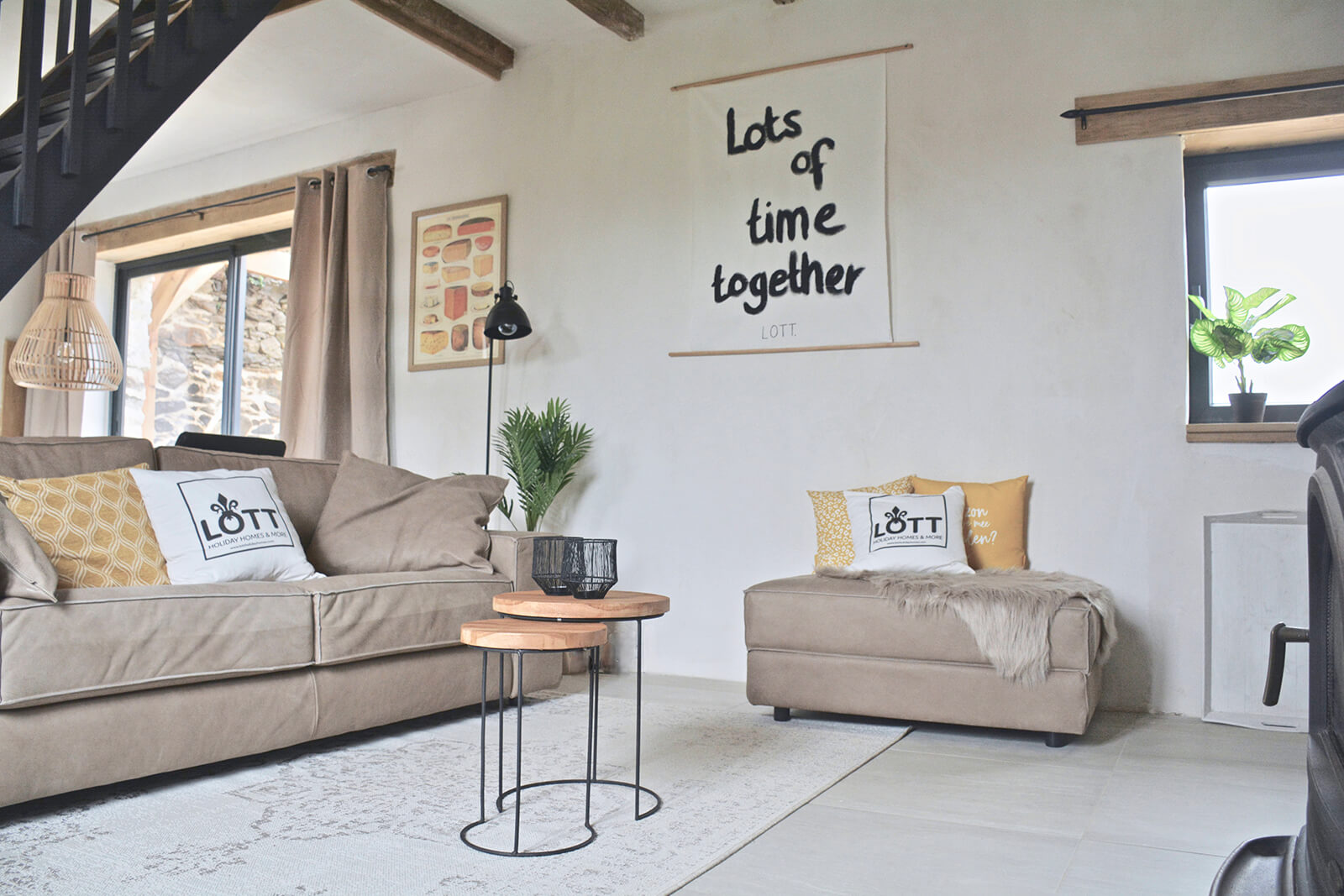 The real addition to this atmosphere is the wooden fireplace. It is a pleasure in the colder seasons of the year to celebrate your holiday together.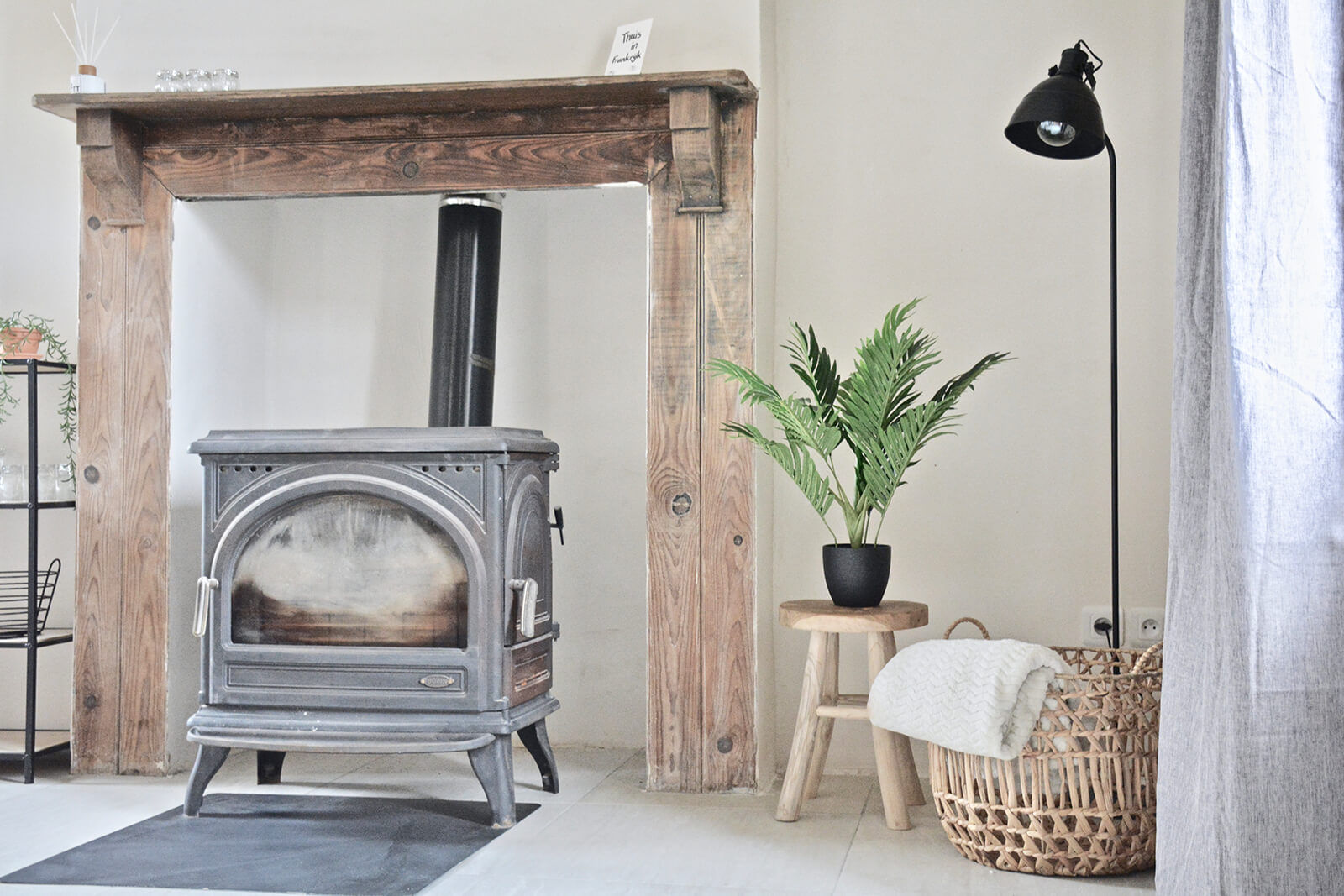 The bold interior with wooden and metal accents is softened by the warm colours. Together with the natural light and sliding doors, this home is complete.
Open-plan kitchen with sliding doors to covered porch
This kitchen is fully equipped to serve all your needs. It has a country style feel to it, with a black stove and sizeable oven to prepare the most fragrant dishes. There is enough storage and work space on this natural stone worktop.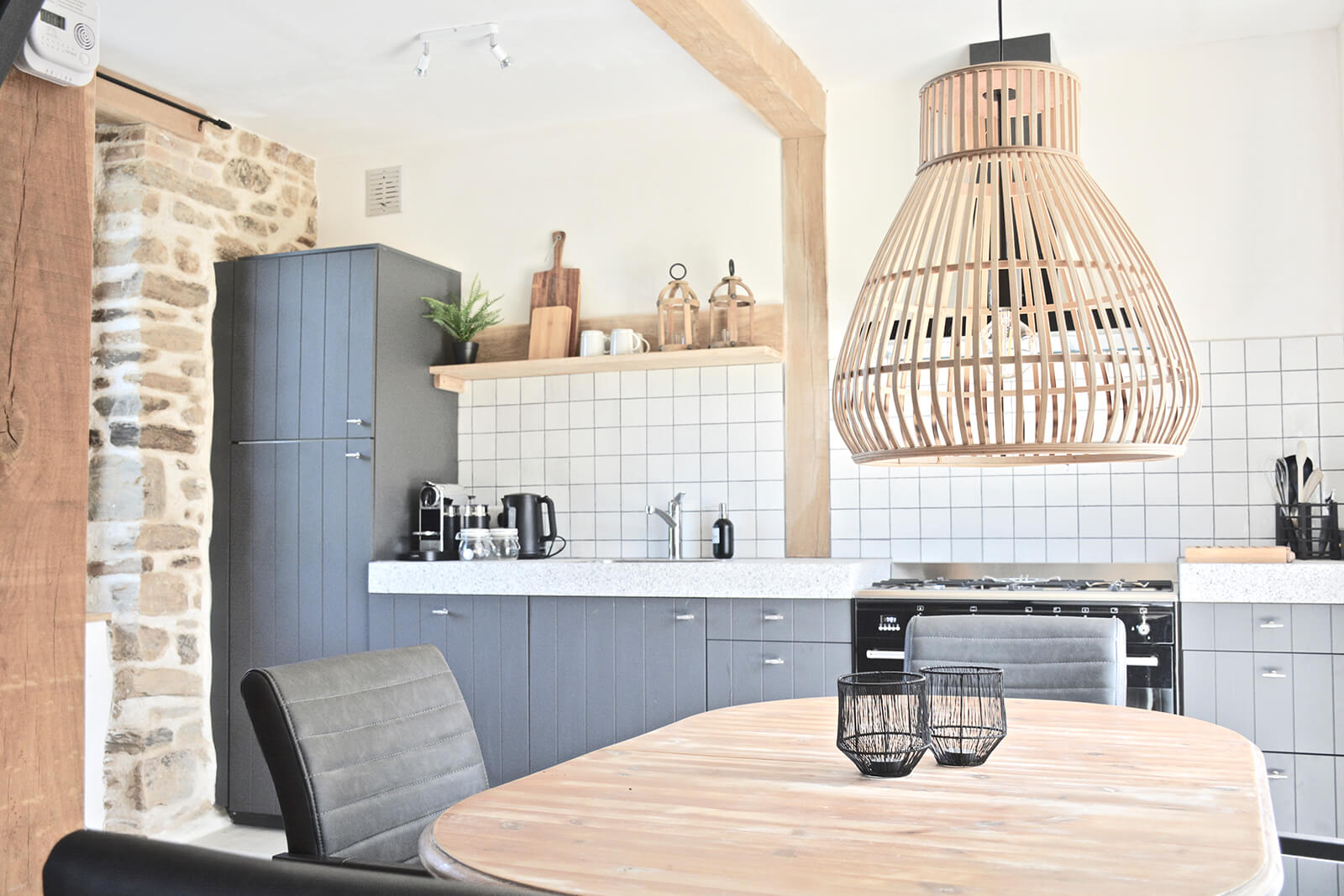 From the kitchen you can walk right up to the porch to enjoy your lunch or dinner outside. A wonderful LOTTage in any season.
Two master bedrooms with boxspring beds
This holiday home has two sizeable bedrooms. On the first floor there's a delightful room with an authentic chimney at the end of the bed. What a night's rest you will have.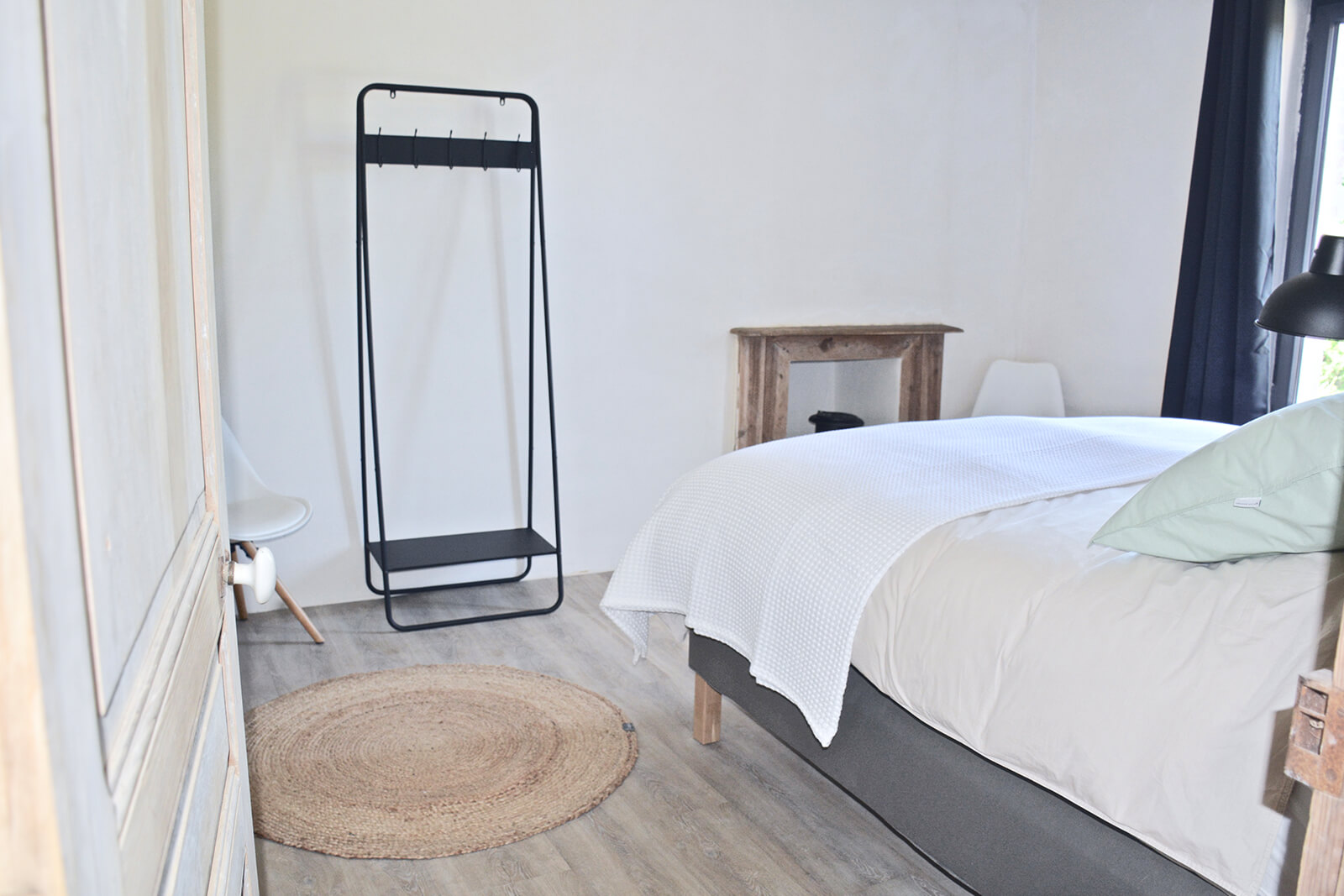 The second bedroom is on the third floor. This bedroom has a loft style with crisp interiors matched with old oaken roof trusses. This could very well be named a master bedroom.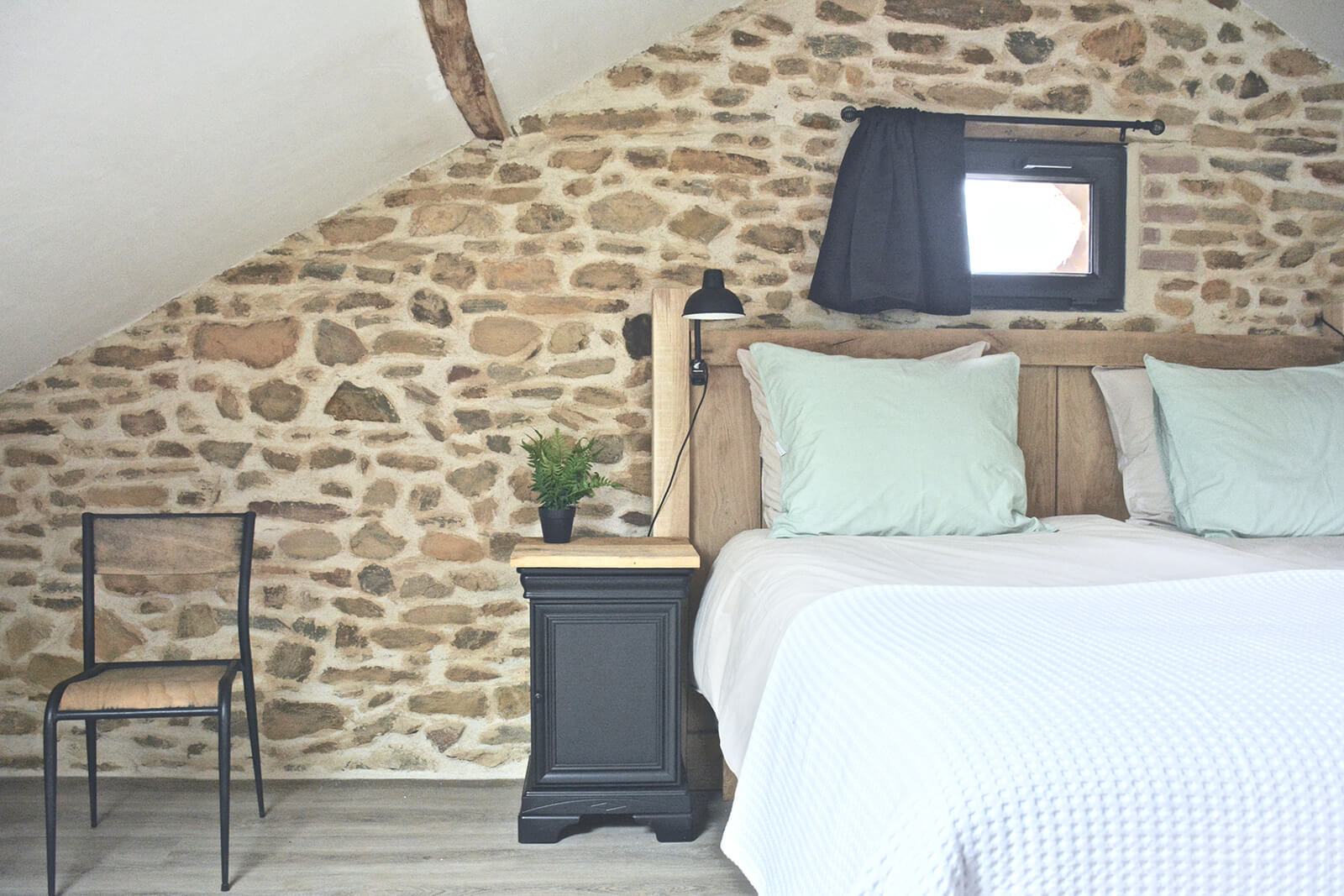 Do you see yourself dreaming away in these bedrooms already?
Magnificent bathroom with walk-in shower
This comfortable LOTTages Saint Germain les Belles has a roomy bathroom with walk-in shower, glass partition to add to the roomy feeling. There's a double sing with enough storage space.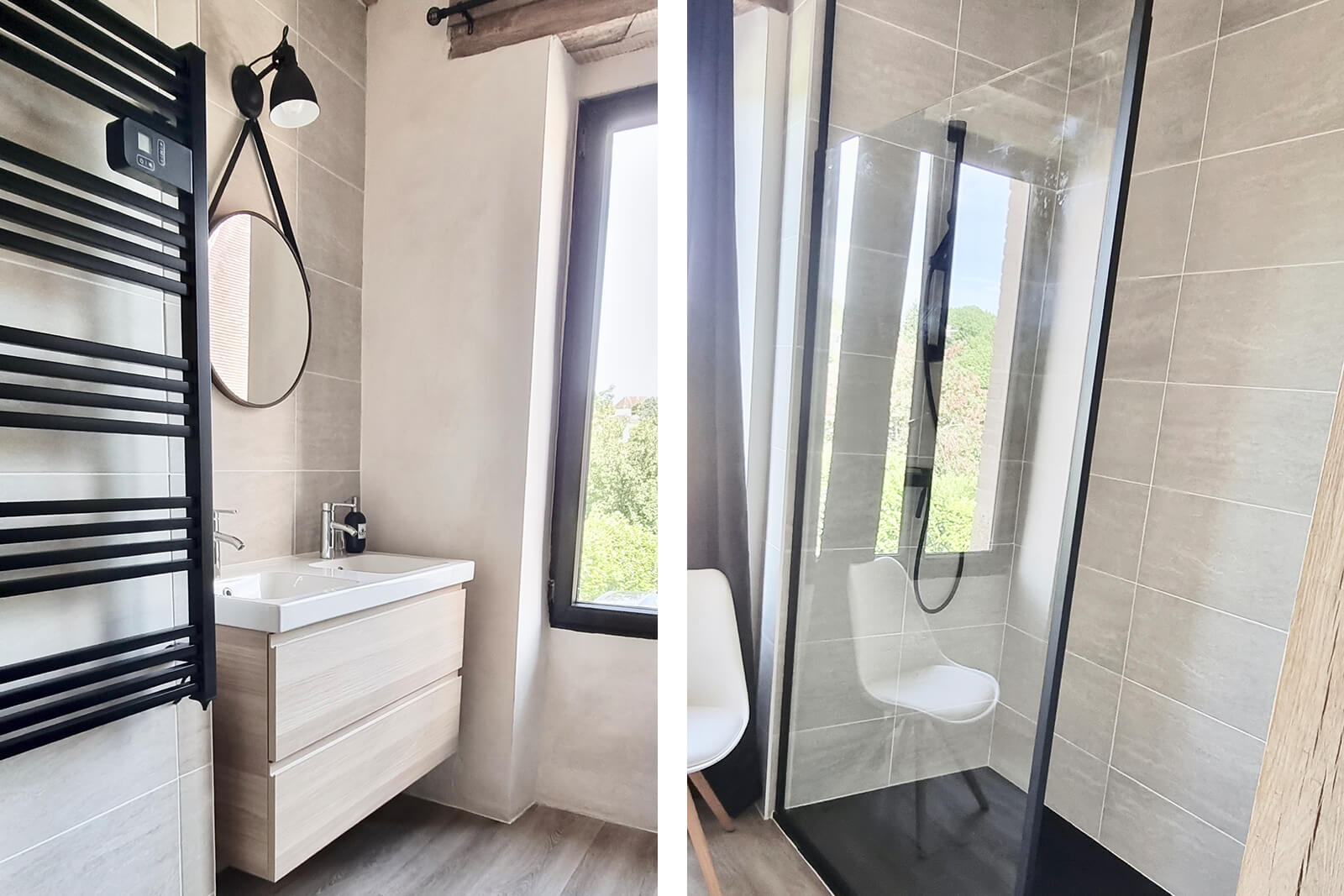 In the corner of the bathroom there is a washer and dryer tucked away. Useful for a longer stay at this LOTTage.
Spacious garden with cosy seats and view
At the backside of this home is an enormous 600m2 private garden with view of the adjacent pastures and woods. Because of the depth of this garden there's always a good spot to relax in either shade or sunlight.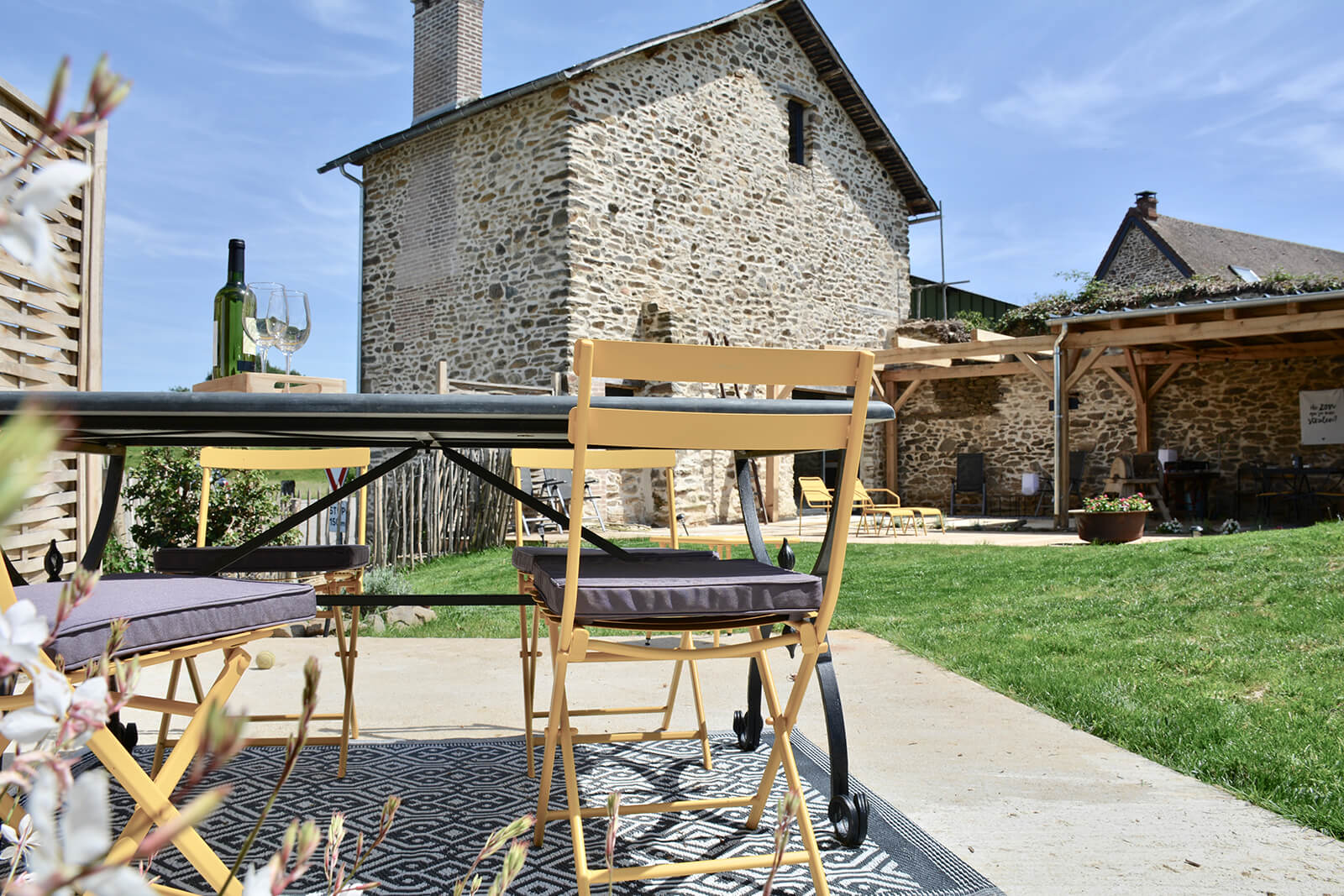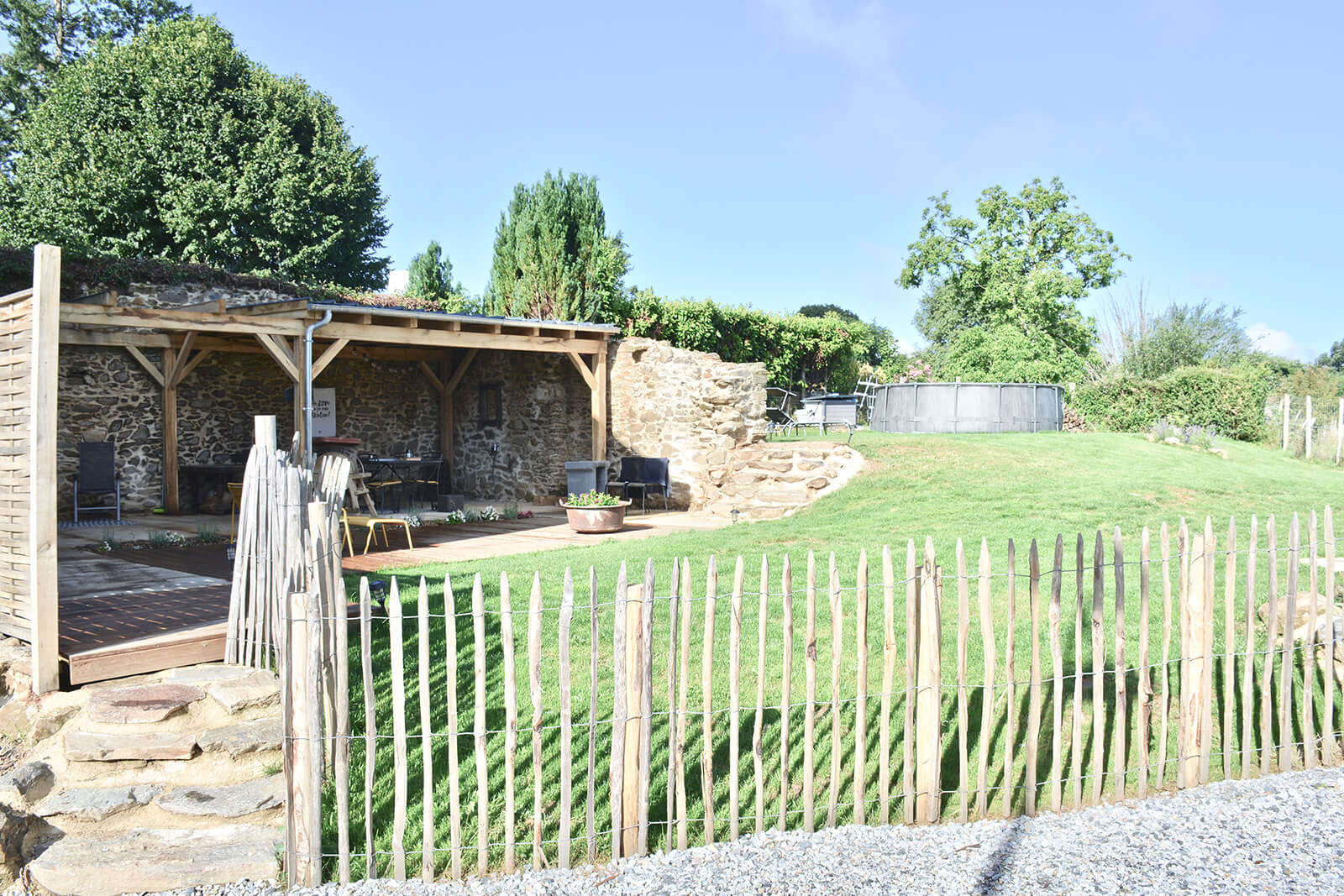 Covered porch with wooden fireplace
This spot is the place you want to be all the time. As an outdoors person, you can even be outside on cooler nights. Simply heat up the fireplace and walk from your kitchen through the sliding doors to the porch. You can even put on a BBQ if you fancy!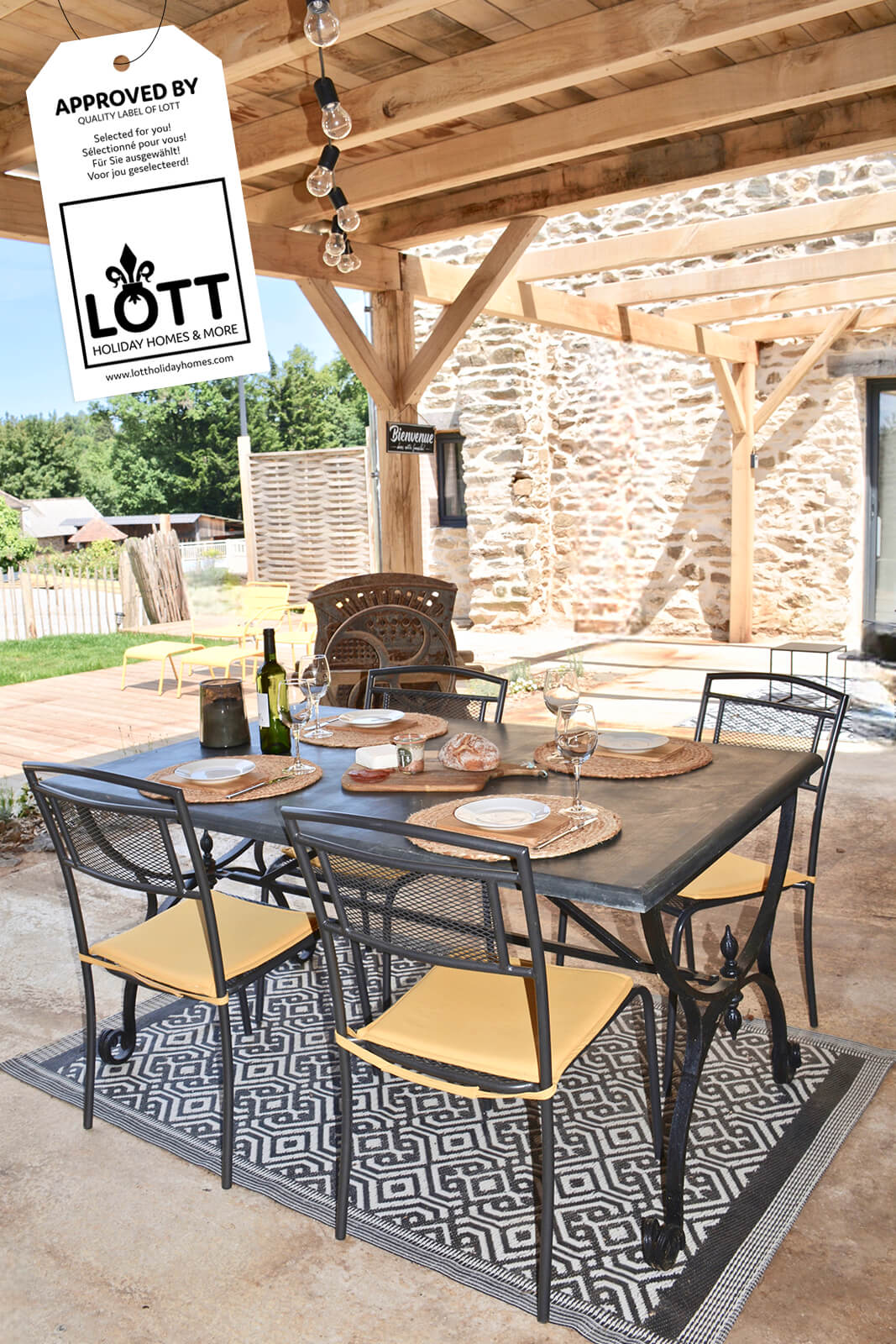 Private pool with sun beds and canvas cover
There is a wonderful pool in the garden of this cottage. Swim whenever you please. This pool is partially imbedded and comes with a terrace and sun beds. You can choose to relax in either sun or shade with the canvas cover.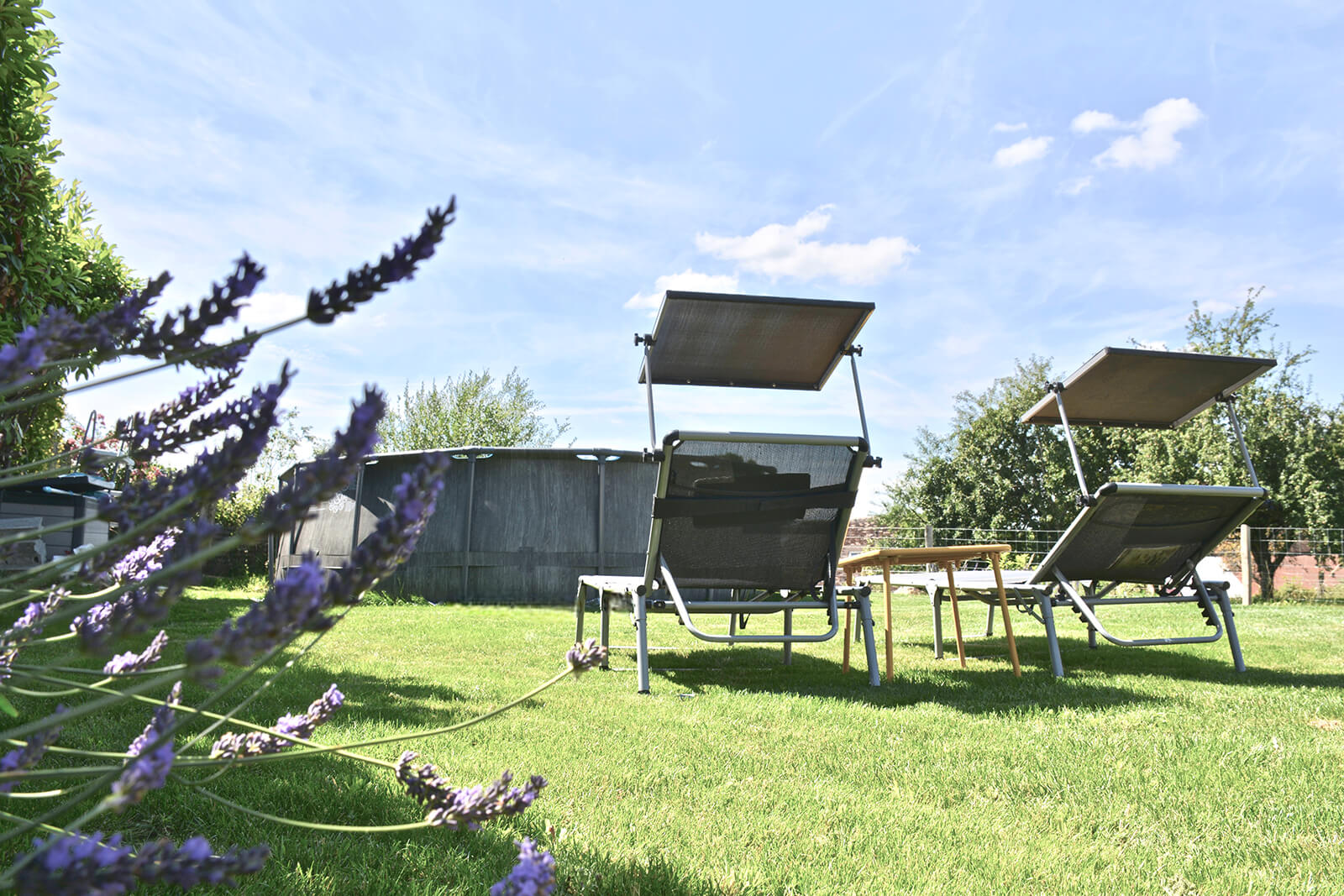 NB! The pool is seasonal and will be installed at the end of May and removed at the beginning of September.
FAQ - Frequently asked questions
Frequently asked questions of holiday home LOTT Saint Germain les Belles. Do you have another question? Please visit the main 'Frequently asked questions (FAQ)' page or contact us by email.
Holiday home prices
LOTT holiday homes & more makes it easy for you to book. No matter what cottage you book,
All LOTTages have the same price
All can be booked with flexible arrival and departure dates
Booking 7 nights or more in low and mid season always includes a 10% discount
Season
Price per night
Price per week
Low season
€113,40
€699,30
(Including €94,50 week price discount)
Mid season
€124,20
€774,90
(Including €94,50 week price discount)
Peak season
€135,-
€945,-
Week price discount
If you book for seven nights you will always get in the low and midseason a 10% discount of the high season price of 135 euros per night. This means you get a 13,50 euro discount for every night no matter what season your booking is in!
Additional fees
Extra person (from 3 years of age or older) = +10 euros per night
Bed linen for extra persons is + €15,- per person.
Tourist tax (dependent on the department) = +/- 1,10 euros per person (>13) per night
Minimal rental period
The holiday homes of LOTT holiday homes & more can be booked from a minimum of three nights. In the months of July & August at least one week.
Availability
Is LOTT Saint Germain les Belles your chosen cottage for your upcoming holiday?
Select in our online booking system your dates and you will immediately see the price for your stay and any discount.
Are your dates unavailable? Visit our 'Availability and Booking' page to see if there is any other LOTTage available for this period. You can always send us an e-mail with your preferred holiday dates and we can see what we can do for you.
Online booking
Choose your preferred booking dates here, fill out the form and send it to make your online booking complete.
LOTT Saint Germain les Belles